North Carolina was clinical in dispatching what many had considered their top challenger.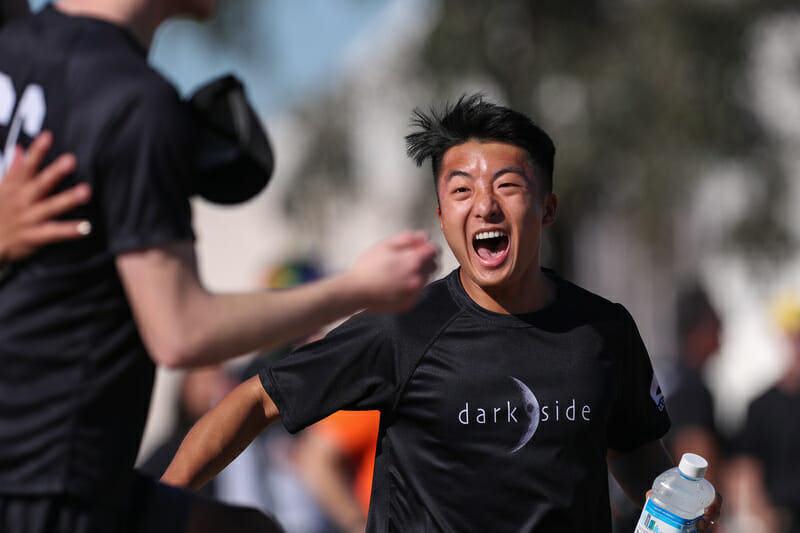 Our coverage of the 2021 college Series is presented by Spin Ultimate. You can get 15% off all college uniforms and swag right now at Spin Ultimate!
The final matchup that we all expected came two rounds early and largely failed to live up to the hype as North Carolina Darkside cruised past Colorado Mamabird 15-10 to reach a seventh straight semifinals. This is a type of run we have not witnessed at the men's collegiate level. It elicits the ilk of elite clubs teams such as San Francisco Fury and Boston Ironside.
Both offenses looked sharp in the early stages, trading to an early 3-3 score line. The first turnover of the game came with a bang as Liam Searles-Bohs bid past Mathieu Agee in the end zone for the catch block and the callahan. UNC rode that energy the rest of the half, picking up two more breaks along the way to take a 8-5 lead into the break.
Searles-Bohs has been one of the biggest names in college ultimate since he arrived as a highly-touted freshman. He has been a key figure on Darkside and even on Raleigh Ring of Fire in the club division since then. However, he raised his game to another level on Sunday. He took over as an all-around superstar. He had four assists, three goals, three blocks, and no turnovers in a dominant performance.
"Man is crazy," said UNC's Alex Davis. "He started out as one of the best college players in the country already and he's been steadily improving for about five years now. If you're already that good and you have five years to play against the best teams over and over again, you're just going to get better."
As the second half got underway, UNC's depth started to show. Davis, Anders Juengst, Searles-Bohs, and Elijah Long all featured heavily, but freshman Josh Singleton started to take on a larger role, where he showed off his throwing ability with a few nice hucks to Davis. While Davis drew a lot of attention from Agee, one of Mamabird's top defenders, he still felt he was being underestimated by the opposition.
"I played a lot of defense in the club and AUDL season, so I think maybe people forgot a little bit," Davis said. "But it's great that people don't have the full memo that they should be backing me. I'm very happy you want to front me. Go ahead, I will have a great time running deep. You can try to follow me, I guess, try to keep up, maybe get in the shot or something."
For Singleton, Suraj Madiraju hyped him up as a Rookie of the Year candidate. Singleton definitely deserves some praise for managing to break into a very veteran-heavy squad that includes seven club national champions.
"Everybody here on Darkside buys into the mentality that we all fill our role," Singleton explained, "but none of us are above each other."
Colorado simply never mounted much of a comeback. Mamabird punched in one second-half break, but Darkside broke back almost immediately to go up 12-8. It spoiled a really strong game from Danny Landesman, who had four goals and an assist.
UNC continued to rotate less experienced players into the lineup. Chris Humphrey had a pair of blocks and it was Jason Manning who laid out to snag Darkside's final goal, punctuating a 15-10 victory.
North Carolina will now head into a rematch with the last team to beat them: Brown. Davis acknowledged that UNC has a chip on its shoulder following its loss in the 2019 national championship game. The brutal path to another title continues for Darkside.