All four top seeds advance to semis in the D-III men's division.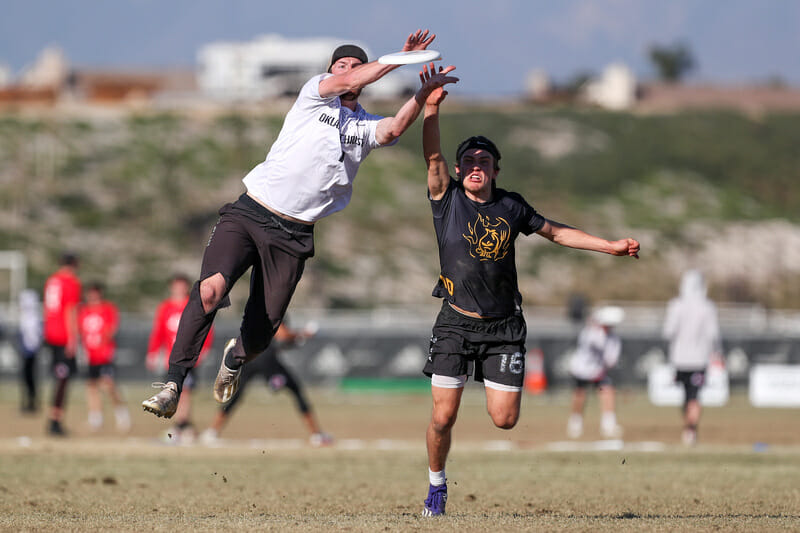 Our coverage of the 2021 College Series is presented by Spin Ultimate. You can get 15% off all college uniforms and swag right now at Spin Ultimate!
2021's D-III College Championships has had upsets sprinkled throughout, but at the end of it all, we're left with a chalk semifinals in both divisions. As of Saturday, the top four men's and women's seeds are all undefeated, and most enter semis after a dominant victory in their respective quarterfinal. Let's take a quick look at those results in the men's division.
Richmond 15-7 Berry
In the only quarterfinal that was livestreamed on the Ultiworld YouTube channel, the top-seeded Spidermonkeys asserted themselves against a Berry team fresh off an emotional double game point win in prequarters over Colorado College. After a back-and-forth start, Richmond went on an 8-1 run to open up a 10-3 lead and never looked back. For more from this game, replay the livestream and consider getting an Ultiworld subscription to support our streaming coverage!
Oklahoma Christian 15-11 Whitman
In a game that wasn't as close as the scoreline suggests, the Oklahoma Christian O-line was virtually untouchable, only turning the disc over twice the entire game en route to a comfortable 15-11 win over a young Whitman Sweets team getting their first taste of high-stakes ultimate.
The Sweets looked tentative and unsure of themselves early on. The Eagles did a lot of poaching on defense, with Emmanuel Kameri spending most of his time patrolling the deep space and daring Whitman to throw the disc deep. "They played a very poachy style, even as we moved the disc downfield, and we threw a lot of shots to the end zone that we shouldn't have," said Sweets captain Corbin Atack. After a series of failed deep looks, the Whitman offense stopped stretching the field, resulting in short field turns that led to quick OC breaks. In the blink of an eye, the Eagles took half 8-4.
The second half was much less lopsided, with both teams notching seven goals apiece. The primary reason for Whitman's improvement on offense was the play of Atack. The lefty played like a true hybrid, vacillating between the handler space and gaining big yardage downfield. The senior captain ended the game with 6 assists, 2 goals, and 2 blocks, making one highlight after another. Atack was quick to acknowledge the play of his teammates after the game, but anyone watching the game could see that Atack was the key to Whitman's success.
The Oklahoma Christian offense was spearheaded by the duo of Kyle Henke and Elliott Moore. The former finished with 7 goals, while the latter had 6 assists. More importantly, they only had one turnover between the two of them. The AUDL teammates play with a composure and chemistry that makes it seem like they're moving at a different speed from the rest of the players on the field.
The Eagles now enter into the semifinals against the top-seeded Richmond Spidermonkeys in an unfamiliar position. "This may be the first game where we're the underdog," said OC's Dutch star Kevin van Roosmalen. "That'll be fun. I feel like the boys are ready. We've shown that we can fight."
Middlebury 15-8 Carleton
Looking like the team who was playing its first game of the day, Middlebury started the game energetic and fast, jumping out to a 4-1 lead and never looking back. Led by Walker Frankenberg and Max Hanscom, the Middlebury offense used quick disc movement and aggressive strike cutting to keep the CHOP defense on their heels, while the Carleton offense struggled to dial in their deep game enough to keep up with Middlebury's scorching pace.
The aforementioned duo of Frankenberg and Hanscom had their fingerprints on every hold for the Pranksters, combining for 5 goals and 5 assists with just three turnovers. Frankenberg, in particular, was the motor for Middlebury's disc movement. His quick first step and high top speed meant that once he got a step on his matchup in flow, his defender had no chance at catching up.
The Pranksters' defense was spearheaded by the versatility of Leo Sovell-Fernandez. Sovell-Fernandez led by example, setting the tone early with a big layout poach block that led to the break to put Middlebury up 4-1. On the turn, the Pranksters scored in a variety of ways, using both the big hucks of George Drumheller and the relentless running of Max Rogers.
Carleton looked like a team that had played a difficult prequarters game earlier in the day. Having been patient in waiting for the right hucking opportunities all tournament, CHOP just didn't have the energy to stay mentally disciplined, too often settling for deep shots that were 50/50 at best. Players like Alex Rafkin, Ian Klein, and Colby King came down with some of these hucks, but not at a high enough rate to make this a reliable scoring tactic to keep pace with Middlebury.
Going into their semifinal against St. Olaf, Middlebury are focused on continuing to play their own game and bring their unique energy. "We're going to take it the same way we take every game," said Pranksters coach1 Malachi Raymond. "Go in, play our systems, run what we know, and play a good game."
St. Olaf 15-7 Claremont
As they did throughout pool play yesterday, St Olaf opened the game strong against Claremont. St. Olaf opened the game on a 5-0 run in the blink of an eye, all but putting the game away immediately. The opening run saw excellent pulls by St. Olaf's Drew Otterlei and excellent pull coverage by the team's defense. Benji Keillor and Gabe Weigel shined in the early portion of the game — each notching a layout block and adding at least one goal to their stat line.
Claremont finally put an end to the run with a Leo Kitchell upline throw to Tristan Johnson. After trading points, Claremont would go on a run of their own — led in large part by the play of Kitchell. Claremont would add two consecutive breaks to make the game feel competitive again, decreasing the lead to 6-4.
"I think we gave Claremont some looks," reported St. Olaf leadership. "Especially at the end of the first half, we had a couple turns that they were able to punch in for breaks. I think that if we make our throws and catches, those don't happen."
After the brief scare, St. Olaf picked themselves back up, and rolled to victory. St. Olaf would end the game on a 9-3 run. For Claremont, they showed spurts of great play behind Leo Kitchell and Rory Beals. For St. Olaf, Drew Otterlei picked up 6 assists and looked dominant as a thrower, but it was the play of Benji Keillor that was perhaps most impressive. Keillor was all over the field, frequently hitting the deck and looking for big layout blocks.
It's all especially impressive considering that St. Olaf spent the last 24 hours dealing with a COVID-19 contact tracing situation that might have derailed their dominant performance. Following USA Ultimate's COVID-19 protocols, a number of players who were around a person before the event who later tested positive had to leave the tournament — something that certainly has to be mentally taxing for this team.
"[Before the game] we got together and we gave five minutes to get out your frustration, express anything you might be feeling about it, and then after that we were done," says St. Olaf leadership. "After that, we got into our warmup. It's next man up, and we did that today. One thing we've said is focusing and not letting it be an excuse."
Heading into the semifinals tomorrow, St Olaf is a team with a ton of talent, and they seem to be in a great headspace for a shot at a national championship.
---
Injured player serving as coach. ↩