A pair of games decided on universe point ultimately decide the pool winner and the final team to advance to the bracket.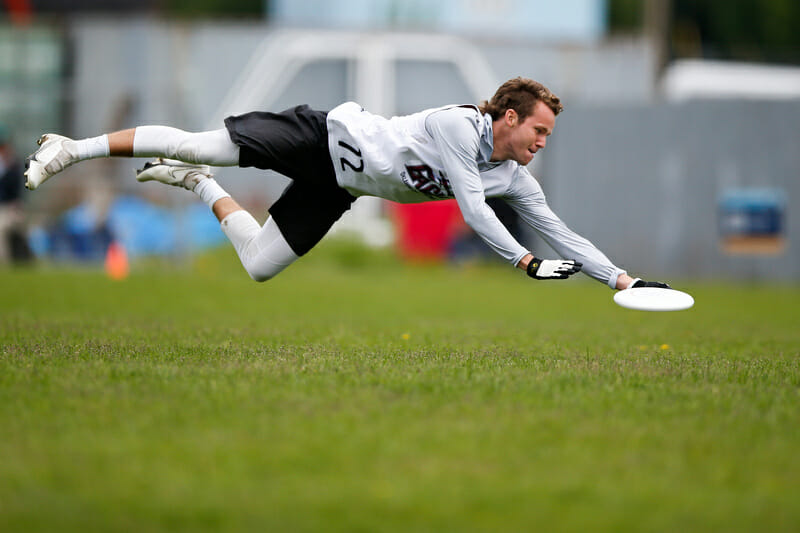 Our coverage of the 2022 College Series is presented by Spin Ultimate. Please support the brands that make Ultiworld possible and shop at Spin Ultimate!
Oklahoma Christian Wins Pool in a Universe Point Thriller
The defending national champions showed up to Milwaukee ready to play. #5 Oklahoma Christian went 3-0 today and secured the first-round bye to the quarterfinals. The Eagles are a different team from the one that took the national title in December, but still played with the intensity of a championship squad. They were able to dominate their first two games of pool play, and notched a universe point win against the Berry Bucks in the final round.
The standout player of the day for Oklahoma Christian is Sammy Roberts. He's the main cog on the D-line, assuming roles of both the give-and-go handler and the gunslinger. Late in the game against Berry, when Oklahoma Christian needed to hold to win, the center handler on the line was Roberts.
But a single superstar will not win you a national title. On offense, OC benefited from the trio of Elliott Moore, Jonathan Costello, and Max Hamilton. On defense, Evan Card, Kevin van Roosmalen, Elijah Johnson, and Emmanuel Kameri could all generate blocks and convert break chances on the turn. This defense was on full display against Berry. OC practiced poach sets in their early rounds to be prepared for use in their big game against Berry. They were regimented, scrappy, physical, and deserving of their bye to quarters.
Going forward, OC will need to maintain the quality of play from their thrilling matchup with Berry, which captain Elliott Moore spoke about after game. "Games get harder from here; I don't know how they do because this was insane," said Moore. "We like to get punched in the mouth — that was the best punch in the mouth we can get. That is going to mentally prepare us for tomorrow, for these tough games."
At times during the first two games of the day, Oklahoma Christian looked like they were playing down to their opponents. They were missing easy break opportunities and relying on other teams to turn the disc more than earning blocks themselves. But they still had a lighthearted energy that carried them through these mental lapses. Those lapses disappeared in the Berry game, and they needed to. Coach Garrett Taylor talked about the Eagles' growth over the course of the day. "We came out with good energy, and then it just improved from there. We ended this game with some of the best energy we've had all season," Taylor said.
Berry Back to the Bracket
The #3 Berry Bucks finished second in Pool C today after losing the day's best game to Oklahoma Christian on universe point. The Bucks started their day with two easier games against Ithaca and Scranton, winning those games 15-10 and 15-8, respectively.
The top talent on the Bucks shined in both the easy games in the morning and the toughest game in the afternoon. Colin Hill was a big contributor on offense and a steady presence in the handler space. On defense, Chris Gmeiner was a mainstay, taking top matchups and crossing over to the offense when needed. Christian Casteel was another impact player from the Bucks, who flew under the radar in the Pool C Preview.
When the going got tough, Berry relied on their two best players to lead them through the rough patches: Caleb Enright and Walter Ellard. Enright was a top cutter and defender for the Bucks. In the OC game, Enright took difficult matchups on defense and would go every other on the turn to convert break chances. He also had the play of the day with a layout (right in front of our camera I might add) to save possession and punch in a crucial hold. Ellard was usually on the throwing end of these hucks to Enright. Ellard is an extremely talented thrower and routinely completed hucks from odd positions on the field. If hockey assists showed up on the stats sheet, he would have at least a half-dozen in the OC game alone. If Berry is going to make a run this weekend, then, it will be on the backs of Enright and Ellard.
After the tight game with the defending champs, coach Robert Bradham is excited to see what his team's ceiling really is this weekend. "We haven't gotten a chance to quite see that, so if we play and can see what level of competition is out there, I feel like we can fare well. If you want to win a national championship you need to beat the best teams. We're looking forward to playing these teams and seeing what we can do."
The loss to Oklahoma Christian indicates that Berry is mortal, but not that they should be written out of contention for the national title. Berry will play Grinnell in prequarters tomorrow morning. If they win, they'll have an exciting game against Colorado College — a rematch of the 2021 prequarter in Norco.
Scranton Electric City Ultimate Advances to Bracket… via a Universe Point Thriller
#21 Scranton Electric City Ultimate (ECSU) went 1-2 in Pool C today, but a win against Ithaca on universe point knocked Nawshus out of bracket contention and pushed ECSU to the prequarter round.
Having qualified for the bracket, Scranton has already broken seed for this tournament. It's impossible to look at their success and not note Matt Pindilli's tournament-leading 20 assists on Day 1. Scranton has a small roster — just 13 players — and it's clear that Pindilli has done lots of the heavy lifting in the points department. Michael Kane is a dynamic big for ECSU as well; he skied a few piles throughout the early rounds that left both sidelines speechless. While going 0-2 for the first two games in blowouts to OC and Berry is never a good thing, what matters is that Scranton lives to play another day.
ECSU went up early 8-1 against Nawshus before they started to feel the effects of their low numbers. Ithaca mounted a vicious comeback that left the Ohio Valley runners-up stunned. At a certain point, Pindilli reminded the team of their core values and Scranton were able to close out the game to keep their season alive.
Scranton has a tough draw tomorrow against Claremont in prequarters. If they hope to extend their season any further, they will need to come out well-rested and ready to perform their best.
Ithaca Nawshus Misses Bracket
#13 Ithaca Nawshus missed bracket after going 0-3 in Pool C. While they mounted a tremendous comeback against Scranton in the last round, they fell one point short of extending their season. Ithaca will play Brandeis Sunday morning in the first game of the 13th place pool.
Two players on Ithaca stood out today. Eli Robinson had five goals and six assists through three games; two of the goals and three of the assists came in the do-or-die game against Scranton. Jack McShane was another big contributor for Nawshus; his stat-line pops off the page less than Robinson's, but it was clear that whenever he was on the field, he was making an impact. Other notable players for Ithaca today include Nadav Berkman, Luke Pohlman, and Sawyer Simmons.
While the premature exit for Ithaca is certainly disappointing, Nawshus already had their best result in program history with this appearance at nationals. Ithaca had none of their seniors this weekend due to a conflict with graduation, so this was an important learning experience for their younger players, who will have lots of time to develop into a bracket-level program in future years.