The Pranksters played with flair on offense and defense alike.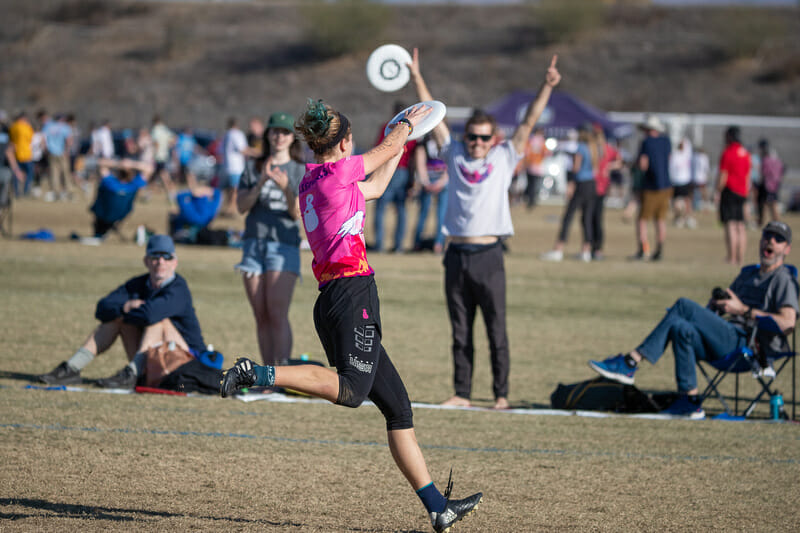 Our coverage of the 2021 College Series is presented by Spin Ultimate. You can get 15% off all college uniforms and swag right now at Spin Ultimate!
After a weekend of watching #1 Truman State TSUnami and #4 Middlebury Pranksters crush their respective pools and early bracket games, all roads seemed to lead to a semifinal matchup between the tournament's first and fourth overall seeds. But even if their meeting felt predestined, with both teams bringing incredibly different playing styles to the field, this highly-anticipated matchup was full of intrigue from the start.
As Middlebury and Truman State crushed their respective pools and quarterfinals this weekend, all roads seemed to lead to a semifinal between the tournament's first and fourth seeds. With incredibly different playing styles on each side, their matchup was highly anticipated and full of intrigue.
Truman State started with an emphatic first point, punishing a Middlebury drop with a quick upline toss from Jessica Tiller to Anna Sullivan. Undaunted, Middlebury came back with fire as Keziah Wilde put it deep to a blazing Claire Babbott-Bryan for a hold. The next couple of points saw holds from both teams, with notable defensive blocks from Katie Bruggeman and impressive high catches from Sidra Pierson. Facing their first real defensive challenge this weekend, Truman State's offense made use of a tight handler weave between Jessica Tiller and Lauren Wiggins to advance down the field. As for Middlebury's offense, Keziah Wilde announced herself early, carrying the Pranksters' disc movement with every-other handler play, with quick swings to and from Claire Babbott-Bryan to keep the defense on their toes.
Claire Babbott-Bryan turned the tide of the game in Middlebury's favor with two incredible deep-space blocks in the span of one point. Streaking back down the field after stopping a Middlebury disc, Babbott-Bryan received a huck right in step to throw the assist to Wilde to tie the score. Middlebury's break train continued when they capitalized on a Truman State bobble, lofting a hammer to Madelyn Lander to gain the necessary yardage for a Pranksters score.
Truman State hung tight with Middlebury, sending Lauren Wiggins and Sarah Finley all over the field, using patient small-ball offense to score holds. Jessica Tiller displayed her arsenal of throws, hitting her teammates in every corner of the field. A defensive matchup between Tiller and Kamryn You Mak was a joy to watch, with both players forcing each other to make tough throws and trading defensive blocks. Wiggins and Katie Bruggeson also dominated in the deep space, but ultimately it was Sidra Pierson's speed that carried Middlebury into the half.
Middlebury's control of the game only looked even more assured in the second half, pulling away with two breaks off the bat (one of which goal-earner Brooke Laird celebrated with a somersault). Once again, it was Jessica Tiller's work keeping Truman State in the game, along with Noelle Hogrebe, who scored Truman State's first two points to start to close the gap. Truman State challenged Middlebury with a tight zone, all but halting the Pranksters' offense until the spell was broken with an outrageous huck from — who else — Keziah Wilde to Niamh Carty, who quickly dished it to Claire Babbott-Bryan for the score. Babbott-Bryan made the rest of the game her own, either assisting or scoring the last three points for Middlebury to take the game 15-11.
Middlebury captain Raechel Zeller could not keep a smile off her face following the game. "This is the most loving community I've ever had the opportunity to be a part of," Zeller said, with Wilde nodding energetically behind her. "We want to perform well for each other, and the faith our D line has in our O line to hold keeps us relaxed throughout the game."
Going into the finals, the team is feeling fired up. "We've been playing in third gear all weekend," said Zeller. "We're excited to see what will push us even more — there's three more gears in store for us to ramp it up even more."
As for Truman State — who brought a roster with more alums than current students to this tournament — their run at this Nationals takes pride of place in the larger story of the program. "Coming back to play for Truman State one more time meant everything to us," said captains Laura Wiggins and Sarah Finley, "we have so many people who couldn't be here, and we played this for them." For many TSUnami players who won't be back for the spring season, this is their last hurrah, not only with this team, but with college ultimate at large.
"We played this game with a lot of heart and didn't let up on intensity," the captains said. "This whole tournament has been a team effort, and we couldn't ask for a better last Nationals."