"Jojah ensured that MagnUM would have to wait a bit longer to make their debut in a final with a dominant wire-to-wire performance"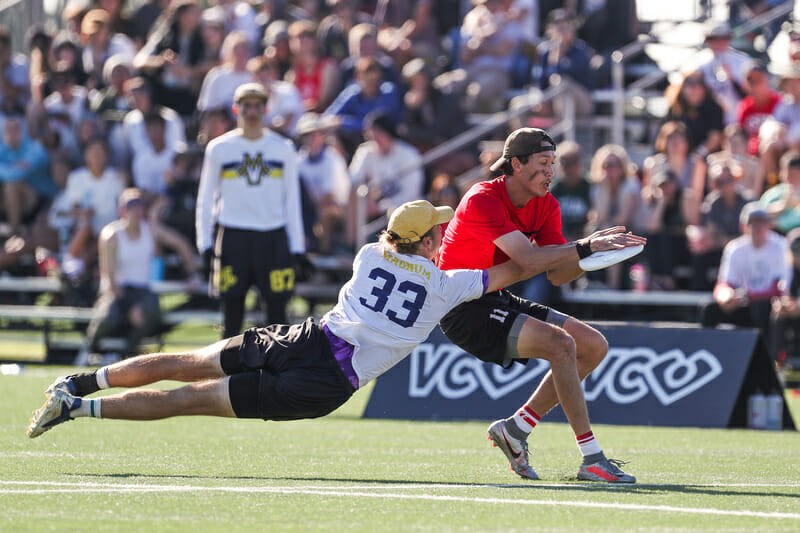 Our coverage of the 2021 College Series is presented by Spin Ultimate. You can get 15% off all college uniforms and swag right now at Spin Ultimate!
No matter the result, the first men's D-I semifinal was going to produce history. Neither Michigan MagnUM, appearing in its first semifinal ever, nor Georgia Jojah, appearing in semis for the first time since 2006, had ever reached the national championship game. Jojah ensured that MagnUM would have to wait a bit longer to make their debut in a final with a dominant wire-to-wire performance, claiming a 15-9 victory.
There were signs early that it might not be Michigan's day. After each side punched in a hold, MagnUM dropped the disc on consecutive points: once on the goal line, once in the end zone. Both resulted in Jojah breaks. An errant huck set up another break as Georgia built an early 4-1 lead.
"When our offense is shaky, our defense steps up," said UGA coach Liz Leon. "When the D isn't getting blocks, the offense steps up."
Georgia's offense did get a bit shaky as the half rolled on. Michigan earned a break back after Max Vogel picked up a point block and ultimately threw the assist to Jeff Gao to cut the lead to 5-4. Michigan followed it up with another break, this time capped by Theo Shapinsky finding Zach Lloyd for the score. UGA stopped that run with a hold, but the pressure was back on Jojah's defense.
But it turns out the defense thrived under pressure. Georgia broke back immediately as a disc floated over the head of the intended target to the waiting defender in Sam Hobbs. Adam Miller hit Drew Di Francesco to restore Georgia's advantage, one of his four assists in the game. Both sides traded to halftime.
The Great Lakes champs had no one to blame for the deficit but themselves. Unforced errors ended up being a troublesome theme of the game and you could tell the MagnUM players were frustrated to be playing well below their full potential.
However, the mental struggles did not dissipate. Michigan pulled the disc out of bounds, setting up Georgia with the disc about 15 yards out of the end zone. It only took two throws for Jojah to hold and extend the lead to 9-6. Things only got worse as Michigan gave up a pair of breaks, digging their hole to 11-6.
The rest of the game was simply a formality. Hayden Austin-Knab dazzled the crowd with an incredible hanging huck to Matt Cook and Georgia kept up its defensive intensity. They punched in one more break, once again stemming from a Michigan drop in the end zone. A pair of holds brought the game to its 15-9 conclusion.
With the victory, Jojah continued its unlikely run, becoming the first double-digit seed to reach the final in the men's division since 2017. It is an accomplishment that not even Georgia could have predicted.
"Coming into the tournament, we didn't expect to make it this far," said Austin-Knab, "but we did know we were capable of it."
Georgia earned a chance to succeed where that 2017 UNC Wilmington squad fell short during their miraculous run to the final. Leon was happy to just soak in the moment before she shifted her focus.
"I'm really proud of the team and that the team was able to do it for the guys who have been building this," she said, referring to reaching the final.
Georgia moved on to face vaunted top seed North Carolina in the title match. Meanwhile, Michigan, though disappointed to go out in uninspiring fashion, can hold its head high following a great run to semis and some big upsets along the way.
"You'll see us here in the spring," said Ashwin Pothukuchi when asked about Michigan's 2022 forecast. Clearly MagnUM has plans to sustain this success.