All that plus one of the coolest college event logos we've seen in a minute.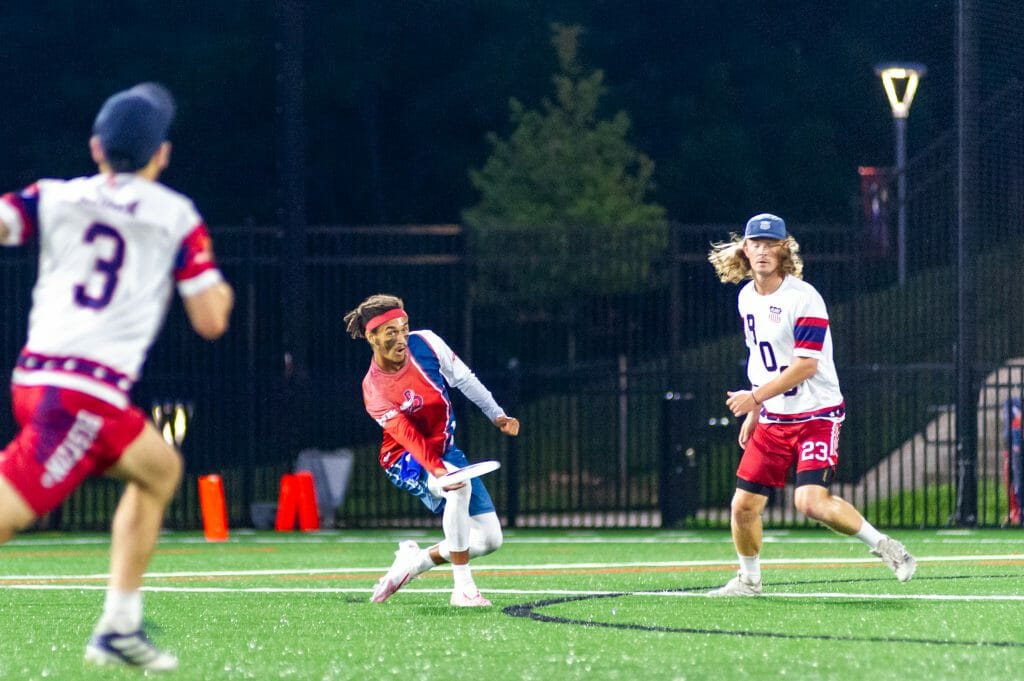 Opening Pull is Ultiworld's weekly wrap-up of the previous week in ultimate, available both here on the site and as an email newsletter. We've gathered the news you need to know and highlights you need to see. Check back weekly or subscribe now to receive Opening Pull in your inbox along with a rundown of the previous week's content on Ultiworld.
AJ Merriman Signs 3-Year Contract with DC Breeze
Fresh off a sophomore season that earned him the AUDL's 2021 Defensive Player of the Year award, AJ Merriman has signed a three-year agreement with the DC Breeze, locking in a position on their roster for the 2022, 2023, and 2024 seasons.
"Getting AJ signed for three years is massive as it gives us a second cornerstone player like Rowan McDonnell to build around," said Breeze head coach Darryl Stanley in a release on the team's website. Merriman was also awarded Most Improved as well as places on the All-AUDL and All Defense Teams by the league.
View this post on Instagram
Beyond his breakout season in semi-pro, Merriman made a Club Championships debut in 2021 with Washington DC Space Heater. Revisit Edward Stephens's story on new faces at last year's Nationals in the mixed division to read about Merriman's introduction to ultimate and his meteoric rise on some of the sport's glitziest stages.
WFDF Nominates Paige Pierce for 2021 World Games Athlete of the Year
Five-time PDGA World Champion and longtime star in elite FPO play Paige Pierce has been nominated by the World Flying Disc Federation for the World Games' Athlete of the Year award, an annual contest with open voting for fans and followers of the Games.
While disc golf was only played once at the World Games in 2001, WFDF is free to nominate athletes from any flying disc discipline. According to the PDGA's release, both organizations "believe a strong finish by Pierce in this year's voting will provide further evidence to the IOC and IWGA that disc golf should be included as a full-participation sport at the 2025 World Games in Chengdu, China."
The first round of voting is open now through January 23, when ten finalists will advance to the last round. In addition to gearing up for another year of world-class competition, Pierce recently played her first event of 2022 at a local tournament in Fairhope, AL to express support for a transgender player in the division.
For more disc golf news and commentary during an eventful offseason for both big-money contracts and cultural conversations in the fast-growing sport, check out our sister site Ultiworld Disc Golf!
Design Highlight: 2022 Women's Centex Logo
The Women's Centex TDs have shared the logo for this year's tournament, created by VC Ultimate designer Etán Santiago. See a light mode version and more from Santiago's creative process here, and follow @womenscentex ahead of the event on March 19-20, 2022 in Austin, TX.
new logo who dis 🔥 thanks for the love @vcultimate pic.twitter.com/GefEe9GHz5

— Women's Centex (@womenscentex) January 7, 2022
---
Coming Up
Awards from the 2021 college season are rolling out soon! Watch the site for more on the performances in D-I and D-III we just can't forget.
With a new even-numbered year comes a new USAU ruleset, and we'll keep you posted on the changes as they're announced.