A new college ultimate documentary!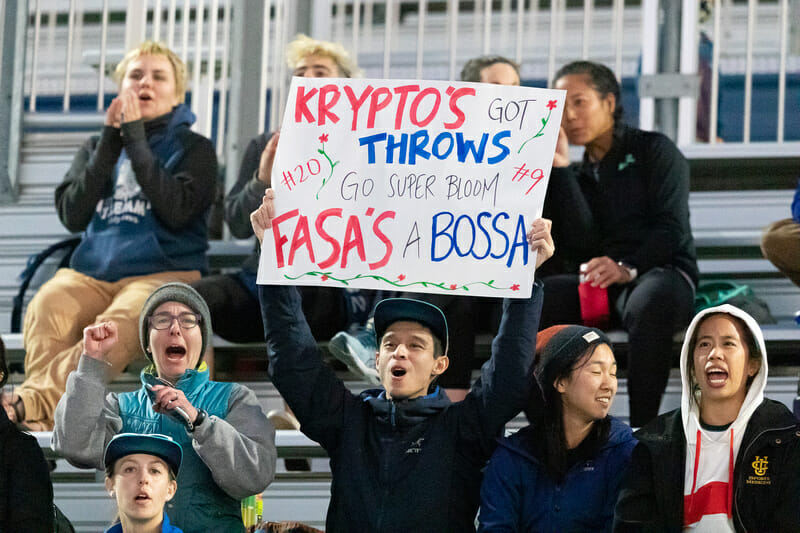 Opening Pull is Ultiworld's weekly wrap-up of the previous week in ultimate, available both here on the site and as an email newsletter. We've gathered the news you need to know and highlights you need to see. Check back weekly or subscribe now to receive Opening Pull in your inbox along with a rundown of the previous week's content on Ultiworld.
Western Ultimate League Releases 2022 Schedule
The Western Ultimate League released the schedule for their inaugural season. Each team will play in six games, but the schedule is highlighted by three weekends where multiple games are hosted at the same site. Four different teams will gather in Arizona for the season's opening event March 11-13. San Diego and Utah host similar game groupings in April. The season extends through early May, with Championship Weekend scheduled for May 13-15.
Fans will wait to see more roster announcements, as well as how the postseason and its qualification will be handled. After the league's innovative structure for the Winter Cup and the new wrinkles in this schedule, who knows what type of new ideas they'll bring to the table?
Callahan Finalists Announced
USA Ultimate announced the five finalists for the 2021 Callahan in both the men's and women's divisions.
Women's 2022 Callahan finalists tweet
Four different regions are represented in the women's division, and there aren't many surprises. Each of these five players is well-decorated, with the entire set having appeared on an Ultiworld award podium or All-American team, and Diaz, Mizener, and Perivier all getting First Team selections for 2021. Two of the 2021 semifinalists have players in the final five.
Men's 2022 Callahan finalists tweet
The men's field was perhaps a bit more murky in this year's disparate Callahan race. North Carolina's Anders Juengst's name was all over the place in 2021 – he even appeared on Deep Look – and he's going to parlay that into some 2022 notoriety. He's one of three AC-based finalists, joining NC State's Michael Lee and William & Mary's Jonny Malks. Veteran Cole Jurek from Minnesota, who should be in 2022 POTY contention, and Brown D-line stalwart Azeez Adeyemi round out the top five.
We don't have a final date yet for the announcement of the winner.
Milwaukee to Host 2022 D-I and D-III College Championships
Nationals is headed back to Milwaukee! Both the D-I and D-III College Championships will take place at Uihlein Soccer Complex, which hosted D-I Nationals in 2015 and 2018, as well as D-III in 2013. The 2022 D-I Championships will be May 27-30, while D-III will be a week prior on May 21-23.
If you're doing some counting, you'll notice that's an extra day of Division III competition compared to its typical two-day format. Our own D-III men's editor, Mike Ball, has long clamored for an expansion in the D-III Nationals schedule, and USA Ultimate is giving it a shot after 2021's four-day competition plan. While we don't know the particulars of the format yet, the news was met with positivity in the D-III sections of our Discord. #D3Days
Tulane Men's Team Documentary
The Tulane Tucks attended their first D-I College Championships in Norco, CA, and documented their experience. It is fun look inside the experience of an underdog at Nationals. Plus, they take a bunch of shots at Ultiworld! Check it out.
We have a new coaching newsletter, Bring It In!
Our coaching-focused column, Bring It In, is now a subscriber-only newsletter. Our subscribers get a new issue in their inbox every two weeks, with exclusive interviews with top coaches, video breakdowns, and a chance to ask Keith Raynor, and the coaches he talks to, your questions. You can see our free preview to get a taste of the first newsletter issue!
Coming Up
As part of their 2022 Coach & Organizer Convention, USA Ultimate is hosting a free Equity, Diversity, and Inclusion virtual session on Monday, February 7 at 6:30 Eastern.
This weekend, the Queen City Tune Up plays host to many of the best college teams in the eastern half of the US! Stay tuned for coverage from Ultiworld.