The winners we expected, but plenty of results we didn't.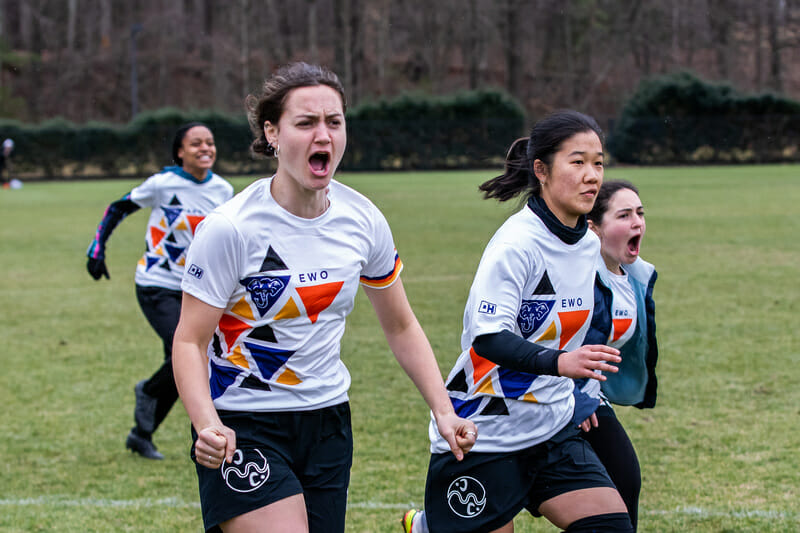 Our coverage of the 2022 college season is presented by Spin Ultimate. You can get 15% off all college uniforms and swag right now at Spin Ultimate!
Lindsay Soo and Aidan Shapiro-Leighton contributed reporting.
ROCK HILL, SC. — A number of quality ranked teams in both divisions made their debuts at Queen City Tune Up, and the results were not what we expected. Surprise bracket runs, disappointing flameouts, and upsets were all par for the course in Rock Hill. But in the end, the titles went to the teams most would have predicted: North Carolina Darkside and Pleiades.
Men's Division
North Carolina and Georgia Remain in a Class of Their Own
The finalists at Queen City Tune Up were the same as the 2021 College Championships', and they're first and second in our Power Rankings for a reason. Don't let a couple of close Saturday scores fool you: #1 North Carolina Darkside and #2 Georgia Jojah were the best two teams at the tournament, with a clear gap between them and the runners-up.
In the final, Darkside asserted themselves in the end, beating Jojah 13-11. After a Darkside hold, they secured a break on Georgia's first offensive point as the red-clad O-line struggled to generate any forward momentum. Georgia was without the services of All-American-level deep threat Matt Cook, who went down with a knee injury earlier in the day and was supported by crutches on the sideline of the final, and his absence may have required some adjustments on the part of his team. Neither side's deep game was particularly effective, but North Carolina's strong matchup defense and their O-line's impeccable red zone offense allowed them to control the first half on the way to an 8-4 lead.
Georgia presented a late-game threat as they trailed 11-8. Josh Singleton missed on a continue throw through a Jojah zone, and Hayden Austin-Knab launched an arcing backhand huck that curved around the defense and landed in his receiver's hands just before the back line. On the next point, the reigning Player of the Year snatched an aggressive John McDonnell blade away and soon thereafter sent an OI forehand into the end zone for back-to-back breaks to make it 11-10. But UNC took a two-minute patient offensive possession to walk in a hold. Georgia needed three possessions to respond, but Matt McKnight threw a pair of off-hand scoobers, including for the game-winning assist, to break open the zone on the final point.
There were some rocky moments earlier in the tournament for both sides. Georgia was down at half to a shorthanded William & Mary squad before righting the ship and allowing just a single second half goal in an 11-8 win. They needed two breaks to end their opener against Purdue 11-9 after their offense struggled with turns. North Carolina couldn't get much breathing room against Notre Dame, even going down a goal early, but their deep game eventually pulled them away for an 13-10 win. They had the same score against Maryland, although the Darkside offense kept UMD's defense off the scoresheet. Neither team appeared to be going full throttle, but by the end of each round, it seemed they didn't need to.
Vermont Surprises with Semifinal Showing
New England was one of the big winners of Florida Warm Up, and the region's run continued in the Carolinas, this time via emerging challenger Vermont Chill. They opened the tournament beating the two ranked teams in their pool, pushed through some lower-seeded teams in their next two rounds, and found themselves in the final four facing off with the national champs. Their D-line offense was able to be effective against a scuffling NC State, with Kuochan Ponzio and Declan Kervick helping get them breaks in the 10-8 win. They were up 9-6 on Ohio State before Leadbelly mustered a comeback to force a lengthy double game point that went Vermont's way. The run ended at the hands of North Carolina, 14-9, as Michigan forfeited the third place game.
There's plenty to like about this team, and their athleticism makes them fun to watch. Kervick, a freshman who was a tryout invitee for the US U20 National Team, is dangerous downfield, as is Gabriel Smestad. Ben Payson is capable of some impressive layout blocks. Ryan Bliss, another rookie on the team, showed off a diverse throwing skillset. Kuochan Ponzio, formerly of Oregon, was central to the defense. He brings elite experience with the likes of the Portland Rhino and the AUDL's Boston Glory.
Their region looked too deep for whatever the bid situation winds up being before this weekend. Vermont adds another credible nationals-caliber team to the mix.
Atlantic Coast Roast
Typically, the early season East Coast slate favors the Atlantic Coast teams. Carolina Kickoff gives them a quality season-opening option and QCTU attracts good talent from afar, most of which hasn't played a tournament yet. While North Carolina held up their end of the bargain, #9 NC State Alpha and #19 UNC Wilmington Seamen fell short of expectations, part of a larger pattern of underwhelming AC performances. Based on results available on Score Reporter, Atlantic Coast teams went 12-13 against out-of-region competition; remove North Carolina's 4-0 record and the remaining 8-13 is not pretty.
At the top, NC State's weekend was soured by that opening loss to Vermont. Their only other loss was 14-11 to Michigan in quarters, and they thumped Ohio State by eight. Trevor Lynch has picked up right where his 2021 First Team All-American campaign left off, and John Laney was critical, as he and Lynch showed an ability to earn the disc back after O-line turns. But their offense lacked pop and that made things a challenge. The weekend was pretty disastrous for Wilmington, who dropped double game points to Notre Dame and Carnegie Mellon, while also losing to Purdue and Virginia. Their offense seemed very reliant on deep shots, but they couldn't execute them consistently. They connected just enough to upset Michigan 10-9, but only in the final round of pool play, with Pool C mostly decided.
The rest of the region, as the record can attest, left a lot of wins on the table.
Women's Division
Vermont and Tufts Off to Great Starts
Not unlike their men's division counterparts, the women's representatives for the New England region looked quite strong in their debuts.
#10 Vermont Ruckus lasted until the final round, notching five wins — mostly by sizable margins — before taking a respectable 12-8 loss at the hands of North Carolina. Kennedy McCarthy looked very strong for Ruckus, a clear standout, but no one should assume the team depends on her. They have plenty of skill across the roster, with capable handlers and defenders. Sarah Von Doepp pulled some double duty, playing shifts on defense and offense very well. Lylah Bannister (who made a fantastic layout catch for an early score in the final) and Marina Godley-Fisher were also getting pivotal reps. They rode their defense to success against Pittsburgh in the semifinal, making especially effective use of their zone when the wind picked up, an impressive sign against a team with the handler experience of Pitt. And they achieved this success with hyped recruit Emily Pozzy sidelined.
Meanwhile, #14 Tufts Ewo might have had an even better weekend, though they met North Carolina a round earlier in the semifinals. They actually kept one goal closer to Pleaides and left a trail of blowouts in their wake, including a pair of shutouts in pool play against Florida and Case Western. Hazel Ostrowski was one of the best players at the tournament, but rookie Lia Schwartz and grad student Maggie Pendleton were making noteworthy impacts for a deep Ewo club. Their diverse set of zone looks and varied offensive contributors implies that, once again, this is a well-coached outfit.
Just Another UNC Win, But Is There Cause for Concern?
Just another tournament win and undefeated weekend for #1 North Carolina Pleiades. What's new? They dominated on their way to the semifinals, where the New Englanders challenged them for two rounds, probably a welcome sight for UNC.
What we saw was a continued distribution of Pleiades' talent. Ella Juengst reprised her offensive role as the primary downfield player, while Alex Barnett and Carleton transplant Maya Powell took over the backfield. Dawn Culton, Sydney Rehder, and Grace Conerly remained defensive leaders. Theresa Yu looked primed for a big offensive role, as well. They are a smart and balanced team that never plays scared.
But there were some things fans would like to see that they didn't. Anne Worth won't be joining the team until the postseason, but Karen Ehrhardt was also not playing. More importantly, they lacked much downfield support for Juengst. The 2021 Second Team All-American is a force of nature in the red zone and in the under lanes, but Pleiades wasn't able to use her to connect with other cutters or make big downfield attacks. That sometimes made for slow going zone on offense, where the handlers and Juengst had to dink and dunk their way the length of the field. Could it be a weakness? Potentially, though a clear answer to it is simply bringing Culton over as needed.
The issue cropped up against Vermont in the final, as things got a bit windy and Vermont was not afraid to send out some zone looks to slow down Pleiades. Culton and McCarthy made for a sparkling matchup during Ruckus' offensive possessions, but Vermont was able to drop in some deep shots to stay within reach. But at 5-5, North Carolina brought over some O-line personnel — first Juengst, then Yu — and were able to set up different zones that coaxed Vermont into execution errors that they turned into breaks. Their trap zone was particularly effective, set up by sideline roller pulls. UNC parlayed that lead into the final 12-8 margin.
App State's Great Eight
Appalachian State Nonads were one of the teams attracting newfound attention in the fall season, which ended for them at Atlantic Coast Regionals. Now they've extended their relevance to the spring with an undefeated Saturday where they won all three games by five or more, including against #8 Pittsburgh Danger. Then they dropped out of the tournament before we could see what they had to offer in the bracket. The reason? They played the entire first day with just eight players, and mostly just running through a single group of seven, ratcheting up their potential for injuries by pushing through Sunday.
While the number of players was small, they did up the percentage of their roster named Barry. Joining Margaret and Abigail is a third, Charis. The three are all used to working with each other and being very involved in each point, probably making it easier to bear the weight of the four games they played. The Nonads benefited from some wind, too, able to run zone through most rounds.
Their success against upper-tier teams brings back memories of the Central Florida club that reached the 2014 national semifinal on a similarly slight roster. But that kind of ceiling remains hypothetical until we see App State deliver quality play over a full two-day tournament with top-of-division talent. We checked off some of those boxes here, but how would they have held up in the more demanding Sunday bracket games after playing four on Saturday? Keep an eye out, though, as they are a dangerous team with a clear recipe for success.
Read on for thoughts on other teams from the weekend from both divisions, exclusively for subscribers.
Bonus Content for Queen City Tune Up 2022: Tournament Recap is only available to Ultiworld Subscribers
Already have a subscription? Log in
Whether you visit Ultiworld for our reporting, our podcasts, or our video coverage, you can help us continue to provide high quality content with a subscription. By becoming a subscriber, not only do you receive benefits like bonus content and full article RSS feeds, you also help fund all of Ultiworld's coverage in general. We appreciate your support!