And because you couldn't get enough, more college ultimate!
February 21, 2022 by in News with

0

comments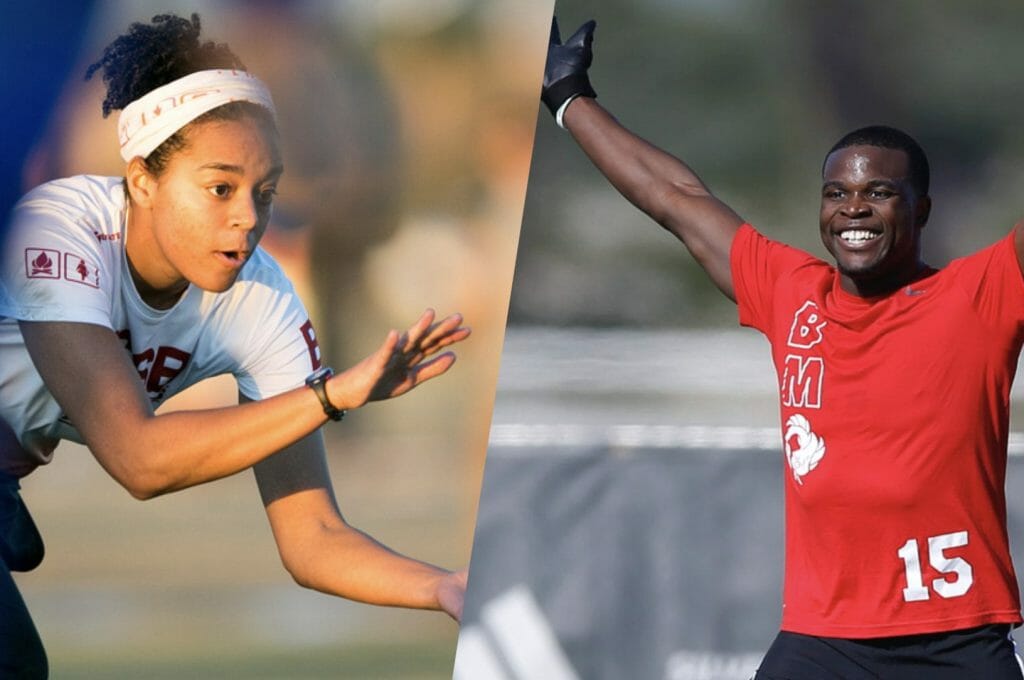 Opening Pull is Ultiworld's weekly wrap-up of the previous week in ultimate, available both here on the site and as an email newsletter. We've gathered the news you need to know and highlights you need to see. Check back weekly or subscribe now to receive Opening Pull in your inbox along with a rundown of the previous week's content on Ultiworld.
Childress and Adeyemi Win Callahan as First Black Duo
USA Ultimate announced the 2021 Callahan winners on Twitter. UC Santa Barbara Burning Skirts' Jasmine Childress won the women's division Callahan award, while Brown Brownian Motion's Azeez Adeyemi was announced as the men's division winner.
Childress and Adeyemi are the first Black pairing to win the Callahan, joining the handful of Black players who have received the honor.
Donovan Award Finalists Announced
The lists included a pair of semifinalists from each division. Drew Otterlei of St. Olaf and Hunter Lang of Richmond are in the top five for the men's division, while Portland's Kim Dorr and champion Middlebury's Josie Bourne are in same cohort in the women's division. The 2021 Donovan Award winners will be announced Wednesday, February 23rd.
Presidents' Day Invite In Final Day of Competition
San Diego, CA is playing host to some of the top college teams on the West Coast and beyond. We've already had some results that didn't match our expectations, and you can find more detail in our day one and day two recaps.
In the women's division, #4 UC Santa Barbara is set face off with no.8 seed Oregon in the semifinal round, opposite of #8 UC San Diego and #5 UC Davis.
Over in the men's division, the top four ranked teams reached the semifinals. #3 Colorado meets #19 Oregon and #8 Cal Poly SLO lines up across from #22 California.
Our reporters are providing in-person coverage, which you can follow actively on Twitter.
Vote in our Play of the Year Tournaments
Our annual Play of the Year tournaments have begun, with fans voting to select the best Catch, Throw, and Block of 2021. The Catch of the Year bracket is live, with the first round complete and second-round voting opening soon. Keep an eye out for the other rounds and our other upcoming brackets to help crown the best plays of the past year.
Coming Up
The Donovan Award announcement is coming Wednesday.
Our Catch of the Year bracket continues while our Throw of the Year bracket begins, so you can vote for the best receptions and tosses to make sure we get your favorite winner.
More of the college coverage you crave, including more and more footage as we capture the games of this season.