The first West Coast major of the 2022 season!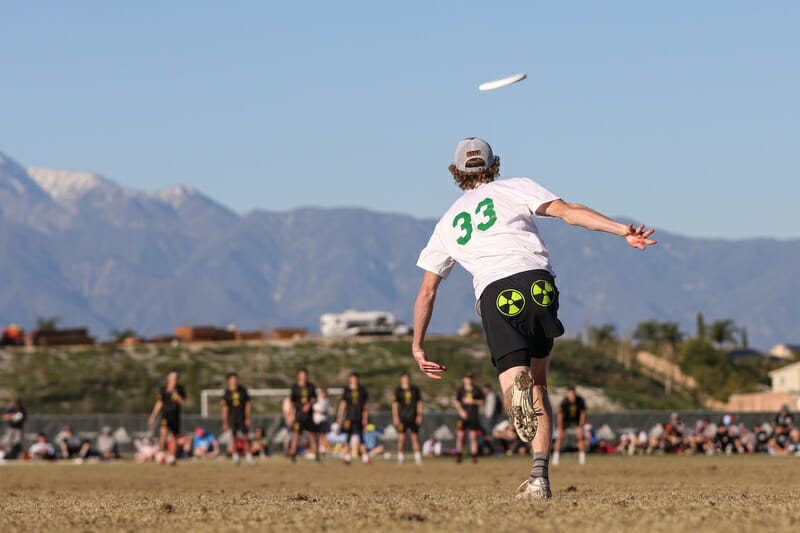 Our coverage of the 2022 college season is presented by Spin Ultimate. You can get 15% off all college uniforms and swag right now at Spin Ultimate!
It's time to forget any preconceived notions around the Presidents' Day Invite, folks. With rankings no longer being a factor, many teams who would otherwise have trekked to SoCal have instead given the early season tournament a pass, making it a more regionally focused event than in years past. Of the 29 teams competing this weekend, only 8 are out of region — mostly from the Northwest and South Central, along with the Cornell men traveling out of the snowy Metro East. Still, it does mean that the teams traveling down to San Diego are doing so for the right reasons this time: beautiful weather, beaches, and sunsets. If you remove ultimate from the equation, there's not much more you can ask for from an extended weekend.
That's not to say there's any reason to remove ultimate from the equation! Despite featuring a smaller cast of characters this year, we'll still see our fair share of drama emerge from the tournament. 7 of the nation's top 25 women's teams and 5 of the top 25 men's teams will be competing, which will help provide a whole lot more clarity on the state of the Southwest region, which looks poised to be one of the most contentious by the postseason particularly with bonus bids unavailable this season.
It's not just the Southwest, either. Both the South Central and Northwest hierarchy will start to settle into place after we see the traveling teams from both regions in action. SoCal, it's time to move on from the Super Bowl — ultimate is back!
Tournament Profile
Date: February 19-21
Location: La Jolla, CA
Weather Forecast:

Mid-to-high 60s and sunny, with light wind

Top 25 Women's Division Teams: #4 UCSB, #5 UC Davis, #8 UCSD, #10 Colorado, #14 UCLA, #20 Stanford, #23 Utah
Top 25 Men's Division Teams: 

#3 Colorado, #8 Cal Poly SLO, #19 Oregon, #22 Cal, #23 UCLA
Filming Schedule
These games will be available online next week for Ultiworld Full and Plus subscribers. They are being filmed, not livestreamed.
Men's Division
UC Davis v. Oregon
Arizona v. UC Davis
Power Pool Game #1
Power Pool Game #2
Quarterfinal
Final
Women's Division
Colorado v. Cal Poly SLO
UC Davis v. Colorado College
Stanford v. Oregon
UC Davis v. UCLA
Utah v. Colorado
Quarterfinal
Semifinal
Final
College Team Packs are on sale now! Get video access and subscriptions for your entire team and coaching staff (including all of our 2021 college fall footage) along with a guaranteed filmed game, download access for highlight/Callahan/Donovan reels, and more. 
Women's Division Storylines
Just How Good Are the Burning Skirts?
It's only been a few short months since we saw UCSB storm their way to semis at Nationals: this year's team was supposed to look substantially different. Last season's heralded stars like Kaitlyn Weaver, Nicki Yang, and Callahan winer Jasmine Childress are gone. While their ceiling may not be as high, UCSB is already pulling ahead of the pack in the combative Southwest region. At the Santa Barbara Invite, the Skirts put away all six of their opponents to remain perfect in their home tournament. 
The team certainly isn't perfect. They had tight games with BYU, UCSD, and UCLA at SBI, and the pendulum could have swung against them. Unlike many of their in-region rivals, UCSB does not struggle with a smaller roster, and has a lot of talent to develop as the season progresses. Their team acknowledges that player development is still very much their primary objective, especially with rankings not coming into play. "We're really focusing on developing our depth and systems," said head coach Hani Pajela, adding later that recruiting has not been as much of an issue. "We picked up some former YCC players in Julia Hasbrook, Devin Quinn, and Vienna Lee. Our challenge is mostly about getting everyone up to speed."  
UCSB has the luxury of turning up the heat any time they want. Alongside their YCC pickups, they also have seasoned veterans like Mac Miller, Marie Levisay, and Sophie Miller, along with a Swedish exchange student in Alice Bentzer. Finally, it would be remiss not to mention Elsa Winslow and Yu Ishii, who both were integral pieces in UCSB's 2021 campaign and remain two of the best players in the Southwest. 
This might not be the same Burning Skirts that made it to semis last year, but they have the talent on their roster to make just as deep a run if they can put it all together in time. 
Who's Got Next In The Southwest? 
UCSB might have the spotlight centered on them at the tournament, but there are plenty of other teams ready to steal it away from them if given the chance. Due to a rare ranking/scheduling setup this year, UCSB won't actually face any of their real in-region rivals in pool play, aside from the 10th seeded Cal Poly SLO. Instead, it's pools B & C where the rest of the Southwest will duke it out for a chance to make a deep bracket run. 
In Pool B, the two highlights are UCSD and Stanford. The contrast between the two teams is even more impactful if you've been following the women's college division for the last decade. Stanford was the standard-bearer of the Southwest for the first half of the 2010s. No one was getting anywhere in the region without going through them first. UCSD took the mantle from them for the second half of the decade and developed much of the same reputation, only recently relinquishing it to UCSB in 2021. Both Stanford and UCSD are known for their excellent coaching staff and player development, which will be put to the test this season. 
UCSD has two main hurdles. The first is developing a strong handler core to alleviate some of the burden felt by Ava Hanna, who frequently has had to put the team on her back to keep them moving in tight games. UCSD is relying a lot on Ava and her sister Lauren, alongside Maggie Pierce in the backfield. They do have a strong core of downfield cutters with Charlotte Sue, Abbi Shilts, and Kate Lindeman, but it's their handler unit where injuries and exhaustion start to become a problem. Exacerbating that is a lack of depth. UCSD does not sport a large roster, and while they are talented, longer points can wear them down.
Stanford faces a similar situation: their roster is also on the smaller side and features 12 rookies that need a lot of development if they're to have a chance in the postseason. Robin Davis, Jamie Nuwer, and Amel Awadelkarim have a reputation of knowing how best to utilize players by emphasizing their strengths and safeguarding their weaknesses, but the large contingent of rookies could make that tougher. Much like UCSD's Ava Hanna, expect a lot of the disc movement to go through Xinshi Zou, who has the longest tenure with the team and is a very capable thrower.
In Pool C, the duel between the Southwest's bests will be between UC Davis and UCLA.
It's certainly been a quick climb to relevance for UC Davis, as the team went from a middle-of-the-pack Regionals team to one that made it all the way to the quarterfinals at Nationals in 2021. Julianna Madigan, Rani Shah, and Allyn Suzuki will be the team's defining players this season. If those names sound familiar, that's because you've been paying attention. UC Davis has retained a strong part of their Nationals core, and the team is in a great position to make a deep run, whether in San Diego or Milwaukee. Rogue has a lot going for them in terms of chemistry and on-field talent and shouldn't have too much trouble making their way to the bracket. 
UCLA will also likely make the bracket, but they'll have an uphill battle to make it out of quarters. Based on their performance at SBI, the team has a penchant for throttling teams weaker than them but struggling to generate much momentum against better defenses. UCLA knows they have a strong group of throwers, but their decision-making hasn't always been perfect. Against teams who smother their downfield options, BLU has a tendency to force throws. The good news is that the issue is is fixable. If their throws from players like Tanya Bearson, Athena Lynch, and Cameron Jewett are on target, UCLA is just as much in the running as any other top seed. The most promising aspect of UCLA's situation currently is their complete roster. The team has the depth that others in their region are lacking after a tough two years; they now just need reps to fit everything together. 
What Can We Expect From The South Central?
It's hard to look at Colorado's roster with anything other than excitement. This is a team filled with household names and a pedigree that outshines many of the top teams from the Southwest. Yes, their team was kicked out of the bracket at fall Nationals against one of the teams they'll likely be facing this weekend, but that's old news. For a start, Quandary is returning more players this season than many of their more western opponents. Emma Capra is back for a 7th year, as is Britta Bergstrom, which already gives the team a solid veteran presence. Rachel Wilmoth, Clil Phillips, Saioa Lostra, and Mei Hecht are other veteran players that make Colorado a live underdog to win the tournament outright. 
The road to the finals will be a difficult one for Colorado, though. They have UCSB in their pool, which means that even a single loss would land them in the bracket against either UCSD or UC Davis in quarters. Both of these teams also have nationals experience under their belt and have the talent to make life tough on Colorado. 
The largest concern for the team will be getting in rhythm, as it's notoriously difficult for Colorado to get practice time this early in the season with the weather working against them. Historically, Colorado has used Pres Day as a warm-up tournament. That's not to say that winning isn't on their mind, only that it's not their highest priority. With the rankings thrown out the window, it's certain that Colorado's priorities are just as much around development as winning gold. 
Colorado College is a little more of an enigma. As for what we do know, Sophia Hennessy, Isabel Cody, and Casey Shaw-Merrigan are a solid core that showed up in a big way at Regionals in 2021. The team's smaller roster means a lot of reps for their top players, and they use that to great effect. 
The 17 players showing up should have good chemistry, but the duration of the tournament could present a challenge. A three day tournament is fairly taxing for any team, and that compounds even more for one with a smaller roster. Zenith has their work cut out for them, but are still very much in the running when so many other teams are facing their own problems, too. 
The Case For the Northwest
Only two teams from the north have decided to head down to California, and both will be sporting smaller rosters with many fresh faces that they're still integrating into their system. Utah is rebuilding with a team that centers around star handler Jess Olsen but should also see quality minutes from Carly Atwell and a few other young up-and-coming stars. Utah has yet to see the same level of recruiting with high school talent that has bolstered the Southwest teams, but their internal development has already produced some quality players in the past, and the team has also been competitive at previous PDI events, even if they tend to flame out early. 
For Oregon, the team has yet to return to the heights they had in the last decade as a program, but they have upset potential when underestimated. One shining light for Fugue is the return of Rachel Hess, who's been a pivotal player for the team in recent years when healthy. If she can help marshall the team in clutch moments, there'll be a lot more to talk about with Fugue for the rest of the season, especially in the punishing Northwest region. 
Men's Division Storylines
Colorado and Oregon Open Their Seasons
Two stalwart programs will see their first game action in 2022 this weekend. After a disappointing showing (well, for a team with title aspirations) in Norco this fall, Colorado Mamabird is reconfiguring around its rising talent. Meanwhile, Oregon Ego took the fall season off and is looking forward to getting back on the field for the first time since spring 2020.
The stacked Colorado junior class finally will get their chance to lead the team. After two seasons of displaying their talent as role players and secondary playmakers to stars like Quinn Finer and Alex Atkins, Aylen Learned, Calvin Stoughton, Nathan Buchholz, and Danny Landesman will be thrust into the spotlight and expected to carry this next wave of Mamabird talent.
Oregon, on the other hand, is also looking at a changing of the guard. Last we saw Ego, it was Will Lohre, Xander Cuizon-Tice, and Duncan Fitzgerald leading the show. With those players since graduated, Ego is a bit of a competitive unknown. Cylas Schooley was a highly touted rookie a few seasons ago. Now as a captain, he'll be expected to carry the torch for another impressive rookie, Ke'ali McCarter, who was last seen dominating at the YCC championships and recently signed with the Portland Nitro, the local AUDL team.
Colorado and Oregon should expect to see each other at some point in power pools or the bracket this weekend after challenging themselves against the best the Southwest has to offer. While each may be at different points along the rebuild/retool scale, this weekend will mark a turning point for each program as they build back to their desired competitive level.
UCSD and Stanford Join Southwest Arms Race
Aside from Colorado and Oregon, the bulk of the field at Pres Day hails from the Southwest. Regional favorites Cal Poly SLO, Cal, and UCLA kicked off their seasons at Santa Barbara Invite a few weeks ago, but 2021 Nationals qualifier UC San Diego and game-to-go loser Stanford will certainly make their voices heard this season too. They will both debut this weekend.
The host Air Squids rode the steadying presence of their junior-senior-grad players in the fall but will need to incorporate more depth this spring if they want to make a repeat appearance. Without a published spring roster, UCSD is a bit of a black box to onlookers, but they managed to walk the walk of a gritty, hard-to-knock-out opponent this fall. If they can bring back that persona, nobody will be getting easy wins against them.
Like UCSD, Stanford benefited greatly from graduated players joining for the fall series, but Nick Hirning, Philip Cathers, Sam Masling, and co. have played their last game. Kevin Tien returns for one final ride with Bloodthirsty, and they'll need him to be incredibly dominant by the end of the season. Until then, using opportunities like this weekend's games (competitive, but not affecting rankings) to increase the capabilities of their depth will go a long way in ensuring competitiveness by the time the series rolls around.
Count Out SLO At Your Own Risk
Cal Poly SLO looked very comfortable against all non-BYU teams at Santa Barbara Invite. All eyes will be on their power pool performance to see how they (presumably) match up with Colorado in an early test of top ten teams. The game will also be an early measuring stick to begin to compare teams across regions and will be instructive to the talented coaching staffs on each sideline as the process of in-season adjustments begins.
KJ Koo looked the part of a Player of the Year candidate a few weeks ago and will need to keep up that pace of play to keep SLO in the top ten conversation. Not just a one-star team, Garrett Bush, Seamus Robinson, and Matt Miller all have important roles to play for SLO. Adding more game reps will sharpen up the roles for up-and-coming younger players to slot in to. Peter Lenz, Keaton Orser, Dodger Middlebrook, and Anton Orme all took turns making impressive plays at SBI. If they keep on this current trajectory, SLO could drive back north as tournament champions.
Cornell Challenging Itself with some Cross-Country Action
In a year in which the games do not count for rankings or bid allocation, many teams have opted to stay local and build up their skills for the series. Cornell, once the perennial favorite in the perennial one-bid Metro East, rarely has felt the need to earn a bid anyway but is challenging itself against some of the best teams in the country this weekend. The team, bolstered by a strong alumni group, reached Nationals in the fall after a multi-year drought, getting a tight win over a Rutgers team that didn't have the luxury of alums competing. The Buds relied heavily on its most experienced players in the fall, so, like many teams, they'll need to develop the next generation of players, especially if they hope to compete with Rutgers again at Metro East Regionals this spring.