What we learned on Saturday.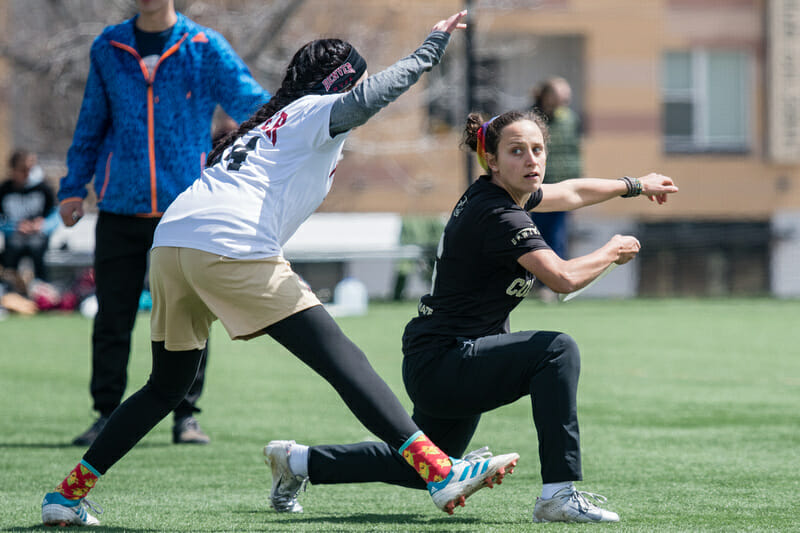 Our coverage of the 2022 college season is presented by Spin Ultimate. You can get 15% off all college uniforms and swag right now at Spin Ultimate!
SAN DIEGO — The college season has started to ramp up as some of the nation's best came together on Saturday for one of the premier tournaments on the West Coast. The weather was also in peak form, as the sunny skies stayed clear and the wind stayed low. Thanks to the unpredictability of the college season, we already saw some upsets on Day One, and there was plenty of action to keep the fans engaged. Here's what we learned after the dust settled on Saturday.
Day One Results
Click the images to see individual results and the Sunday schedule.
Women's Division

Men's Division

Women's Division Takeaways
When in Doubt, Bet on the Nationals Attendees
There was plenty of roster turnover for almost every team from the 2021 season. With so many players graduating and losing eligibility, there weren't a lot of assurances that the teams who had achieved meaningful results in the fall would still carry that over into spring.
Day one quickly squashed all concerns. The top four teams at Presidents' Day were all Nationals attendees in 2021, and together they finished day one with a 9-0 record. Colorado, UCSB, UCSD, and UC Davis were unstoppable on Saturday. Not a single one of them won a game by fewer than four breaks, and most had even stronger performances than that. All together, they outscored their opponents 116-26. It's fairly clear that this group is in league of their own — and on a collision course deeper in the tournament.
It should be noted that these top teams had the easiest schedule of the tournament so far, as they all avoided playing the other top seed in their pools, which will make Sunday's games far more impactful, but they all passed the eye test with flying colors. Unsurprisingly, having Nationals-level experience pays off, even if you have a significant graduating class.
The Smaller Rosters Struggled
We're all aware that recruiting for a sport during a pandemic is an almost impossible task, but some programs were affected by the pandemic more than others. Call it fatigue or growing pains, but in most instances, there was a direct correlation between roster size and performance.
The two largest rosters at the tournament1 belonged to UCSB and Colorado, and neither team had an opponent score more than three against them. We also saw surprise upsets from Cal and Oregon, both of whom had larger rosters than the higher seeded Stanford, who was clearly dealing with enervation at the end of their games, along with a lack of senior leadership to help when the going got tough.
Speaking of the struggles of these smaller rosters, both Cal Poly SLO and Utah had a tough time on Day One with more games and only a finite number of players to cycle through. Their top performers played multiple points, but even their rookies saw the line more often than in a normal season. Cal Poly's sole win of the day was over Utah, and the Spiral Jetty women emerged winless.
Even UCSD, a team that went 2-0 for the day, had to be careful with playing time for their stars, and allowed the most points of any top seed at the tournament. It's safe to say they were in the toughest pool, but they also were dealing with a smaller squad.
Sorry to the Southwest, The Pie Queens are Dangerous
For many years now, the Southwest has been one of the most competitive regions in the nation, but normally that's offset by the waxing and waning of different college programs and the potential to earn additional bids if it's a particularly strong year for the region. Unfortunately, that's not the case this year, as bids will not be determined by the performance of the teams in season. This is particularly troubling for top seeds like UCSD, UCSB, and UC Davis, as the threat of them being knocked out at Regionals looms large.
While we already knew that Stanford and UCLA were likely going to be competitive, Cal's performance on Saturday indicates that they'll be right there as well. Not only did they win a tight game against Stanford, they also played a tighter game with UCSD than the score indicates. Robin Anthony-Petersen is a revelation for the team and was able to get open at will, and other strong performers like Betsy Siegal, Zoe Luke, and Jenna Krugler also had standout plays. Their game against UCSD could have swung their way on any number of the break opportunities they created, and once they clean up their offense, team's will have to reconsider every shot they take against the athletic Berkeley team.
It's probably too early to look ahead to the postseason, but if we were to take just a tiny peek, it doesn't appear all that certain that the Southwest's current top three will still be in that position after Regionals.
This Might Finally be the Year of Colorado Quandary
This isn't the first time we've been excited about a Colorado roster before. The team has a knack for attracting talented players, and the program they've built has a track record worthy of that one could claim is of a 'championship pedigree', even if they've never actually won a final before.
Last year's Quandary made it to Nationals, only to underwhelm in bracket play. The team was undeniably talented, but didn't quite have the chemistry that many were expecting of them. Still, the team retained a large portion of their core heading into the spring, and while they rightfully faced some skepticism, the pieces were there.
Well, if Saturday is anything to go off of, Colorado is positioning themselves to outperform any of the tempered expectations. The team looked like the best version of themselves despite having had only a handful of practices before coming out to San Diego to compete. It's safe to say that they looked like the best team out there over the course of the day.
It helps that they haven't had to do as much rebuilding as their opponents. UCSB might have brought a larger roster, but it's packed with rookies. UCSD has a much smaller roster, and it's also packed with rookies. Colorado, on the other hand, has more veterans on their roster than any other, and features two 7th year students in Emma Capra and Britta Bergstrom. Pair those two with players like Clil Phillips, Mei Hecht, Rachel Wilmoth, and recent Olympian Stacy Gaskill, and you've got yourself a recipe for success.
Colorado has yet to be really challenged in San Diego so far, but if they continue to show the same tenacity and skill they have displayed against lesser competition, they're primed to have a big year.
The Return of Oregon Fugue?
We're only a little over a decade removed from one of the greatest runs of any college program in the modern era. With the leadership of pantheon-level college stars, Oregon Fugue made it to the semis or higher at Nationals for eight straight years2. Fugue has been boxed out of Nationals in a tough region for a number of years, but the early returns at Pres Day show them on the right path to get back to the show.
Oregon plays a fast, exciting style of ultimate that caught their opponents off guard in their first two games of the tournament. They're happy to get the disc in the hands of Rachel Hess and let her go to work, or set up Ava Jones and Yausi Khajavei to make big plays. More importantly, they play a balanced offense, never looking off a player if they're open and making any necessary short pass to keep the disc moving. They may have lost their first game to UCSD, but they kept it close early on, and the mistakes they made are the type of problems that get solved as the season progresses. We'll know more by the end of the weekend, but Oregon's definitely one of the teams to watch as we head into bracket play.
Men's Division Takeaways
Colorado and Cal Poly SLO are in a Class of their Own. Is Cal there too?
The top two seeds — Colorado Mamabird and Cal Poly SLO SLOCORE — are on a collision course to meet in the final: no opponent came within four goals of either team throughout pool play and the first round of power pools. Cal can say the same with a dominant romp through Pool C, and they'll have a chance to upset Colorado in power pools or SLO in a potential semifinal if all else goes to seed.
When it's clicking, Colorado's offense is almost too good to stop. Running primarily through Daniel Landesman, Aylen Learned, Alex Atkins, and Calvin Stoughton, Mamabird can attack defenses in a variety of ways. Stoughton, Learned, and Landesman can run a devastating handler dominator. Atkins is an isolation threat downfield, and the entire O-line has strong enough throws to break through standard zone looks. On defense, Colorado used a zone to confuse the UCLA offense and was able to generate pressure in person matchups too. After a turn, Connor Tabor and Levi Tapper are a nice one-two punch for opponents to handle.
SLO might have the best depth of any team in this field. Compared to other teams that are still teaching systems or have trouble transitioning between zone and person defenses, SLO's floor of competency is incredibly high. When you add to the individual talent of KJ Koo, Garrett Bush, Jake Thorne, Seamus Robinson, and Matt Miller, SLO can put away opponents quickly if they don't play their best.
Cal similarly has a really high floor. Their offense can either stretch deep through the legs and aerial abilities of Gavin May and Max Williams, or can play small-ball with one of the best possession handlers in the country in Andrew Roy. With a stingy zone defense that is particularly effective in the wind, Cal might have the chops to pull off an upset here and solidify themselves as the number two team in the Southwest.
Metro Beast
Cornell had the benefit of a somewhat soft schedule, but the Buds have made the most of their trip out west so far with a surprising pool victory. After an opening round upset of Stanford, Cornell did take a loss to host UC San Diego, but they eked out a universe point win over USC to qualify for the power pools.
With a no-nonsense style, Cornell made few mistakes on Saturday. A stingy diamond zone gave Stanford and USC trouble, and a patient vertical stack offense helped the Buds keep possession even against high pressure defenses. Captain Ben Goldman especially stood out for his composed play.
In their first power pool game against UCLA, Cornell lost on universe, so their road through the bracket will likely include a tricky pre-quarter. But, for a team happy to see temperatures above 40 degrees (Sunday's high in Ithaca), earning wins against strong southwest teams is just icing on the cake.
Team Growth (or lack thereof) is Starting to Feel Noticeable
Without rankings and bid implications, it can feel almost pointless to care about this year's regular season games. But, aside from the excitement of live ultimate, it is really neat to watch a team grow and improve over the course of just a few weeks so far. On the other side, it is also really notable when a team stays stagnant. Take Saturday's UCSB-Utah game. UCSB had a fairly dismal showing at Santa Barbara Invite, staggering to a 2-5 record including an 11-7 loss to Utah. Utah, on the other hand, scored a nice upset of Cal and took half on SLO in an impressive opening weekend.
Three weeks later, Utah looks about the same as it did in January. When the hucks are hitting, they can win games, but when forced to work unders the length of the field, usually Zion Curtain will find a way to falter. As a point of contrast, UCSB looked much sharper and clearly valued possession more. Rhys Gretsch is a force to be reckoned with on their D-line, and Ryan Barry paces a solid if unspectacular offense that doesn't give the disc away easily. In the rematch, Santa Barbara won 9-7. While one pool play result in February won't define an entire season or even this tournament, this game was simply indicative of the kind of growth college teams need to display over the course of a season to be competitive in the games that count the most at Regionals.
One team I'm excited to see grow: Oregon. Ego dropped consecutive games to Cal (9-5) and Cal Poly SLO (12-6) after defeating UC Davis and Arizona in the first two rounds. Captain Cylas Schooley got injured early on Saturday. In his absence, Itay Chang, Max Arquilevich, and Ke'ali McCarter stepped into playmaking roles for the offense. Without a competitive fall season, this was most onlookers' first glance at Ego (they played a local tournament in Oregon in January) and the first chance for Ego to test itself against Nationals-caliber opponents. To get back to Nationals in May (or to win a game in Pres Day power pools, frankly), Oregon will need to see some improvement from its Saturday showing.
Ninety Minute Rounds are Just Too Short
USC and Cornell played each other in the last round of pool play. Sitting at 1-1, each team needed the win to advance to the power pools. A tightly contested, back-and-forth affair had its fair share of long points. By the time the soft cap horn sounded, the game hadn't reached halftime yet. When the game ended, Cornell took the game on universe and finally hit the halftime score for the 8-7 win.
Across the men's division, just two teams (Colorado and Cal Poly SLO) scored the full 15 points in a game. Colorado managed to do it twice, including one 15-0 blanking of Arizona State. With nearly every game going into the cap, there are often a precious few minutes between games. Most of that time is spent relocating between fields. While obviously a longer break could be physically beneficial to tired bodies, it is also mentally draining to be on for such a long day without so much as a fifteen minute break. With a three day event and two field sites, there is plenty of room to space out the rounds more, and it would have been healthier for the players if they did.
---
UCSD B technically had a top 3 roster, but were the only B team in attendance so their position in the narrative is very different ↩

Stanford's run was longer, but they had a few years peppered in where they did not make it on the podium ↩