Onto the big bracket games!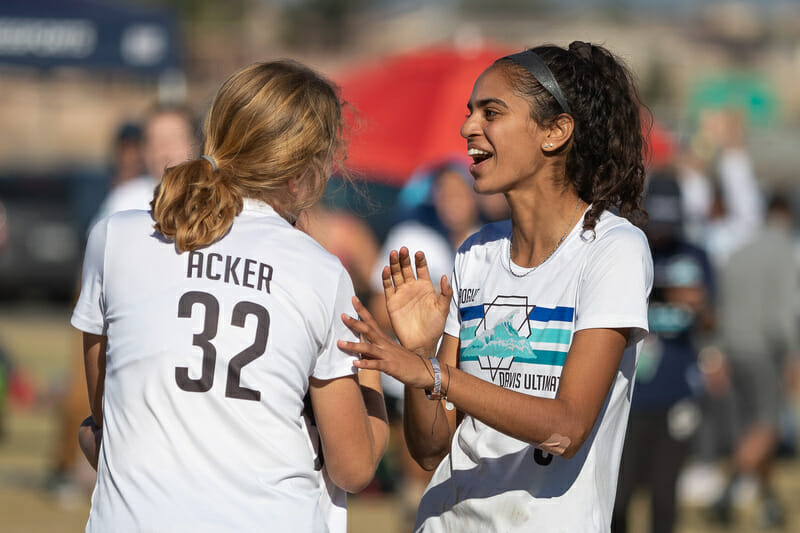 Our coverage of the 2022 college season is presented by Spin Ultimate. You can get 15% off all college uniforms and swag right now at Spin Ultimate!
SAN DIEGO — After the picturesque playing conditions from Day One, Sunday's weather made games a little bit colder and a little more windy. Even as the weather deteriorated, the standard of ultimate rose, as we saw some of the best games of the tournament so far in the power pools and early bracket play. While the results may not contribute to overall season rankings, the teams still were too competitive to be in full development mode once pool play ended, and many of the top teams had their first chance to play against each other with elimination on the line.
Day Two Results
Click the images to see individual results and the Sunday schedule.
Women's Division

Men's Division


Women's Quarterfinals Breakdowns
Oregon Shows Off Their Depth & Complete Control in Their Win Over UCLA
Every tournament we look for the Cinderella story in the teams that exceed expectations. So often there's an underrated roster that has more to prove than their opponents and strings together a number of wins that catapults them into the national conversation. To call Oregon a Cinderella story, though, is a bit of a stretch. It would make more sense if Cinderella had been the queen for almost a decade before Benjamin Buttoning into her current circumstances and only then being rediscovered by the prince, but that's a tangent for another time. Oregon did start the season outside of our power rankings, and in their game against #14 UCLA, they have firmly proved that it was a mistake to leave them out.
Bonus Content for Presidents' Day Invite 2022: Key Takeaways From Day Two is only available to Ultiworld Subscribers
Already have a subscription? Log in
Whether you visit Ultiworld for our reporting, our podcasts, or our video coverage, you can help us continue to provide high quality content with a subscription. By becoming a subscriber, not only do you receive benefits like bonus content and full article RSS feeds, you also help fund all of Ultiworld's coverage in general. We appreciate your support!