Plus, the Con10enT Tour hosts its first event of 2022.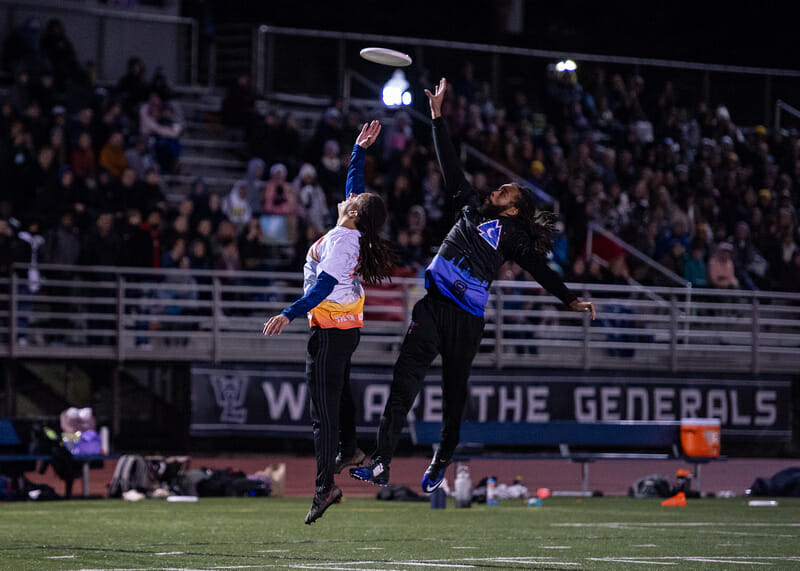 Opening Pull is Ultiworld's weekly wrap-up of the previous week in ultimate, available both here on the site and as an email newsletter. We've gathered the news you need to know and highlights you need to see. Check back weekly or subscribe now to receive Opening Pull in your inbox along with a rundown of the previous week's content on Ultiworld.
Top Women's Programs Make Final Regular Season Statement at NWC
In the last major elite D-I women's tournament of the regular season, #1 North Carolina held off surprising #7 Colorado Quandary to win the 2022 Northwest Challenge. It was the Pleiades third tournament victory of the spring, as they finish the regular season with an undefeated 19-0 record and gear up for a national title defense in the Series. Quandary, meanwhile, picked up a win over #5 Washington and a blowout of #2 Carleton en route to their appearance in the final, raising expectations for the program ahead of the postseason.
In addition to Colorado, #6 Vermont also continued to impress in Seattle, splitting a pair of games with hosts Washington as well as pushing UNC to universe point in the semifinal.
Final Tryout Weekend for US World Games Team
The US went through their second tryout for the 2022 World Games this past weekend in Round Rock, TX, with 32 players making their final case to be included on the 14-person roster. Once again, Khalif El-Salaam was sharing updates and his thoughts throughout the weekend on his Instagram page.
Roster decisions are expected to be made by the coaching staff by the middle of this week.
Con10enT Tour Hosts First Event of 2022
After their successful three-stop tour in 2021, the Disc/Diversity Con10enT Tour kicked off their 2022 programming with another all-Black showcase game at the YULA Invite in Arlington, VA on Saturday night. The Lights Out squad outdueled Dark Matters in this one.
Next up for Con10enT is a stop in Houston on April 30th.
Nathan Kolakovic Posts 2021 Highlights Reel
The sport's omnipresent videographer has become a fixture at just about every major event in ultimate, capturing high-definition footage that he packages in slick reels. His annual year-in-review videos collect his best clips of the year across a wide range of divisions and events.
2021 Year in Review – NKolakovic
PUL's DC Shadow Join Washington Coalition of Women's Professional Sports
In an effort to connect professional women's athletes across sports in the DMV area, the DC Shadow are joining the WNBA's Washington Mystics, NWSL's Washington Spirit, and WFL's DC Divas in a coalition organized by Leveling the Playing Field. The Washington Coalition of Women's Professional Sports hopes to provide both support for the teams as well as service-focused collaboration opportunities for players.
"DC Shadow is thrilled to partner with other local women's professional sports teams to support and bring focus to women's sports, as well as collaborate on important community initiatives," said DC Shadow (and US National Team) coach Sam Broaddus. "The teams have already begun working together to support Leveling the Playing Field and their incredible mission of increasing kids' access to sports by getting sports equipment to groups and communities that need them most."
Portland Nitro Host First AUDL Preseason Game
Expansion side Portland Nitro played host to the AUDL's first-ever preseason game, preparing for their inaugural campaign with a game against the Oakland Spiders directly before the WUL's Oregon Onyx made their home debut. The AUDL game ended in a 24-24 tie, but was a successful launch for the new Portland franchise.
Ghana Kicks Off First-Ever Club League
The Ghanaian Flying Disc Association (GFDA) have made a lot of progress over the last year in establishing and spreading the sport (as well as disc golf!) in their country, and this past week they launched their first local club league in the capital city of Accra. The league, which is set to run through early July, aims to both provide entry-level playing opportunities to youth players as well as identify top talents who can form a national team to compete in future WFDF events.
Coming Up
The college regular season comes to a conclusion, capped off by one of the most competitive men's division events: Easterns. Our cameras will be there to help make sure our subscribers get plenty of the can't-miss footage.
Ultiworld's D-I College Player Rankings are in the oven and should be hot and fresh for you soon. And they look spicy this year!