Results from across the country in the first round of the spring Series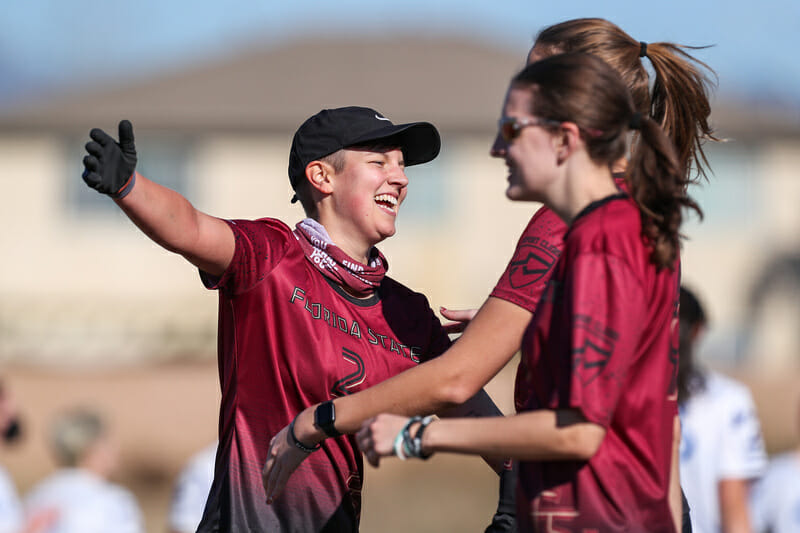 Our coverage of the 2022 College Series is presented by Spin Ultimate. Please support the brands that make Ultiworld possible and shop at Spin Ultimate!
And we're back! After a one-off Fall Championship in 2021 and a largely unsanctioned few months of regular-season action, the College Series is back in its normally scheduled timeslot in late spring. Conference tournaments are underway and will play out over the next three weekends, before Regionals events decide the field for the 2022 College Championships.
We're rounding up all of the results from the Conference Championships. Asterisks (*) indicate teams that have qualified for advancement to Regionals, or in some cases directly to their respective Nationals.
---
Atlantic Coast
Women's D-I
Regionals Tournament: May 7-8, Axton, VA
Nationals Bids: 3
Carolina (April 23-24)
1. #1 North Carolina*
2. #16 Appalachian State*
3. NC State*
4. Charleston*
5. Duke*
6. South Carolina*
7. Clemson
8. UNC Wilmington
9. Wake Forest
Colonial (April 9-10)
1. Georgetown*
2. American*
3. George Washington*
4. Delaware*
5. Towson*1
6. Johns Hopkins
7. Maryland
Virginia (April 9-10)
1. Liberty*
2. #25 Virginia*
3. William & Mary*
4. James Madison*
5. Virginia Commonwealth*
6. Virginia Tech
7. George Mason
Men's D-I
Regionals Tournament: May 7-8, Axton, VA
Nationals Bids: 3
Carolina (April 23-24)
1. #4 North Carolina*
2. #10 NC State*
3. South Carolina*
4. UNC Charlotte*
5. UNC Wilmington*
6. #22 Duke*
7. Charleston
8. Wake Forest
9. Appalachian State
10. Clemson
Colonial (April 23-24)
1. #17 Maryland*
2. Georgetown*
3. Towson*
4. Delaware*
5. Johns Hopkins*
6. American
7. George Washington
8. Maryland-Baltimore County
9. Salisbury
Virginia (April 23-24)
1. William and Mary*
2. Virginia*
3. Virginia Tech*
4. James Madison*
5. Virginia Commonwealth*
6. Liberty
7. George Mason
8. Radford
Women's D-III
ConfRegionals Tournament: April 23-24, Glen Allen, VA (Score Reporter)
Nationals Bids: 1
1. #19 Mary Washington *
2. #20 Catholic
3. Richmond
4. Elon
Teams will qualify to Nationals directly from Conferences
Men's D-III
Regionals Tournament: May 7-8, Glen Allen, VA (Score Reporter)
Nationals Bids: 1
Carolina (April 23-24)
1. Davidson*
2. Elon*
3. High Point* (declined bid)
Northern Atlantic Coast (April 9-10)
1. #11 Navy*
2. #14 Christopher Newport*
3. #4 Richmond*
4. Mary Washington*
5. Shenandoah*
6. St. Mary's College of Maryland
---
Great Lakes
Women's D-I
Regionals Tournament: April 30-May 1, Fort Wayne, IN
Nationals Bids: 1
Eastern Great Lakes (April 9-10)
1. Purdue*
2. #22 Michigan*
3. Grand Valley State*
4. Notre Dame*
5. Kentucky*
6. Michigan State
7. Indiana
Illinois (April 23-24)
1. Northwestern*
2. Chicago*
3. Illinois*
4. Loyola Chicago*
5. DePaul*
6. Illinois Chicago
7. Northwestern B
Men's D-I
Regionals Tournament: April 30-May 1, Fort Wayne, IN
Nationals Bids: 1
East Plains (April 9-10)
1. #25 Purdue*
2. Indiana*
3. Notre Dame*
4. Kentucky*
5. IUPUI
6. Ball State
Michigan (April 9-10)
1. #13 Michigan*
2. Grand Valley State*
3. Michigan State*
4. Western Michigan*
5. Eastern Michigan
Illinois (April 23-24)
1. Illinois*
2. Northwestern*
3. Chicago*
4. Illinois State*
DNF DePaul
DNF Illinois Chicago
DNF Loyola Chicago
Women's D-III
ConfRegionals Tournament: April 23-24, Bourbonnais, IL (Score Reporter)
Nationals Bids: 1
1. Knox*
2. Wheaton (Illinois)
3. Valparaiso
4. Kalamazoo
Teams will qualify to Nationals directly from Conferences
Men's D-III
Regionals Tournament: April 30-May 1, Fort Wayne, IN
Nationals Bids: 1
East Plains (April 9-10)
1. Butler*
2. Valparaiso*
3. Grace*
4. Kalamazoo*
5. Rose-Hulman
Illinois (April 23-24)
1. Wheaton (Illinois)*
2. North Park*
3. Bradley*
4. Knox*
---
Metro East
Women's D-I
Regionals Tournament: April 30-May 1, Stony Brook, NY
Nationals Bids: 1
Eastern Metro East (April 16-17)
1. Yale*
2. Columbia*
3. SUNY Stony Brook*
4. Connecticut*
5. NYU*2
6. Princeton
7. Rutgers
Western NY (April 9-10)
1. SUNY Binghamton*
2. Cornell*
3. Syracuse*
4. RIT
Men's D-I
Regionals Tournament: April 30-May 1, Stony Brook, NY
Nationals Bids: 1
Hudson Valley (April 9-10)
1. Yale*
2. Central Connecticut State*
3. SUNY Albany*
4. Sacred Heart
Metro NY (April 16-17)
1. Connecticut*
2. Columbia*
3. Princeton*
4. NYU*
5. Rutgers*
6. SUNY Stony Brook
7. Rowan
8. Hofstra
Western NY (April 9-10)
1. Cornell*
2. SUNY Binghamton*
3. SUNY Buffalo*
4. RIT*
5. Syracuse
Women's D-III
Regionals Tournament: April 30-May 1, Albany, NY
Nationals Bids: 2
Eastern Metro East (April 16)
1. #16 Skidmore*
2. Wesleyan*
3. Connecticut College*
4. Vassar*
5. Bard
6. College of New Jersey
Western NY (April 9-10)
1. #14 SUNY Geneseo*
2. Ithaca*
3. Hamilton*
4. #20 Rochester*
5. SUNY Oneonta
Men's D-III
Regionals Tournament: April 30-May 1, Albany, NY
Nationals Bids: 2
Hudson Valley (April 23-24)
1. Wesleyan*
2. Connecticut College*
3. Army*
4. Union*
5. Vassar*
6. Skidmore*
7. Rensselaer Polytechnic
8. Siena
T9. Hartford
T9. New Haven
Metro NY (April 10)
1. College of New Jersey*
2. Stevens Tech
Western NY (April 9-10)
1. SUNY Cortland*
2. #13 Ithaca*
3. SUNY Geneseo*
4. #18 Rochester*
5. Colgate*
6. Hamilton
7. SUNY Oneonta
8. SUNY Fredonia
---
New England
Women's D-I
Regionals Tournament: May 7-8, Cambridge, MA
Nationals Bids: 3
Greater New England (April 16-17)
1. #6 Vermont*
2. Brown*
3. Dartmouth*
4. New Hampshire*
5. McGill*
6. Massachusetts
7. Rhode Island
Metro Boston (April 23-24)
1. #11 Tufts*
2. Boston University*
3. #19 Northeastern*
4. MIT*
5. Harvard*
6. Boston College
Men's D-I
Regionals Tournament: May 7-8, Amherst, MA
Nationals Bids: 2
Greater New England (April 16-17)
1. #1 Brown*
2. #14 Vermont*
3. #6 Massachusetts*
4. #24 McGill*
5. Maine*
6. Dartmouth
T7. Rhode Island
T7. New Hampshire
Metro Boston (April 16-17)
1. #17 Tufts*
2. #12 Northeastern*
3. Boston College*
4. Harvard*
5. Massachusetts Lowell
6. MIT
7. Boston University
Women's D-III
Regionals Tournament: April 30-May 1, Williamstown, MA
Nationals Bids: 3
Metro Boston (April 23-24)
1. #6 Wellesley*
2. #10 Brandeis*
3. #24 Stonehill*
4. Bentley
North New England (April 9)
1. #1 Middlebury*
2. Colby*
3. Bates*
4. Bowdoin
South New England (April 9-10)
1. #3 Williams*
2. #13 Amherst*
3. Smith*
4. #7 Mount Holyoke*
5. Worcester Polytechnic
Men's D-III
Regionals Tournament: April 30-May 1, Smithfield, RI
Nationals Bids: 3
Metro Boston (April 23-24)
1. Brandeis*
2. Bentley*
3. Stonehill
North New England (April 16-17)
1. #1 Middlebury*
2. Bates*
3. #21 Bowdoin*
4. Colby
South New England (April 23-24)
1. #15 Williams*
2. Bryant*
3. WPI*
4. Amherst
5. Clark
---
North Central
Women's D-I
Regionals Tournament: April 30-May 1, Madison, WI
Nationals Bids: 1
Lake Superior (April 9-10)
1. Wisconsin*
2. Marquette*
3. UW Eau Claire*
4. UW Oshkosh*
5. UW Milwaukee*
6. Wisconsin B
7. UW La Crosse
Western North Central (April 9-10)
1. #4 Carleton (Syzygy)*
2. Minnesota*
3. Iowa*
4. Iowa State*
5. Nebraska*
6. Minnesota-B
7. Minnesota-Duluth
Men's D-I
Regionals Tournament: April 30-May 1, Madison, WI
Nationals Bids: 2
Lake Superior (April 23-24)
1. Wisconsin*
2. Wisconsin-Milwaukee*
3. Wisconsin-LaCrosse*
4. Marquette*
5. Wisconsin-Eau Claire*
6. Wisconsin-Whitewater
7. Wisconsin-Stevens Point
Northwoods (April 23-24)
1. #19 Carleton (CUT)*
2. #16 Minnesota*
3. Minnesota Duluth
West Plains (April 9-10)
1. Iowa*
2. Iowa State*
3. Nebraska*
4. Northern Iowa
5. Creighton
Women's D-III
ConfRegionals Tournament: April 16-17, Northfield, MN (Score Reporter)
Nationals Bids: 2
1. #2 Carleton (Eclipse)*
2. #10 St. Olaf*
3. Winona State
4. #23 Michigan Tech
5. Grinnell
6. Macalaster
Teams qualify to Nationals directly from Conferences
Men's D-III
Regionals Tournament: May 7-8, Madison, WI
Nationals Bids: 2
Lake Superior (April 23-24)
1. Carthage*
2. Michigan Tech*
3. Luther*
4. Minnesota School of Engineering
5. Wisconsin-Platteville3
Northwoods (April 16-17)
1. #2 St. Olaf*
2. #9 Carleton (CHOP)*
3. Grinnell*
4. St. Thomas*
5. St. John's*
6. Macalester
7. Winona State
---
Northwest
Women's D-I
Regionals Tournament: May 7-8, Walla Walla, WA
Nationals Bids: 2
Big Sky (April 16-17)
1. Whitman*
2. Utah*
3. Montana*
4. Utah State*
5. Montana State
DNF – #9 Brigham Young4
Cascadia (April 16-17)
1. #7 Washington*
2. #5 British Columbia*
3. #15 Western Washington*
4. #14 Oregon*
5. Victoria
6. Washington B
Men's D-I
Regionals Tournament: May 7-8, Walla Walla, WA
Nationals Bids: 2
Big Sky (April 16-17)
1. #20 Utah State*
2. Utah*
3. Washington State*
4. Montana State*
5. Boise State*
6. Montana
7. Idaho
Cascadia (April 16-17)
1. #5 Washington*
2. #21 Oregon*
3. Western Washington*
4. Victoria*
5. British Columbia*
6. Oregson State*
7. Washington B
8. Portland State
9. Oregon State B
Women's D-III
ConfRegionals Tournament: April 16-17, Hillsboro, OR (Score Reporter)
Nationals Bids: 2
1. #4 Portland*
2. Lewis & Clark*
3. #22 Puget Sound
4. Pacific Lutheran
Teams qualify to Nationals directly from Conferences
Men's D-III
ConfRegionals Tournament: April 16-17, Hillsboro, OR (Score Reporter)
Nationals Bids: 15
1. Whitman6
2. Pacific Lutheran*
3. #15 Whitworth
4. #16 Puget Sound
5. Lewis & Clark
6. Seattle
7. Portland
Teams qualify to Nationals directly from Conferences
---
Ohio Valley
Women's D-I
Regionals Tournament: May 7-8, Steubenville, OH
Nationals Bids: 1
Ohio (April 23-24)
1. #22 Ohio*
2. Ohio State*
3. Case Western Reserve*
4. Dayton*
5. Cincinnati
6. Miami (OH)
Pennsylvania (April 16-17)
1. #17 Pittsburgh*
2. Pennsylvania*
3. Penn State*
4. Temple*
5. Carnegie Mellon*
6. West Chester*
7. Pittsburgh B
8. Temple B
Men's D-I
Regionals Tournament: May 7-8, North Huntingdon, PA
Nationals Bids: 2
East Penn (April 16-17)
1. Temple*
2. Pennsylvania*
3. Lehigh*
4. Drexel*
5. West Chester
Ohio (April 23-24)
1. #18 Ohio State*
2. Cincinnati*
3. Case Western Reserve*
4. Dayton*
5. Ohio*
6. Miami (OH)*
7. Wright State*
8. Akron
9. Cleveland State
West Penn (April 16-17)
1. #7 Pittsburgh*
2. Penn State*
3. Carnegie Mellon*
4. West Virginia*
5. Slippery Rock
Women's D-III
Regionals Tournament: April 30-May 1, Bethlehem, PA
Nationals Bids: 2
Ohio (April 16-17)
1. #19 Cedarville*
2. Kenyon*
3. Oberlin*
4. Wooster*
Pennsylvania (April 16-17)
1. #7 Haverford/Bryn Mawr*
2. #8 Lehigh*
3. Swarthmore*
4. Dickinson*
Men's D-III
Regionals Tournament: April 30-May 1, Bethlehem, PA
Nationals Bids: 2
East Penn (April 16-17)
1. Scranton*
2. Swarthmore*
3. Haverford*
4. Lehigh B
Ohio (April 16-17)
1. #13 Oberlin*
2. #14 Franciscan*
3. Wooster*
4. Kenyon*
5. Cedarville*
6. Xavier*
7. Ohio Wesleyan
West Penn (April 23-24)
1. Messiah*
2. Grove City*
3. Shippensburg*
4. Dickinson
---
South Central
Women's D-I
Regionals Tournament: April 30-May 1, Commerce City, CO
Nationals Bids: 2
Ozarks (April 16-17)
1. Kansas*
2. Arkansas*
3. Washington University*7
4. Missouri*
5. Saint Louis
6. Oklahoma
7. Missouri State
8. Washington University B
Rocky Mountain (April 16-17)
1. #3 Colorado*
2. Colorado State*
3. Colorado College*
4. Denver
5. Colorado B
Texas (April 16-17)
1. #18 Texas*
2. Texas Dallas*
3. Texas State*
4. Texas A&M*
5. Sam Houston State*
6. Houston
7. North Texas
8. Texas B
Men's D-I
Regionals Tournament: April 30-May 1, Commerce City, CO
Nationals Bids: 3
North Texas (April 16-17)
1. Texas Dallas*
2. Baylor*
3. North Texas*
4. Texas Christian
5. Southern Methodist
6. Texas Tech
Ozarks (April 16-17)
1. Washington University*
2. Arkansas*
3. Missouri*
4. Kansas*
5. Saint Louis*
6. Oklahoma
7. Washington University B
T8. Oklahoma State
T8. Witchita State
Rocky Mountain (April 16-17)
1. #3 Colorado*
2. Colorado State*
3. Colorado B*
4. Denver*
5. Colorado Mesa
6. Denver B
South Texas (April 16-17)
1. Texas*
2. Texas State*
3. Texas A&M*
4. Texas B*
5. Sam Houston State
6. Houston
7. Texas A&M B
Women's D-III
ConfRegionals Tournament: April 30-May 1, Commerce City, CO
Nationals Bids: 1
Teams will qualify to Nationals directly from Conferences
Men's D-III
Regionals Tournament: April 30-May 1, Commerce City, CO
Nationals Bids: 2
Ozarks (April 9-10)
1. #1 Oklahoma Christian*
2. John Brown*
3. #8 Missouri S&T*
4. Truman State
Rocky Mountain (April 16-17)
1. #6 Colorado College*
2. Colorado School of Mines*
3. Air Force
Texas (April 23-24)
1. #7 Sul Ross State*
2. #14 Rice*
3. Dallas*
4. LeTourneau
5. Trinity
---
Southeast
Women's D-I
Regionals Tournament: April 30-May 1, Decatur, AL
Nationals Bids: 2
Florida (April 9-10)
1. #10 Florida State*
2. Florida*
3. Central Florida*
4. Florida B*
5. South Florida*
6. Miami
Gulf Coast (April 23-24)
1. Alabama*
2. Jacksonville State*
3. Tulane*
4. Auburn*
5. LSU*
6. Vanderbilt
Southern Appalachian (April 9-10)
1. #24 Georgia*
2. Georgia Tech*
3. Tennessee*
4. Emory*
5. Tennessee Chattanooga*
6. Georgia Tech B*
7. Emory B
Men's D-I
Regionals Tournament: April 30-May 1, Decatur, AL
Nationals Bids: 2
Florida (April 9-10)
1. Florida*
2. Florida State*
3. Central Florida*
4. Florida Gulf Coast*
5. South Florida*
6. Miami
7. North Florida
Gulf Coast (April 23-24)
1. Auburn*
2. Tulane*
3. Alabama*
4. Vanderbilt*
5. Alabama-Huntsville*
6. LSU*
7. Jacksonville State
8. Mississippi State
9. Alabama-Birmingham
Southern Appalachian (April 9-10)
1. #8 Georgia*
2. Georgia Tech*
3. Georgia State*
4. Emory*
5. Tennessee Chattanooga*
6. Kennesaw State
7. Tennessee
8. Georgia Southern
Women's D-III
ConfRegionals Tournament: April 23-24, Cartersville, GA (Score Reporter)
Nationals Bids: 1
1. #23 Berry*
2. #5 Union
Teams qualify to Nationals directly from Conferences
Men's D-III
ConfRegionals Tournament: April 23-24, Cartersville, GA (Score Reporter)
Nationals Bids: 1
1. #5 Berry*
2. #17 Union
3. #16 Florida Tech
4. Georgia College
5. Embry-Riddle
Teams qualify to Nationals directly from Conferences
---
Southwest
Women's D-I
Regionals Tournament: May 7-8, Davis, CA
Nationals Bids: 4
Desert (April 23-24)
1. Arizona*
2. Arizona State*
3. Northern Arizona*
4. New Mexico
NorCal (April 16-17)
1. #12 Stanford*
2. #13 UC Davis*
3. #21 California*
4. Santa Clara*
5. UC Santa Cruz*
6. Nevada Reno*
7. Humboldt State
8. Chico State
9. Sonoma State
SoCal (April 23-24)
1. #2 UC Santa Barbara*
2. #8 UC San Diego*
3. #20 UCLA*
4. Cal Poly SLO
5. Southern California
Men's D-I
Regionals Tournament: May 7-8, Davis, CA
Nationals Bids: 2
Desert (April 23-24)
1. Grand Canyon*
2. Arizona*
3. Arizona State*
4. Northern Arizona
5. New Mexico
NorCal (April 16-17)
1. #11 California*
2. UC Santa Cruz*
3. Stanford*
4. UC Davis*
5. Santa Clara*
6. Chico State*
7. Nevada Reno*
8. Humboldt State
9. Fresno State
10. San Jose State
SoCal (April 9-10)
1. #10 Cal Poly SLO*
2. UCLA*
3. UC San Diego*
4. UC Santa Barbara*
5. Southern California*
6. Long Beach State*
7. Loyola Marymount
8. San Diego State
9. UC Irvine
Women's D-III
ConfRegionals Tournament: April 16, Claremont, CA (Score Reporter)
Nationals Bids: 1
1. #17 Occidental*
2. Claremont
Teams qualify to Nationals directly from Conferences
Men's D-III
ConfRegionals Tournament: April 9-10, Los Angeles, CA (Score Reporter)
Nationals Bids: 1
1. #6 Claremont*
2. Occidental
3. Cal Tech
Teams qualify to Nationals directly from Conferences
---