Berry earn their first-ever trip to the semifinals, ending Wasabi's season for the second time in six months.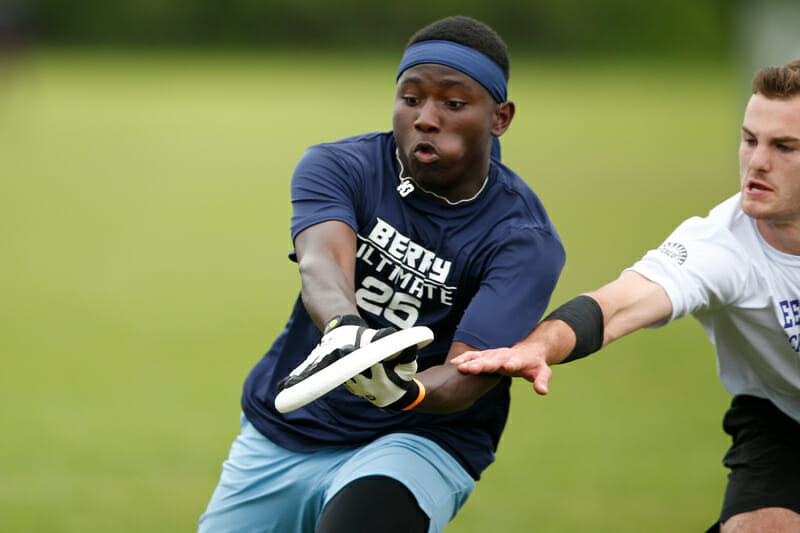 Our coverage of the 2022 College Series is presented by Spin Ultimate. Please support the brands that make Ultiworld possible and shop at Spin Ultimate!
In a rematch of fall Nationals' most exciting prequarter, the #3 Berry Bucks jumped on #4 Colorado College Wasabi early, taking an 8-2 halftime lead and riding that lead to a 15-12 victory.
While Colorado College got to sleep in this morning and had a bye through the prequarters after winning Pool D, Berry were forced to play a prequarters game against Grinnell. Contrary to what many may think, Bucks coach Robert Bradham felt like having a game this morning was beneficial to his team. "I felt like it helped us focus in a little more," said Bradham. "We started that game pretty rough. It allowed us to mentally focus in."
Berry were certainly the more dialed-in team early on in the quarter, jumping out to a 4-0 lead that featured three breaks. The Bucks looked like the more energetic team, and Wasabi failed to match their level of intensity. "They came out strong and with a fire that we did not have at the beginning of the game," said Colorado College captain Parker Rehmus. Wasabi got on the board with an away shot from Lincoln Grench to Daonysos Hatzigiannis, but Berry responded with a hold and another break. In the blink of an eye, it was halftime, and the Bucks had a comfortable 8-2 lead.
The first half featured big plays from Berry's often-discussed stars, with Walter Ellard notching four assists and Caleb Enright grabbing three goals and an assist.
For as quickly as the Bucks ran out the first half, the second was like an entirely different game. Wasabi outscored Berry by three in the second half and got the score as close as 9-7, but they just couldn't come up with the turns they needed to overcome the massive first-half deficit. A large reason for Berry's ability to close out the game was the play of senior Chris Gmeiner. Most known for his defense, the athletic cutter finished the game with four goals and an assist, but his biggest contributions came in ways that don't show up on the stat sheet, saving possessions for Berry with multiple contested catches.
"He's been a rock defender for all four years, and people are just now starting to realize how good he is," said Bradham about Gmeiner's development. "I think it gave him a little bit of fuel to not be recognized more at fall Nationals, and he's played with a fire all season."
Berry held off the comeback effort from Wasabi to start the second half and was able to ride their offense the rest of the way to a 15-12 win.
For Colorado College, it was another disappointing exit at the hands of a familiar opponent. "They've ended my season twice now," said Rehmus with a smile and shake of his head. "All credit to them, they're a great team."
Berry now move on to face top overall seed St. Olaf in a semifinal later today. The Bucks coaching staff is focused on making sure their players believe they can win and don't get intimidated by the opponent or the stakes. "We have to stay confident. If we can surprise them like we did Colorado College, it can be anyone's game."