Top seed St. Olaf were on cruise control for much of their quarterfinal.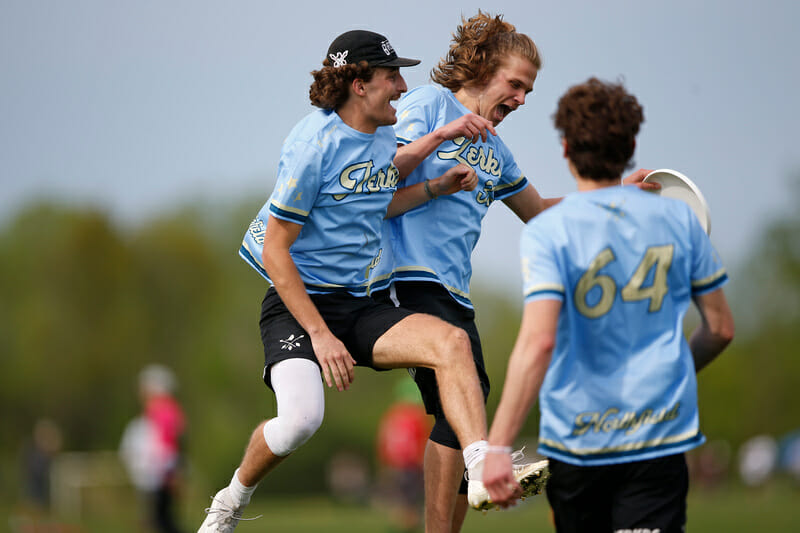 Our coverage of the 2022 College Series is presented by Spin Ultimate. Please support the brands that make Ultiworld possible and shop at Spin Ultimate!
Continuing their march through the tournament in Milwaukee, top-seeded #1 St. Olaf Bezerkers took care of business in their quarterfinal with a 15-4 demolition of Scranton Electric City to once again advance to a national semifinal.
The Scranton team, visibly tired from their upset win over Claremont in the prequarter, could not string anything together against the well-rested and talented St. Olaf. Scranton's star player, Matt Pindilli, struggled to throw in the wind. Meanwhile, St. Olaf's stars mostly cruised and the Berzerkers had a chance to display their roster's depth. Noah Johnson led the way in the scoring department with four goals, while Luke Bleers notched team-highs in assists and blocks with three apiece. But 17 players contributed at least one goal or assist in a clinic on strong team play. This was a good warmup for the team's depth ahead of a looming semifinal against Berry College this afternoon.
St. Olaf captains Gordon Larson, Ben Fjtland-Souza, Josh Kugel, and Luke Bleers talked about the quarterfinal, as well as their approach to the weekend generally. "We wanted to play a team that was better than us. So, we scrimmaged some Carleton teams—CUT, two days before coming here. That was the intensity we needed."
Still, in a loose game like the quarterfinal, the captains wanted to keep their heads in the right place. "We're trying to stay humble. Especially yesterday, our last game against Oberlin, really humbled us. Something we realized with Oberlin is they were having more fun than us… They really wanted it and were working hard. That shift came during the middle of that game. We started playing harder and just enjoying being there. That's something that we want to continue. And we got our grit going then," the captains said.
Humility is something that a lot of teams have struggled with this tournament; look no further than the game yesterday between Middlebury and Claremont. Olaf will face a very good Berry team in the semifinals later today. In the meantime, they're preparation will be minimal. They plan to have business as usual and spend the intervening hours supporting their women's team, St. Olaf Vortex.
Scranton Electric City Ultimate struggled to get anything going this game. Pindilli still looked at the game as a positive, however. "It's definitely an honor to make it this far," Pindilli said. "All the guys on the team played their hearts out to get here. To make it as a 15 seed who has never won a game at regionals, be able to play the number 1 seed, get spanked but it's a good lesson for our first trip to nationals."
Pindilli had a standout individual performance this weekend in Milwaukee, lots of which he attributes to the trust of his teammates. "They put their trust in me. I made some throws that not many of them make but they trust me to make them," Pindilli said. That freedom to take shots has resulted in a tournament-leading 31 assists. But Pindilli also praised his teammate Mike Kane, who he made quit basketball to play ultimate; Kane was the ECSU player on the receiving end of many of Pindilli's throws, hauling in a team-high 13 goals.
Going forward, Scranton will play in the consolation bracket and revamp for next season. Pindilli ended on this high note—"we'll take the summer off, we'll play mixed in the fall and spring. We'll be back here and score more than four on Olaf."
Players to watch in the semifinals for St. Olaf will be Will Brandt, Ben Fjetland-Souza, and junior Trever Laugren. Berry is coming off two close games in pre-quarters and quarterfinals, so Olaf will definitely have the upper hand when it comes to legs, though they'll need to be ready to match Berry in the intensity category. Expect a very exciting semifinal this evening.