The two top seeds advance comfortably, along with a surprising Grace team in the third position in the pool.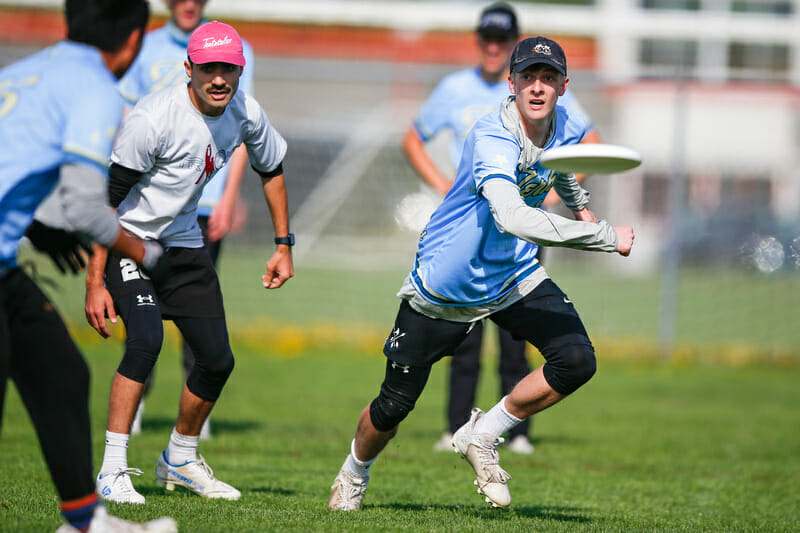 Our coverage of the 2022 College Series is presented by Spin Ultimate. Please support the brands that make Ultiworld possible and shop at Spin Ultimate!
The top two teams in Pool A took care of business and finished to seed, but the gap between the two of them was much tighter than we expected. An upset at the bottom of the pool sends an unexpected team through to prequarters. Let's take a look at how Pool A played out.
St. Olaf Go Berzerk
The top seed in the pool and overall no.1 overall seed in the tournament certainly looked the part early on in pool play. The #1 St. Olaf Berzerkers won their first two pool play games against Brandeis and Grace by a combined 19 points, and honestly, it looked like they were sleepwalking at times. St. Olaf got out to a 4-0 lead in both games, and it quickly became clear that neither opponent had the size or speed to match up with the North Central champions.
What has to be most encouraging for St. Olaf is how they handled themselves when finally facing some adversity in their final game of the day. The Berzerkers went down 7-3 to Oberlin but battled back to make it just an 8-6 deficit at the half. St. Olaf then opened the second half with a 7-3 run of their own to take the lead before closing out the Flying Horsecows 15-13.
The usual suspects lived up to their billing for the Berzerkers. Will Brandt led the team in both goals and assists, with 6 and 10 respectively. Ben Fjetland-Souza was a rock for the offense and contributed 7 assists, while Luke Bleers also chipped in 7 assists from the D-line. But the surprise star of the day was Gordon Larson. The athletic senior was all over the place on defense, making multiple bidding and skying blocks. Larson had 8 blocks on the day, and he also provided another threat for the Berzerkers on the turn with 4 goals and 4 assists.
The top seed took care of business and earned their bye into the quarterfinals, where they await the winner of Claremont and Scranton. With their stars playing well and role players like Larson stepping up, St. Olaf will be heavy favorites to make a return to the semifinals.
Oberlin Defense Impresses
Coming into the weekend, we knew that the #11 Oberlin Flying Horsecows had a great offense but wondered if the defense could put together enough breaks to give the O-line support. We were right about the offense, and the D-line was more than up to the task.
The offense lived up to their billing, only getting broken five times in the first two games of pool play. Even more impressively, none of those breaks came in the second half of either game. Once the Flying Horsecows O-line found their rhythm in each game, they were impenetrable. When asked what gets their O-line going, captain Oliver Vickers-Batzdorf emphasized their ability to move the disc laterally and threaten all parts of the field.
"We're at our most dangerous when we're able to shift the angle of attack," said Vickers-Batzdorf. "If we are forcing them to respect the break side, deep space, and under, it opens up our flow."
The biggest surprise from Oberlin today was the efficacy of their defense. They got blocks from up and down their roster, but the most impressive defender was junior Ian Grochocinski. The big man was a terror for opposing offenses, getting blocks at every level of the field. He had a layout block on an under that sparked a second-half run against Brandeis, and a point block that contributed to the continuation of that run.
Being able to notch four breaks against St. Olaf has to be encouraging for the Flying Horsecows going into tomorrow. They face Williams in the morning, and if they get past them, face a stingy Middlebury offense that doesn't give up breaks easily. If Oberlin are to extend their season tomorrow, the defense will have to show up again like it did today.
Amazing Grace, How Sweet the Next Round
The brand new program from the Great Lakes was largely an unknown entering this weekend. The #24 Grace Lancers have minimal social media presence, no footage publicly available for scouting, and hadn't played outside of their region all season. We had an idea of a couple of players to watch, but couldn't have picked those players out of a lineup prior to today.
In their first two games, it looked like Grace was going to just be a feel-good story, another underdog who was just happy to be here. They lost the two games 15-9 and 15-7, but neither game ever felt that close, with both of their opponents playing fairly open lines throughout. With just 18 players on their roster, Grace looked exhausted going into their third game, and we were prepared for them to pack it in and prepare for consolation play.
What we got instead was one of the grittiest and most determined performances we saw all day. The Lancers jumped out to a 5-1 lead against Brandeis and held on to take an 8-6 lead into half. Brandeis made a run early in the second half to go up 11-9, but Grace's small roster somehow dug deep and found another wind to close out the game on another 5-1 run to keep their season alive.
"Our goal this weekend was to break seed," said coach Drew Schramm. "We felt like we were playing with house money."
Any discussion about Grace has to start with senior captain Ben Close. The workload he carries for this team is truly remarkable. He anchors their zone in the deep space and covers an unreal amount of ground. On a turn, Close quite literally goes every other throw and creates offense out of nothing, often pointing to where he wants his receivers to go and throwing the disc to that space.
Close's sidekick is his younger brother Joel. The sophomore is the perfect complement to his brother, an incredible athlete and workhorse cutter that is also capable of making a big throw. The Chris Bosh to Ben and Joel's Lebron and Dwyane Wade is sophomore cutter TJ Faur. Faur has a telepathic connection with the Close brothers and a unique sense of timing that leads to an absurd number of goals. He currently leads the tournament with 20 goals, 12 of which came against Brandeis for what we suspect to be a College Nationals single-game record.
The key to Grace having any prequarters success against Navy in the morning will start with recovering from the output of their top players today. Both Close brothers had to take injuries while cramping in the last round. If the Lancers can get back to full recovery for the morning, they have a puncher's chance at making noise in the bracket.
TRON Fall Short of the Bracket Again
It is unfortunately déjà vu for #14 Brandeis TRON. After finishing last in Pool A at 2021 Nationals and missing out on the bracket, TRON are suffering the same fate here in Milwaukee.
TRON's struggles for the day can be summed up with one word: inconsistency. They would play stretches of brilliant ultimate that showed how they earned their spot at Nationals, then go through stretches of looking like a team lucky to make it to regionals. TRON held leads in both of their games against Oberlin and Grace, but couldn't hold on to either one. Many of their errors were self-inflicted, with players dropping open unders and missing wide-open targets with away shots.
It will be interesting to see where Brandeis goes from here as a program. The team will be graduating seven seniors this spring, including captain Matt Kolk and star handler Cameron Park, but also returns a strong junior class led by Matt Sehgal and Noam Gumerman. Hopefully, TRON can use their remaining consolation games to build momentum towards a return to Nationals next year.