Games to seed, but plenty of excitement along the way.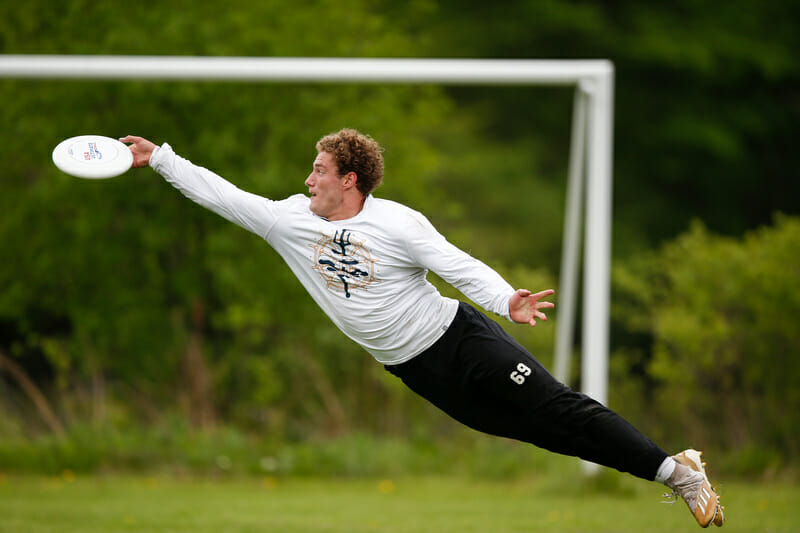 Our coverage of the 2022 College Series is presented by Spin Ultimate. Please support the brands that make Ultiworld possible and shop at Spin Ultimate!
On the surface, Pool D looks like just another pool that went to seed. But dig a little deeper and you'll find a pool that was filled with close calls and exciting finishes.
Wasabi Heat Up
It was a slow start to the weekend for #4 Colorado College. The top seed in the pool started off their weekend against a young, energetic Williams team, and they were punished for coming out flat by getting broken on their first offensive point of the weekend. Wasabi were able to wake up and battle out of this early deficit to take a two-break lead in the first half, but gave that lead right up in the second half. They built another two-break lead late in the second half, then let Williams back in it again before holding to win on double game point.
These ruts that Wasabi found themselves in were a result of poor spacing. "We weren't using the whole field really well," said assistant coach Sam Pfeifer. "We kept getting bogged down in really tight spaces."
It wasn't until about halfway through Colorado College's second game against Connecticut College that Wasabi really woke up and got going. After going down 5-3, CC went on a six-goal run to take a 9-5 lead that they were able to ride out to a 15-9 victory. They took that momentum right into their third game, where the Wasabi offense played a perfect game en route to a 15-5 win over Navy.
Much of Colorado College's success was tied to the performance of Lincoln Grench. When Grench was firing on all cylinders, opponents couldn't touch Wasabi, but there would be stretches where he'd shoot them out of games. Regardless, the versatile junior finished the day with 8 goals and 15 assists across just three games, an impressive output by any standards. Colorado College got production from up and down their entire roster, with impressive moments from Parker Rehmus, Simon Broan, Nathan Wolfgang, and others.
Despite the close call in their first game, Colorado College have to feel good about where they stand. They won the pool, earning the bye to quarters, and avoided putting extensive mileage on the legs of their top players. They'll await the winner of Berry and Grinnell for a matchup that we'll be streaming; tune in to check out the action!
Navy Do Enough to Stay Afloat
It's all about keeping perspective on the big picture for #7 Navy Poseidon after a disappointing end to their day. Yes, they would have liked to give Colorado College a closer battle in their final game, but the second seed in the pool took care of business in their other two games and earned a spot in the bracket.
Similar to Colorado College, it took a while for Poseidon to wake up this morning, taking half against bottom seed Connecticut College 8-6. The Navy defense ramped up in the second half and began converting their break chances at a much higher rate, and they came out on top handily with a 15-9 win.
In their second game, Poseidon got all they could handle from a young Williams team seeking an upset. After going down a break early, Navy rallied to take half 8-6. However, Williams went on their own run to start the second half and took a 12-9 lead. With their backs against the ropes, Navy turned to their stars to take them home. Poseidon went on a 6-0 run to win 15-12, and Max Benedetti was directly involved in four of the six goals, including the ridiculous trailing edge layout grab shown in the picture for this piece.
Navy struggled to get up for their final game against Colorado College, going down 8-3 at half and folding down the stretch to lose 15-5, but they'd already done what was necessary to keep their season alive into tomorrow. Beyond the aforementioned Benedetti, Poseidon's two stars of the day were Silas Rhodes and Anthony Armad. The handler-cutter duo were the driving forces behind the Navy offense and will be crucial to any success they might have in the bracket tomorrow.
Williams Youth: A Gift and a Curse
There might not be another team in the division with as many underclassmen contributors as #10 Williams WUFO. Their youth was the best and worst thing about WUFO today, giving them the confidence to compete with anyone but the lack of experience to finish off any potential upsets.
WUFO started off their weekend with a bang, opening against the top seed in the pool with a hold and a break. Williams' playstyle became clear quickly: huck early and often. Sophomore Daniel Klein was always ready to pull the trigger on a deep look for the offense, and freshman Charles Tantum pushed to give the defense as many looks into the end zones as possible. This aggressive style of play led to runs of points where WUFO looked like they couldn't be stopped, as well as stretches where they just couldn't connect, leading to the runs discussed in the games against Colorado College and Navy.
Another outcome of youth is the tendency to play up or down to your competition, and Williams played with fire and almost got burnt in their last game of the day. It's shocking that the same team who took Colorado College to double game point needed to break in order to beat bottom seeded Connecticut College on DGP. Williams' deep game was humming, but their defense struggled to find the answer to slow down Kevin Scannell and the Deimos offense. That said, it's a tremendous learning experience for this young WUFO team to learn how to win in those adverse situations.
WUFO are one of the most difficult teams to predict moving forward. If they keep their mentality right, they're capable of beating anyone. "The key to our team's success all year has been keeping energy high and playing happy, rather than playing motivated," said WUFO captain Benjamin Siciliano. Williams will be happy to be in the bracket tomorrow, and that energy makes them dangerous to everyone they face.
Undermanned Conn College Go Down Swinging
It was always going to be an uphill battle for Connecticut College Deimos this weekend. Being the bottom seed in pool D is always a nightmare position to be in, but to be in that position without your seniors is just too tall of a task to expect any team to overcome.
Despite these towering challenges, Deimos put forth an incredible effort today that very nearly resulted in a surprising appearance in the bracket. They started their weekend with a respectable showing against Navy and an understandably tough performance against Colorado College, but in their third game against Williams, they came one hold short of pulling off the upset of the tournament.
Junior Kevin Scannell and freshman Prosser Friedman were both rocks for Deimos all day. Scannell has a more patient, surgical approach to offense, while Friedman plays with more explosiveness. The two are a great duo to build upon for Deimos, and the young team will have three more games of consolation this weekend to gain valuable experience for future seasons.