The rematch of last December's national championship game delivered with double game point excitement.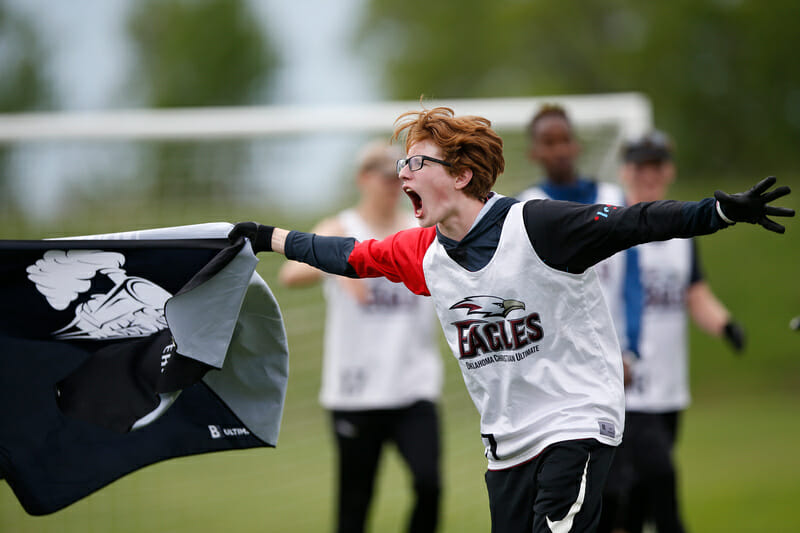 Our coverage of the 2022 College Series is presented by Spin Ultimate. Please support the brands that make Ultiworld possible and shop at Spin Ultimate!
MILWAUKEE, Wisc. — In a game that fans had been waiting for all weekend, the rematch of the 2021 National Championship game did not disappoint. In a back-and-forth game where neither team ever led by more than a break, it was the defending champion #5 Oklahoma Christian Eagles who came out on top, again, with a 14-13 win.
The game started with a clean hold from #2 Middlebury, with Walker Frankenberg finding Max Hanscom with an around backhand. This would be far from the last connection between these two, as throughout the game they displayed a level of chemistry unique to their partnership. "We're just really, really good friends," said Hanscom when asked about his connection with Frankenberg. "Walker and I are as close as you can get."
Oklahoma Christian's first O-point was a totally different story. After playing nothing but force flick matchup defense against OC in Norco, Middlebury came down in a 3-3-1 wall zone that stumped the high-speed, athletic Eagles offense. After turning the disc over just twice in the final in December, the OC O-line turned the disc over three times on their first point alone on Sunday night. The Pranksters' defense worked it to the red zone twice but failed to punch it in, and the Eagles held, but the message was clear: this matchup was going to be different than in December.
"We've seen a lot of teams come zone on us this weekend," said OC captain Jonathan Costello. "I think it helps slow down our initial looks and keeps us from flowing like we usually do."
The two teams exchanged holds all the way to 4-3, at which point Middlebury drew first blood. The Eagles had nice flow going against a backhand force, but Emmanuel Bilolo threw behind Costello, and the Pranksters worked it methodically up the field. Leo Sovell-Fernandez hit several tight resets, and eventually Raffi Najarian hit Lucas Nerbonne with an away shot for the first break of the game.
This break served to poke the proverbial OC bear. The two teams exchanged holds, but then a Frankenberg under popped up in the wind, giving the Eagles' D-line a short field. Two throws later, Sammy Roberts hit Emmanuel Kameri on an upline cut in traffic to put the game back on serve. Elliot Moore crossed over for the next D point, and after Middlebury's Jack Landrigan had to take an injury on a missed bid, Costello was also able to come on. It took a couple of chances, but the loaded line was able to score another break, giving OC their first lead of the game.
When asked about the importance of crossing over for key D points, Costello was quick to instead give praise to the Eagles' normal D-line. "Our defensive line doesn't get enough credit," the captain said. "Emanuel Kameri, Thomas Maguire, Sammy Roberts — these guys are playing out of their minds."
A stacked Pranksters O-line featuring Sovell-Fernandez was able to stop the OC run, with Sovell-Fernandez finding Frankenberg in the end zone set for the hold. Tied at 7-7, Middlebury came down in their zone look, and Sovell-Fernandez ate up a floating swing from Moore. After a timeout, Sovell-Fernandez found freshman Max Rogers with a filthy high-release offhand backhand for the break, and the Pranksters took half on serve.
The second half started with the two teams trading two-point runs. OC took a 9-8 lead, followed by Middlebury regaining the lead at 10-9. After an exchange of holds, the game-changing moment happened with Middlebury pulling up 11-10. Sovell-Fernandez had hurt his hip on a layout earlier in the game, and when he pulled to start this point, you could see him grab his hip in agony. The Pranksters star called an injury, and that would be the last that he played the rest of the way.
Both teams held for the next few points, and the next deciding moment came with Middlebury on offense at 12-12. After working the disc to the red zone, the Eagles played stifling defense on the Middlebury handlers, using active marks, physical upline defense, and timely poaches to stifle the Pranksters and force them into taking a timeout. After the stoppage, Middlebury turned it over on a miscommunication between Colman Bashore and Frankenberg, and OC went on to break after an uncontested foul on a huck from Moore to Thomas Maguire flipped the field.
Maguire dumped the disc to Kameri, who called a timeout. At this point, madness ensued. Out of the stoppage, Kameri tried to hit Moore on an inside flick, but it tailed away from Moore and he was unable to bring it in. However, Frankenberg tried a crossfield blade, and Kameri swooped in to get the block and get the disc back in the red zone. After literally two and half minutes of end zone offense, Moore found Costello for the break and the 13-12 lead. Both teams played long stretches of patient end zone offense and staunch end zone defense, but only OC's efforts resulted in a goal.
Middlebury answered with a clean hold, with Hanscom finding Frankenberg at the force side front cone, setting up double game point. The Pranksters came down in force backhand matchup, and OC ran a side stack sequence. It looked like Middlebury might get a chance to break when Max Hamilton's throw to Bilolo popped up in the wind, but Bilolo left his feet and made an incredible grab to save the possession. A few throws later, Roberts hit Hamilton upline for the hold and the win.
The Eagles got massive performances from Jonathan Costello and Sammy Roberts. Costello was perpetually open, whether as a popper against the zone or gaining big yardage against matchup, and scored seven goals. Roberts was monumental, playing both directions down the stretch and facilitating the OC offense to allow Moore to start in the cutting space. The freshman finished the game with four assists and two blocks, all while taking the most difficult matchups on Middlebury.
Costello was eager to praise the young star, attributing his big performances to his preparation. "Sammy's development comes from how much work he puts in at practice. We've seen how much he's grown as a player, so we're comfortable giving him bigger roles, even as a freshman."
Walker Frankenberg's box score looks like a video game, as the senior handler racked up four goals, six assists, and a block, all with just three turns. Max Hanscom also stepped up for Middlebury with two goals, three assists, and a block. The graduation of this senior class for the Pranksters feels like the end of an era, but Hanscom was adamant that they'll be back next year.
"What's the saying, 'we don't rebuild, we reload'? That's what we do," said Hanscom. "We've got a strong sophomore class, a lot of really talented freshman, and we've heard of a few talented players in our incoming class as well. We have no doubt we'll pick up where we left off."