The two newest members of the Callahan club.
February 17, 2022 by in News with

0

comments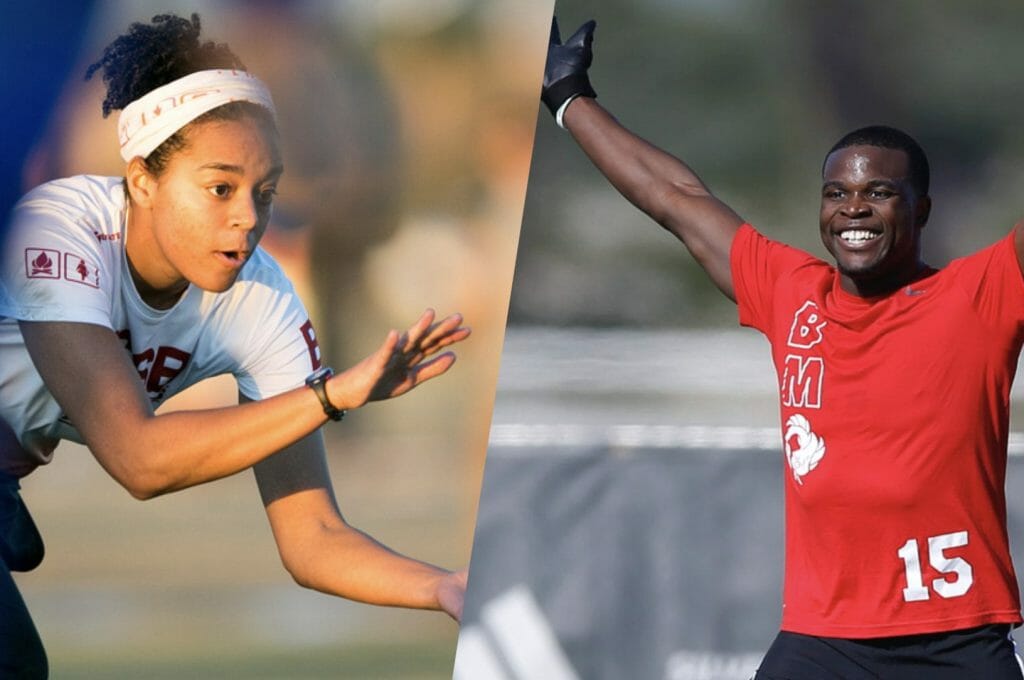 Brown's Azeez Adeyemi and UC Santa Barbara's Jasmine Childress were each announced as the Callahan Award winners for the 2021 fall college season on USA Ultimate's social media platforms.
Adeyemi has been a key part of Brown's defensive unit during both their 2019 national championship season and their 2021 run to the semifinals, even receiving votes for 2020 Defensive Player of the Year, where he finished just off the podium. He's a frequent feature in highlight reels on account of his spectacular leaping grabs and blocks, his long-range rundowns, and his impeccable awareness of his position on the field, allowing him to time up toe-ins, interceptions, and clamp-downs. An energetic presence on the field, Adeyemi is also known for ebullient celebrations and bringing hype for his team.
Childress burst onto the scene in 2019, with tremendous playmaking ability and scoring prowess, garnering some All-American buzz and an All-Region Second Team pick. That made her a star in the division in 2020, when she was selected as First Runner-up for Defensive Player of the Year, a First Team All-American, one of the top 10 players in the D-I women's circuit. Her plays have been in our Play of the Year brackets and on SportsCenter. As a voice for Black players and Black women in the ultimate community, she also appeared in the 2020 Color of Ultimate game1 and on the Con10ent Tour.
They become the 51st and 52nd players to win the Callahan Award after its inception in 1996 and are the first pair of Black players to win the award in the same year.
---
A previous version of this article stated Jasmine played in the 2019 game, rather than the 2020. ↩