The defending national runners-up survive a late surge from TUFF to advance to the quarters.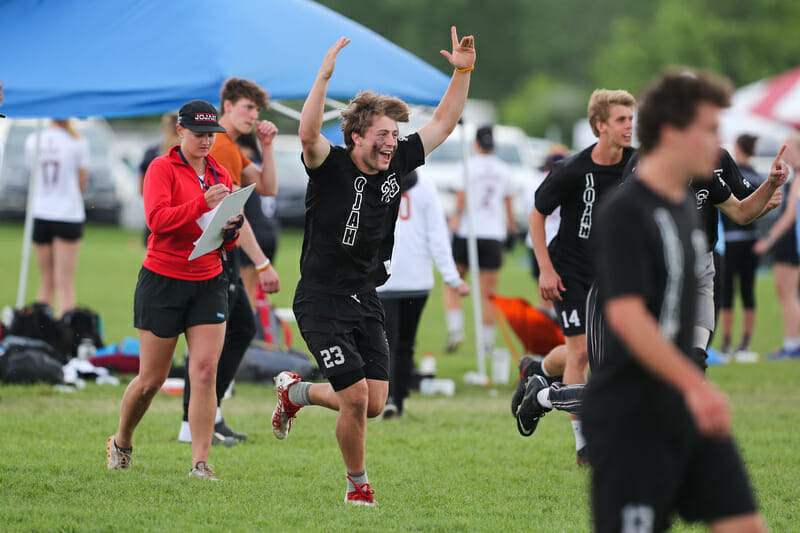 Our coverage of the 2022 College Series is presented by Spin Ultimate. Please support the brands that make Ultiworld possible and shop at Spin Ultimate!
For the second College Championships in a row, #6 Georgia Jojah knocked #18 Texas TUFF out of the tournament, making an early second-half break run stand up in spite of a furious final TUFF push.
The first half was a roller coaster. Georgia set up a TUFF break on the first point with a short-field drop. Two scores later, Jojah put the game back on serve after Texas missed a long swing. Georgia used that momentum to stay on the attack with a zone scheme that caused problems for Texas. TUFF danced nimbly on the edge for a while – intrepid defensive saves from Chambers and Slayton; Aaron Barcio scoring at will; Jake Radack hitting on a beautiful towering shot. They danced for a while, and then they bent when the Jojah reset pressure, particularly from Jared Bennett and Cole Chanler, tightened the screws.
TUFF bent, but they didn't break: they broke back. Aidan Downey and Hayden Austin-Knab, who have been holding down Jojah's backfield all tournament, were flustered enough by the thorny Texas defense that both of them made mistakes in the reset space. John Clyde skied a Georgia defender on the ensuing counter to bring the game back on serve at 6-6.
"Texas punched back. That's a good team," said Jojah's Bennett after the game.
The teams held through the rest of the first half. Then Jojah caught fire. After they held to take a 9-8 lead, all of the defensive pressure that had been building throughout the game produced a breach, and they ripped off back-to-back-to-back breaks. A tremendous layout by Jake Powell punctuated one score. A 68-yard backhand from Adam Miller to Drew Di Francesco set up another. Hayden Austin-Knab's killer first step in the red zone led to the third. TUFF looked like they were out of answers.
But just like in the first half, Texas found their footing and punched back. Between some costly Georgia errors (for instance, a wide-open short-field drop so reminiscent of the first point that it was like a callback at the end of a standup set) and a concerted TUFF effort to keep Downey and Austin-Knab out of the backfield, Texas shifted the discomfort off of themselves. "Strategically, we wanted to push Downey and Austin-Knab out from behind the disc, and if we got them downfield that was a win," said Radack.
It might have worked, too, if it wasn't for Matt Cook. Georgia's deep threat has come back from a three-and-a-half month stint on the IL for his final Nationals, and he's playing great ultimate. "Having Matt Cook on the field is just invaluable," said Bennett. "That dude's the best player in the country. He's got half a knee right now, and he's still better than 99% of the players at this tournament." This time, Cook didn't limit himself to roasting last backs. When Georgia risked losing the lead they built – the score went from 12-8 to 13-12 in a flash – it was Cook, not Downey or Miller or Austin-Knab, who stepped into the center handler role in the red zone. He collected and dispatched resets carefully before sending a beautifully weighted touch flick for Bennett to run onto for the 14-12 Georgia win.
Georgia will face North Carolina in a quarterfinal rematch of the 2021 National final Sunday morning on the Ultiworld livestream.
Texas kept a good attitude about the tough end to their season. "I mean, it sucks to go out to them twice… but we love those guys also," said Chambers.