Grey Duck turn up the defense to earn a rematch with Brown.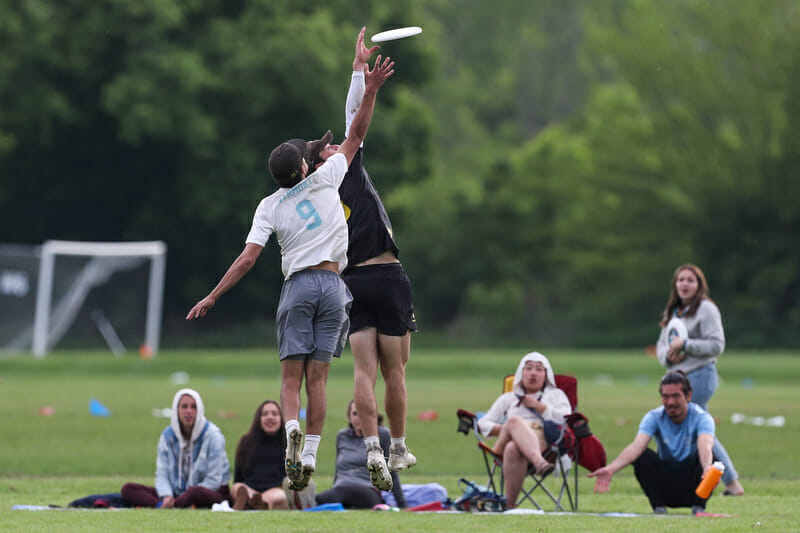 Our coverage of the 2022 College Series is presented by Spin Ultimate. Please support the brands that make Ultiworld possible and shop at Spin Ultimate!
Powered by the strongest defensive showing #15 Minnesota has displayed all tournament, Grey Duck eliminated #7 Vermont 15-10 and advanced to the quarterfinal round.
AJ Larson set the tone of the game with a layout block on the first point. Minnesota's D-line offense was shaky — they needed a stall-nine blade to the back of the end zone to score — but managed to break on their first chance.
Clearly still rattled after surviving a late run of Wisconsin breaks the round before, Vermont could not settle into the game and Minnesota took full advantage, building out a 4-0 lead. Once they proved they could score, the Vermont offense found its rhythm and the teams held to halftime, with Minnesota leading 8-4.
Minnesota was having success isolating their primary cutters, Anthony Jirele and Paul Krenik, and letting them toast Vermont defenders in the deep space. Ian McCosky seemed unfazed by the slight breeze and occasional drops of rain; his throwing prowess was on full display on both deep shots and tight around shots. McCosky accounted for five of Grey Duck's 15 assists.
Minnesota made their mark in the second half as well, surviving a seven-possession, eleven-minute point to add a break and increase their lead to 11-5. While the scoreline indicated that Vermont had long odds to mount a comeback, their sideline was convinced that a run was coming.
Kuochuan Ponzio ignited the team with an impressive trailing edge catch on a Walden Ng blade across the field. Declan Kervick's ensuing pull landed deep in the Minnesota end zone and the Chill defenders locked in to shut down the Grey Duck handler movement. Christopher Kiepert snuffed out the bailout huck, and Vermont had their first real break chance of the game. Carl Crawford managed to hang on to a huck going the other way and Vermont suddenly had life.
With intense pressure on the Minnesota handlers, Vermont forced two consecutive turns on late-stall upline throws and converted both of them to breaks to bring the score to 12-10. Reed Browning played impressive defense on Minnesota's stars, alternating between guarding Cole Jurek and Krenik. He was also involved in Vermont's last two break scores, catching the first and throwing the second.
From there, Minnesota survived a few wild points. Jurek caught a late-stall crossfield hammer just in bounds as he was being backpacked by a Vermont defender,1 but rushed his next throw that was acrobatically blocked by Kervick. With a golden chance to bring the game within one, Vermont looked out of legs on offense and turned over a huck. Minnesota worked the disc slowly the other way against stiff Vermont handler defense, and McCosky found Krenik just over the end zone line to stop Vermont's four-goal run.
"We wanted to not get in our heads and to not play super confident that we're gonna win," Larson said, when asked how the team weathered Vermont's comeback attempt. "We realized that our season is on the line and their season is on the line."
With their offense back on the field, and their best-ever season slipping away, Vermont needed to move quickly to score with enough time left in soft cap to mount a real comeback. Minnesota's Erik Aadalen took advantage of their tunnel-visioned pace, timing his run to layout block an in cut perfectly and setting up Minnesota to pull away. Aadalen scored on that point after the soft cap horn sounded, and Minnesota could feel the win coming.
Vermont sent out their kill line to stave off elimination. They worked the disc all the way to the end zone line, but mistimed a quick dish that would have counted as a score. Minnesota wasted no time moving the other way as Joey Pickens went horizontal to catch the breakaway huck. Krenik gathered the reset and tossed a simple continue pass to Trevor Graham to put the game away.
Vermont's slow start ultimately accounted for the difference in this game. Whether they were tired after a surprisingly tight final pool play game against Wisconsin or simply needed a few points to acclimate to the moment in their first-ever bracket game at Nationals, Chill was never able to dig themselves all the way out of the hole they built.
On the flip side, Minnesota came out with an unexpectedly strong defensive performance. Entering the tournament, the story for Minnesota was that their defense was not strong enough to get breaks without crossing over their top offensive players. They put that story to rest from the game's first point. "We have a lot of D-line guys really step up over the course of the season," said Larson, a senior on Minnesota's defense. "It was great to come out here and have a real opportunity and crush it."
Minnesota was in good spirits after their win and the team feels confident ahead of its quarterfinal matchup against Brown. They are the only team to beat Brown this season, in the season's opening game back at Florida Warm Up, and Larson said they've been looking forward to a rematch all season.
---
the defender received a yellow card after the point ↩