The New England champs rode an early lead to a comfortable victory.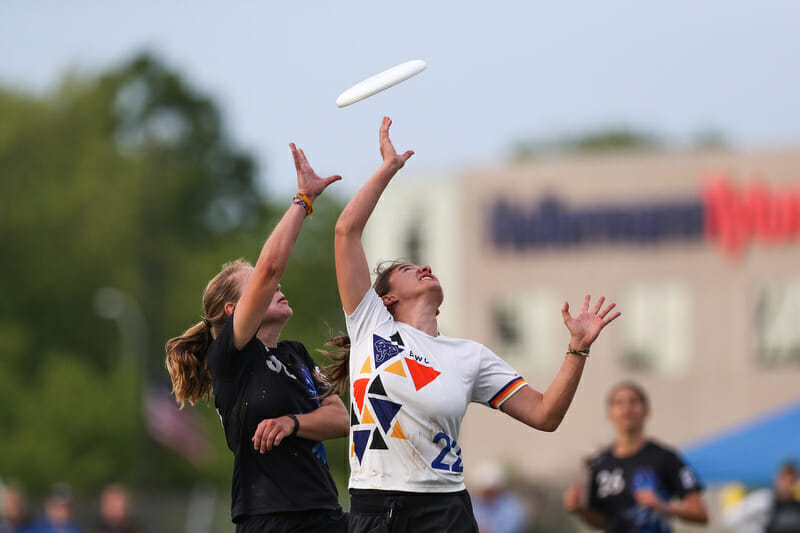 Our coverage of the 2022 College Series is presented by Spin Ultimate. Please support the brands that make Ultiworld possible and shop at Spin Ultimate!
Prequarters is where the rubber hits the road for elite teams. You can excuse away losses at Regionals or in Pool Play, but the runway ends in the bracket at Nationals. There's nowhere left to hide. This is where teams have to show their true colors. Assuming #8 Tufts can play for the rest of the weekend like they did against #7 UC San Diego in their prequarters matchup, their 'color' might just be golden.
Despite a game that featured a lot of UCSD's favorite wind elements — including an upwind/downwind field, Huck & Hope offense, and junky zones — Tufts managed to match them at every turn, taking an early advantage and riding that through to the end of a 12-9 victory. It was a masterclass in playing to win, not to survive, and EWO was the tutor.
Even before the game started, the winds of fortune were favoring Tufts. Their game right before UCSD had been a confident victory over Purdue, a good game to build the confidence and keep their top players fresh. UCSD, on the other hand, played a mercilessly tough game against their pool top seed Carleton, featuring plenty of unforced errors and miscues from their top players. It was the exact type of game you want to purge from your system before playing a game, something they weren't able to do with the short time between rounds.
D-Co's poor performance against Carleton carried over into the first few points against Tufts. It wasn't that EWO was forcing them into mistakes, so much as they were just giving up errors through mental lapses. Dropped discs, turfed throws, and mistimed cuts all put UCSD in a hole early, starting the game by giving up three straight breaks to a Tufts team that was ready from the jump. Credit where it's due, Tufts was not giving UCSD the chance to get the disc back. The New Englanders played with swagger and confidence, something they knew they needed if they were going to have a chance to make quarters.
"We learned from Colorado and Davis that we play best when we're loose, having fun, and trusting each other," said captain Leija Helling, "so that's what we did today."
Their D-line offense was run through Lia Yamamoto Schwartz, who was playing the best game of her tournament so far, setting up her team for success and making a number of beautiful hucks to establish the significant lead Tufts earned early on. "My teammates are great receivers," said Schwartz with almost too much modesty, "and knowing that they're able to come down with things makes it a lot easier as a handler." Her final stat line of three assists does little to illustrate how well she played.
For UCSD's part, it was obvious that they were relying on Ava Hanna to get them back into the game. Where others were struggling, Hanna remained confident in every aspect of her game. Her hucks were on point and no mark was able to fully contain her. As UCSD started adding points back on the scoreboard, Tufts frequently went to a box-and-one zone option just to get Ava out of the handler space. While that proved effective, it also set her teammates up to get their confidence back, and UCSD settled into a more level offense midway through the first half. The teams traded points, and UCSD even broke back into it, but the wind offered just enough resistance that Tufts got free returned discs even after making a number of mistakes. By half, it was 8-5, and not enough had changed for the UCSD fans to really feel as if their team was taking control back.
The second half didn't provide any more answers. For every turn that UCSD was able to generate on defense, an execution error gave it right back. They set the tone for the game with a huck-heavy style of offense that often led to turns, but established field position. Rather than trying to fight the changing tide of the game, Tufts embraced it. They, too, went into their own form of huck'n'play defense, and were just as effective with it. Leija Helling and Hazel Ostrowski were the primary pairing for the first part of this strategy, but Tufts also crossed over Schwartz to give them a little extra firepower on offense when the game started tightening. Ostrowski may have been the primary option, but the game was saved on numerous occasion by Emily Kemp, who outpositioned her defender on four separate occasions to earn a goal.
The last of these moments for Kemp was also the most crucial, as Tufts led 11-9 when the cap went off, making it a game to 12. The coaches didn't hesitate, and threw out a kill line to get the job done, which was a hairsbreadth away from losing it for them when a pass sailed too far and gave UCSD the disc. Unfortunately for D-Co, their string of bad luck never fully went away, and reared its head once more with the game on the line, causing a routine swing pass to be turfed. Tufts would not give them another chance, shooting a disc to the end zone that Kemp bodied into position for, and made another stellar play to win EWO the game.
Right up until this afternoon, UCSD had been playing like a championship contender, and the team very much had the pieces for a deep run. They just happened to hit a roadblock in their championship run at just the wrong time. Tufts was the better team in prequarters. They played with more urgency, had better efficiency, and showed that they could beat UCSD at their own game. When it mattered most, it was Tufts that took off, and will now have a chance to beat another Southwest team, as they'll play UCSB in the quarterfinals Sunday morning.