UNC's O-line had just one turnover.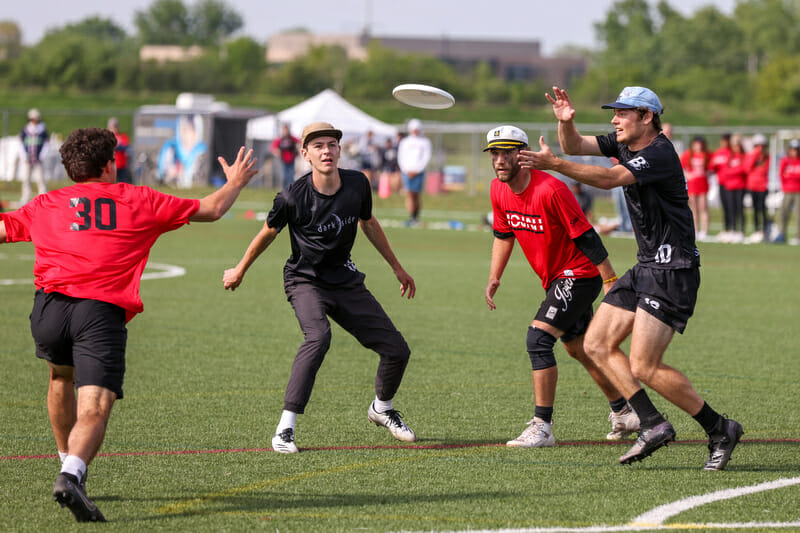 Our coverage of the 2022 College Series is presented by Spin Ultimate. Please support the brands that make Ultiworld possible and shop at Spin Ultimate!
MILWAUKEE, Wisc. — In a rematch of the 2021 National final, North Carolina Darkside put together a complete performance to defeat Georgia Jojah 15-9. With the win, North Carolina advanced to their staggering eight consecutive College Championships semifinal.
The story of the game was a well-rounded, well-executed, nearly perfect Darkside offensive attack. On the first possession of the game, Liam Searles-Bohs overshot Josh Singleton on a huck from the pull play. That was the only miscue for the O-line. Literally. They played out the rest of the game without a single turnover. But it was the O-line's balance that stood out even more than their brush with perfection. Singleton and Searles-Bohs were always ready to turn and throw deep after an under, but Darkside hardly had to rely on them. John McDonnell, Rutledge Smith, and Jason Manning ran slippery sets in the backfield to keep Jojah's defenders on the back foot.
Downfield, it was the Ben Dameron show. On consecutive possessions early in the game, he outshone two of Jojah's biggest stars. First, he plucked a one-handed catch on an under through enormous pressure from Georgia's Drew Di Francesco. He set up in isolation against Hayden Austin-Knab on the next offensive point, made a jab step under to turn Austin-Knab's hips, and earned 15 yards of separation deep before Austin-Knab could even begin to pursue him. He finished with a game-high five goals, and he added an assist for good measure.
It was a different story for Georgia's offense. By their third possession, they seemed to lose focus, and the execution on their throws began to suffer. Within the tight margins Darkside were forcing, there was no room for error. The UNC D-line worked a full-field break possession to take a 4-2 lead. "Darkside did some stuff that we weren't ready for. Our offense couldn't quite handle it," said Jojah captain Adam Miller.
The lapses in focus extended to Georgia's difficulty working against the wind for much of the game. The breeze wasn't too strong, but it was consistent. Players would need to gauge it and reckon with it on every pass. Jojah adjusted their throws poorly, though, showing too much of the underside of the disc windward to compound their offensive struggles.
There were no such lapses for Darkside's defense on the counters. If the D-line weren't quite as pristine as the O-line, they were methodical and confident in all the right ways. "It was just trusting our teammates to make and complete those throws. Seven handlers," said Darkside's Kevin Pignone of his defensive unit after turns. That's a funny thing to say, but that's how it seemed, especially around the end zone. Pignone, Andrew Li, and Luke Duan typically led swing-heavy approach, but downfield players like Bailey Roberts and Eli Fried slotted in with them seamlessly in the red zone.
Georgia leaned on their stars to try to carry them back into the game in the second half. Miller, Di Francesco, Austin-Knab, and Aidan Downey played almost every point through to the end. Austin-Knab was particularly effective for them. "He just does everything for our offense," said Miller. "At times, he's selfish, but he always is very cognizant of what he's doing and how he can make the team better…He never does anything outside of his abilities." Those considerable abilities were good for a three assist, three goal line against the toughest defense Georgia has faced this season. The last Austin-Knab goal, on their last offensive point of the game, was an out-of-position sky over Pignone that no one had any business catching. It would have made a fitting coda to his Callahan reel.
But it was only an asterisk in a game that was all North Carolina from the first pull. Even the luck went Darkside's way at the end of the game. It seemed like they had made their first real mistake since the first point, throwing a huck over and past the receiver. Manning followed the play from the back side. He made a big bid for the catch, but the disc glanced off his hands. Instead of falling to the ground, however, it came off at a perfect angle to sit still at chest height for a few seconds, allowing Manning enough time to stand up and complete the catch to send Darkside to the semis.