Who says defense-first players can't be superstars?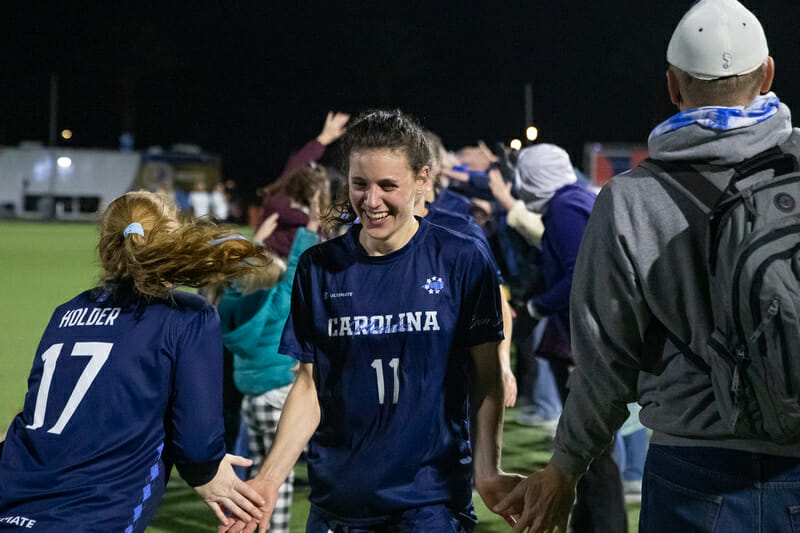 North Carolina's Dawn Culton was named the winner of the 2022 Callahan Award at the halftime break of the first men's semifinal this afternoon in Milwaukee. She is the third player from the Pleiades program to win the award, following Leila Tunnell in 2011 and current teammate Anne Worth just two years ago in 2020.
Ever since high school, there was excitement about what Culton's combination of athleticism, experience, and toughness could bring to a team. But she became a prominent player in the women's division in 2021, helping lead North Carolina to a championship while earning numerous  individual honors. She was named 2021 Player of the Year runner-up as well as the Defensive Player of the Year, and of course, was selected as a First Team All-American.
On top of her tremendous 2021 college season, Culton excelled as both a member of Raleigh Phoenix during their most successful season and with the Premier Ultimate League's Raleigh Radiance.
"On top of her skills, Dawn works harder than any other player off the field, in the gym, and supporting her teammates. She has become one of the most talented defenders in the division and is a driving offensive force on a turn," reads her Callahan nomination.
That talent has led to an outrageous number of highlight reel plays, namely on defense, where her reputation has made her one of the most feared defenders at any level. But she is much more than big plays. She's efficient with the disc, drives offense with aggressive cutting, and is one of the most defining presences in any college game.