Darkside are on their way to their fourth consecutive national final.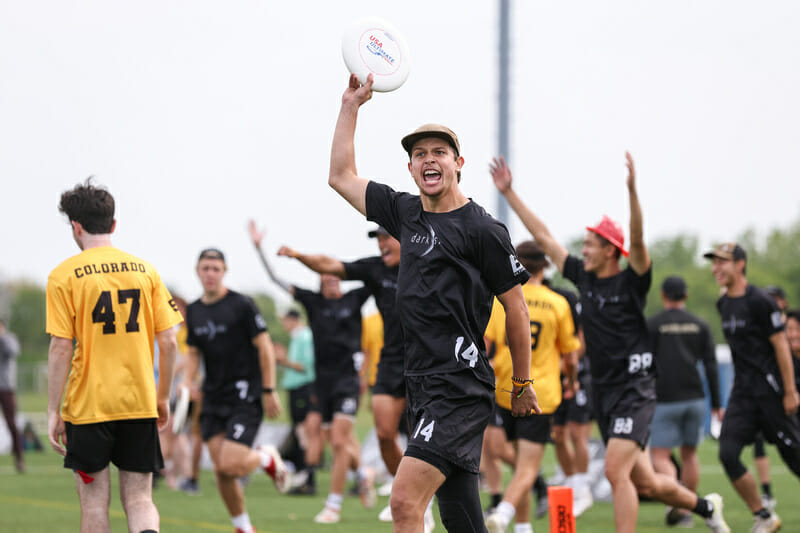 Our coverage of the 2022 College Series is presented by Spin Ultimate. Please support the brands that make Ultiworld possible and shop at Spin Ultimate!
MILWAUKEE, Wisc. — Through Sunday morning, the men's division at Nationals felt like a procession. The four top seeds were just head and shoulders above the rest of the field, and while there is a certain thrill at witnessing the raw power of North Carolina blowing out Georgia in a quarterfinal or Colorado stomping their way through Pool B, there was rarely a sense of jeopardy.
Hopes were high that this semi between #3 Colorado Mamabird and #4 UNC Darkside might prove to be a corrective, and for a thrilling first half it was. But in a 15 minutes span in the second half, North Carolina left Mamabird in orbit and blasted past them into the final with a resounding 15-9 victory.
UNC received the opening pull and industriously worked their way up the field, chipping yards away with inside breaks and swings off the front of the stack. Colorado come down in straight matchup defense that didn't apply much initial pressure, but tightened up as the field got shorter. Eyeing up the inside backhands Darkside had been throwing on the point, Mamabird's Alex Atkins dropped back on the mark and used the extra space to swat away what would surely have been an assist from Jayden Feagans.
Now with the disc, Colorado looked to attack as they has all weekend with a D-line offense that is one of the most aggressive and dangerous in the country. But the attempt here was non-lethal, a huck too far for its target, and after another quick exchange of turns Darkside put in the hold.
Colorado's offense showed more patience on their first possession, diligently working the disc to the break side of the field and resetting until a lane opened up. Darkside's defense eventually collapsed into that break lane to deny yards, and Colorado struck out into the open space on the force side with a big swing and continue, Danny Landesman sliding a smooth flick to an open Nathan Buchholz for the score. Landesman doesn't take on the same volume for Mamabird as Atkins, but his movement and composure on the disc were essential for Colorado, contributing more than even his 3G/2A stat line represents.
The first big flashbulb moment of the game came on Mambird's next offensive possession; Landesman saw Atkins leak deep and launched a flick huck up the inside channel. There were two Darkside defenders in the area, but Atkins got huge over both for a goal that made it 2-2, blasting the disc skyward with a massive kick spike after his astonishing goal.
It was near catastrophe for Darkside's offense a few points later, when Josh Singleton dropped a swing pass on the goal line, giving Colorado the shortest possible path to a break. But gritty red zone defense punctuated by a block from Jason Manning on a break side swing got the disc back and North Carolina scored on their second chance. UNC's offense wasn't perfect on the day, but played absolutely tenacious defense after the turn.
"Their O-line's D pressured us better than any other defense we faced," said Colorado coach Bob Krier after the game. "Some of the things that had been comfortable felt tighter, and we just ended up making some poor choices and weren't able to get into our offense."
"It's one of the luxuries of having a super deep team," said UNC O-Line handler John McDonnell. "We don't necessarily need to cross players over a lot. I noticed that they are at the end of a tournament where these players have played a lot of points, and when they get a turn it's difficult for them to punch it in because they just don't have the legs anymore, and we are lucky enough to have the legs to play defense."
The momentum swing of that goalline stand would prove crucial, as on the following point the game's first break came. Eli Fried put the burners on and launched himself after a swing, getting a paw on it for one of his three blocks. Liam Searles-Bohs had been pulled over for his first D point of the game and brought the decisiveness the line had previously lacked after the turn, putting a slick inside flick to Seth Lee for a 5-3 lead.
Looking to get a break back, Colorado broke out their zone for the first time at 6-5 but UNC summarily walked through it, John McDonnell punctuating the point with a flashy scoober to freshman Josh Singleton at the break side cone. Colorado ran a fair amount of zone at this tournament both adapting to the windy conditions and also recognizing that their rangy defenders are better served occupying space than having to stick to shifty cutters. But UNC excels against zone looks, with their confident mark-shredding throwers moving the disc through the cup, and Mamabird quickly shelved the experiment.
It was person defense that got Colorado their only break of the game, Calvin Stoughton exploding for a goal-saving layout block on an upline cut from LSB. After a timeout, Atkins launched a huck that looked for all the world like a turnover, but the UNC defender in the deep space who swatted it somehow only managed to pop it back up in the air and send it tumbling into the arms of Saeed Semrin.
At 7-7, the crowd got loud and Mamabird came charging down to get another break, but Darkside absorbed the pressure and pushed on. Ben Dameron churned up yards and kept the disc moving into good positions in the center of the field, and as Colorado over pursued to the force side they got punished by Carolina's ability to hit open space on the break side, leading to the goal that made it 8-7.
Mamabird stumbled right away in the second half. Atkins started downfield and created half a chance on the force side that probably should have been looked off, but Stoughton tried squeezing it in anyway and ended up floating it out of bounds. Tommy Williams worked down the force side for UNC, pumped a backhand and sent a big break flick across the stack for a break that made it 9-7.
Colorado had a golden chance to get the break back, and if there's one moment in particular from this game that they will rue it's likely this one. At 9-8 Calvin Stoughton pounced on an opportunity for a block and Mambird got the disc to Atkins on the break side of the field. Darkside forced into the stack and Atkins couldn't find a reset he liked, and was left launching an audacious break backhand huck up the sideline. For a brief moment it looked like it might curve back into play, but then Josh Singleton and his 6'3" frame appeared and swatted it away.
From that moment on, it was all Darkside. After converting the hold to make it 10-8, UNC's defense rolled onto the field and didn't leave until the game was in hand.
Once the wheels came off for Colorado, they were truly off. The will to work through Darkside's defense seemed to leave, the patience of the first half vanished, and the turnovers came quickly as Mamabird tried increasingly improbable hucks and defense-breaking blades that invariably hit the turf. For their part, UNC's D-line was ruthless after the turn as they collected breaks, highlighted by a full-field howitzer shot of a flick from Seth Lee that made it 12-8.
"The main thing they did was they just sat someone deep," said Krier after the game, reflecting on what was so effective about Carolina's defense. "And that allowed them to go hunt for things on the sides. We kept talking to the team about how to identify when someone leaves to play deep and people are flashing, but I think we were slow to react to a lot of those moments."
Colorado's offense finally got off the field at 14-9 on a sky by Landesman, but the damage was done at this point, and a task too tall for Colorado's D-line remained.
At 14-9 Mamabird had a chance at a break, but as it did all game, UNC's O-line played tremendous defense and snuffed out the break chance. Dameron found space at the flick side cone and reeled in his fourth goal of the game, and the final point of Mamabird's season.
After the game McDonnell expressed that even though it took until the second half, he could feel this run was coming. "The sheer margin took me by surprise, but I ultimately knew the breaks were going to come."
"Once you go down, the pressure builds" said Colorado's Saeed Samin. "We had some unfortunate drops and things and they capitalized, and we failed to capitalize on our chances early in the game and put them behind and put that pressure on them. And that was the big decider in end."
There's no doubt that this Colorado team had a great season, but yet again it is North Carolina executing, converting, and building pressure on their opponents in the biggest moments of the season. They've now made their fourth straight final, and have a chance on Monday to bring home their program's fourth National title.