All four college champions repeated after winning in December.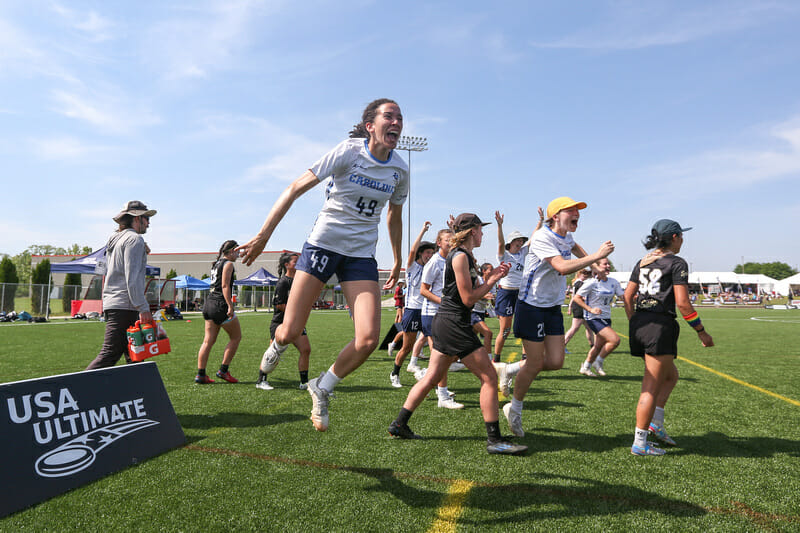 MILWAUKEE, Wisc. — After becoming the first university to sweep the Division I titles since 1990 at the 2021 College Championships, the University of North Carolina claimed both titles again at 2022 Nationals, despite playing with notably different starting lineups this time around.
The women's team, UNC Pleiades, jumped out to an early lead against Colorado Quandary, but Colorado battled back and forced universe point. Like so many times this tournament, the UNC O-line stood tall under pressure, and Ella Juengst hit Alex Barnett, who led the offense with three goals and four assists, for the game-winning goal. Anne Worth, back in the lineup following an ACL injury in 2021, finished with two goals and five assists.
UNC Darkside, the men's program, faced far less late game pressure. They jumped out to an early two break lead after a pair of turnovers from Brown handler Jacques Nissen and never looked back. Liam Searles-Bohs had two goals and five assists to pace the offense, and Ben Dameron had four goals and a pair of assists.
Both UNC teams taking down titles means that all four 2022 college champions — including the Middlebury women and Oklahoma Christian men — were repeat winners after winning in December 2021.
Stay tuned for continuing coverage of the College Championships here on Ultiworld.