UNC won a second straight championship with a poised performance.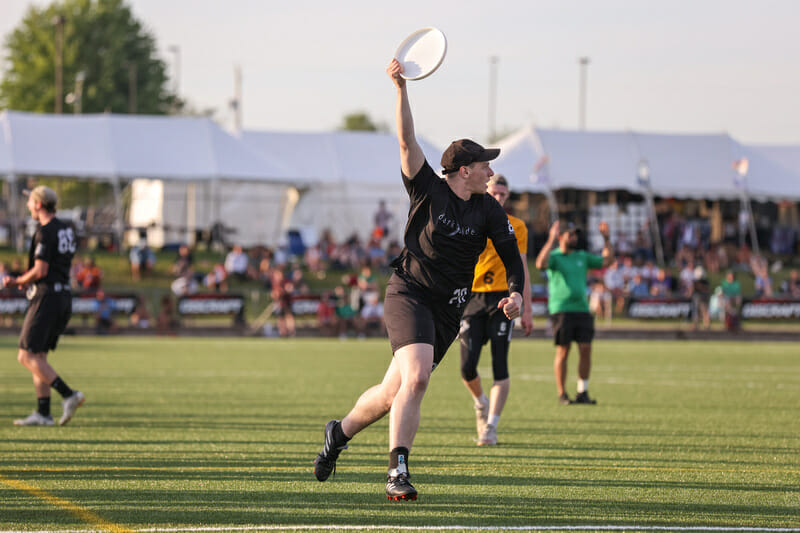 Our coverage of the 2022 College Series is presented by Spin Ultimate. Please support the brands that make Ultiworld possible and shop at Spin Ultimate!
MILWAUKEE, Wisc. — #3 North Carolina Darkside unseated tournament favorites #1 Brown Brownian Motion 15-10 on Monday to win a second consecutive National Championship, the team's fourth since 2015. It was a wire-to-wire victory to cap off a wire-to-wire tournament.
Until the final, Brown had been enjoying one of the most dominant seasons in the history of the men's division: a 36-1 record, three tournament victories, and such well-executed play on both offense and defense that even an intense and prepared Pittsburgh side were unable to compete with them in Saturday's semifinal. Brown were the no-doubt-about-it best team in the country.
And then, suddenly, beginning with the first point of the game, they weren't.
The B-Mo offense's most reliable and devastating weapon started to misfire at the wrong time. One of their primary looks all year long from the pull has been for Jacques Nissen to survey the defense and tee up a pass into a soft spot around midfield. On the first point of the game, he threw a long forehand to Talon Johnson on the open side. It's not clear exactly what went wrong – either the wind slowed the pace of the throw or Johnson did not attack the disc at full speed. Whatever happened, Eli Fried used the opportunity to dive across Johnson's inside shoulder and blow up the connection.
After a quick Darkside score, Nissen began the line's possession at the brick and again tried to gain twenty-five yards with a single throw. A decoy downfield cutter cleared the break lane, and Nissen fired an OI blade into the hole. But he failed to account for the presence of Wesley Britt, who was sitting on the look the whole way. He took an easy step to knock it away. Just like that, North Carolina went up two breaks on the top seed.
Britt's block was emblematic of the enormous amount of advance scouting on the part of Darkside. "I like to try and think of myself like [longtime Caroline Panthers linebacker] Luke Kuechly. I try and get the defense lined up," said Kevin Pignone. "[Brown's offense] do a lot of crazy things… It was a long night thinking about what they were going to pull out… But we had a couple of things that we realized that they like to do, and we tried to get our defensive sets right." They even had nicknames for B-Mo's pull plays: the North Carolina coaches would call out "wheel," "dagger," or "slingshot" from the sidelines as soon as they recognized the set up. While that did not necessarily mean that they knew how to stop Brown's openers – indeed, Brown earned quick scores from set plays throughout the game – it was clear that Darkside were ready for those looks from the outset and were therefore poised to take advantage of even the smallest errors of judgment or execution.
Even when Brown was able to string together completions and fall into their offensive routines, they never quite looked as comfortable as they had been during most games they've played this season. That's a testament to North Carolina's defensive game plan. "I think they made some good adjustments, especially in the wind, fronting us and playing good inside line defense – and also bringing people into the sets from downfield," said Brown's Callahan winner, John Randolph. "It took us a little while to adapt to that."
Right away, then, North Carolina's offense got to work with the benefit of a two-break cushion. "It's really sweet to get a couple breaks in the bag early," said UNC's Liam Searles-Bohs.
Searles-Bohs (5A, 3G, 380 yds) and Ben Dameron (2A, 4G, 281 yds) headed a bold North Carolina offensive attack. Faced with a force-backhand matchup scheme for the entirety of the half, Darkside established their deep game early, using separation gained on in-cuts as throwing windows. "The whole game was just about maintaining our tempo," said Searles-Bohs. "We've got a bunch of great throwers, but we're not very effective when we hold the disc and look upfield. We're much more effective in motion."
B-Mo tried to use breakout defensive star Cam Curney to slow Searles-Bohs. There were a few moments when Curney's enormous wingspan seemed to foil Searles-Bohs' more dangerous looks, particularly as stall counts climbed. But as often as not, Searles-Bohs was quick enough with his releases – either continuing with a backhand up the force side or pivoting low to float a crossfield flick – that Curney couldn't settle into a mark in time. Dameron and Jayden Feagans timed and spaced away cuts with uncommon precision to provide large windows for the completions.
Brown's offense remained inconsistent throughout the first half. Nissen and Dylan Villeneuve each completed magnificent hucks, but those moments of greatness were counter-balanced by a pair of end zone drops, a dominator set miscommunication, a failure to weight a leading short throw for the wind. And North Carolina's D-line offense jumped on their opportunities to punish those mistakes. Pignone and Andrew Li played fine games in the backfield to lead an attack that walked a perfect line between assertive and safe.
Brown ended the first half in an unfamiliar position: trailing 8-4, an inversion of the kinds of margins by which they had led in every other game at the tournament. "It can feel different when you look at the scoreboard whether it's 8-4 one way or 8-4 the other way, and it changes a few things on the coaching end, like subbing strategy and how hard you're pushing on the gas," said Randolph. "But at the end of the day, as soon as the pull goes up for every point, you're just playing ultimate and trying to score the point."
And that's just what Brown did.
It was Randolph who keyed B-Mo's best attempt at a comeback right as the second half began. Pouncing on a Darkside throwing error in the short field, he motored past his defender toward the front cone and threw a high-release to Leo Gordon through heavy contact for a break to draw within three. With Curney hot on his heels on the next point, Searles-Bohs couldn't hang on to a deep throw. Again Randolph punished the mistake, using every bit of his speed to chase down a screaming huck. The two break possessions were quintessential Randolph: game-changing power cutting combined with unmatched determination and ruthlessness.
North Carolina steadied themselves after that. Down 10-8, Brown at last turned to an old standby: the infamous trap zone that had been their calling card all year long. It was the first (and only) time they deployed it in the final. Darkside pushed through to the red zone with relative ease to set up a tense stand-off. Against seven well-drilled defenders compressed within twenty yards of depth and wary of testing any long crossfield shots against the steady wind, Darkside reached the goal line again and again with small swings and chisel cuts, only to be rebuffed each time. The stalemate lasted some few minutes. John McDonnell, Jason Manning, and Rutledge Smith refused to give up the disc as the cup refused to give ground. Eventually, however, Darkside found enough of a gap after a swing to squeeze in a goal.
That point seemed to take the wind out of Brown's sails. Once more the O-line began to struggle with execution errors, allowing UNC to recoup both of their second half breaks – one of them on a glorious layout catch by Seth Lee. When B-Mo D-line were able to get back onto the field, they were clearly a step behind Darkside. Even after a towering Villeneuve pull started them from the back line of their own endzone, Darkside found plenty of space to work the disc to midfield. Searles-Bohs hit Dameron in stride for the pair's final connection of the day.
Fifth-year Tommy Williams, who returned to the team this spring after sitting out the fall season and played an excellent game, led the final North Carolina red zone possession and darted across the line to the front cone to clinch the title.
For Subscribers: Finals Box Scores
Superb performances could be found in bulk on the North Carolina side. Dameron, Li, Britt, Pignone, and Williams all contributed mightily to the win. And Fried – a freshman – was an elemental force on defense in the final, just as he had been throughout the weekend. "When you've got Eli Fried on the team, you know one [block] is gonna happen… He's a get-a-block guy," said Pignone.
Still, it cannot be emphasized enough how great an impact Searles-Bohs had on the win. With Brown's force backhand scheme largely taking McDonnell's otherworldly array of forehands and left-handed freshman Josh Singleton's booming backhand out of the game, it was Searles-Bohs who shaped the dynamics of the North Carolina attack. He didn't set out to dictate the course of the final, but once it was clear that the offense would, to a great extent, flow through him, he simply leaned on his top-of-the-division skillset and years of championship-level experience to meet the grandeur of the occasion.
"I don't make any conscious decisions. I try and let the game come to me… and [Brown was] giving me a lot today. I touched the disc a lot, and I'm going to make stuff happen when I touch it," said Searles-Bohs.
Will Steinfield's matchup defense stood out for Brown; he hounded his assignments relentlessly every point. On offense, Talon Johnson's four-goal, zero-turn performance was notable. So was the performance of Cal Nightingale, who remained steady as the other B-Mo handlers cracked under Darkside's pressure. But with stars Nissen, Villeneuve, and Randolph combining for 10 turnovers, it was not enough.
The end of the 2022 final closed the books on two of the greatest careers the division has ever seen. Randolph and Searles-Bohs were impact players from the moment they first laced up their cleats for their respective programs as freshmen in 2018. Since then, they have traded championships and awards and earned the admiration of the entire community. Both offered reflections on what their careers have meant to them.
"It's been incredible," said Randolph. "I'm so happy to have had the times with my team. I'm so proud of the underclassmen and how they've stepped up. And looking back farther, I've been so molded by the people who are older than me, who graduated years ago. It's been an incredible ride."
Searles-Bohs similarly singled out the relationships he has enjoyed with his teammates. "This whole weekend I've been locked in on the moment and on enjoying moments with my teammates knowing this is my last time at Nationals. It's little moments that I'll remember… It's an accumulation of love that makes three championships. The love is what I'll remember. The relationships are what I'll remember. The little moments on Finley fields and Hooker fields and in the dining hall. What makes a college career is not the championships, it's the family that we create."