Japan is on the brink of elimination from medal contention.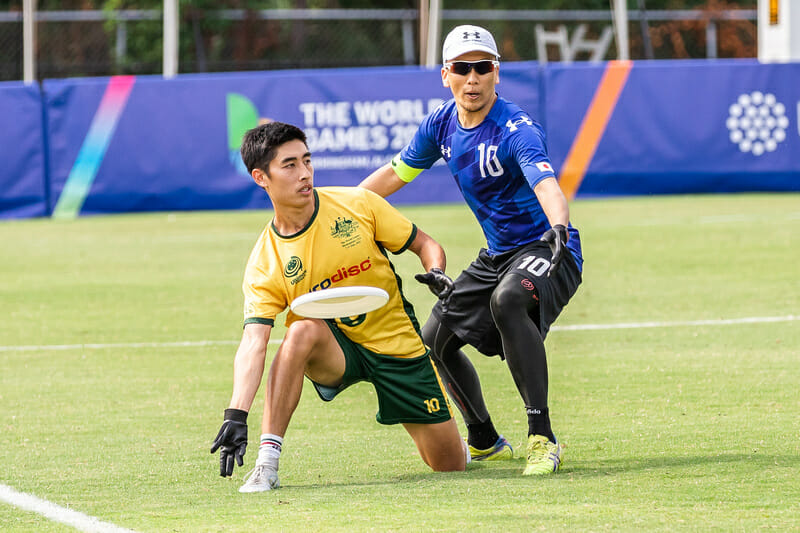 Ultiworld's written coverage of the 2022 World Games is presented by Spin Ultimate; all opinions are those of the author(s). Find out how Spin can get you, and your team, looking your best this season.
In what was considered before the tournament began to be the pivotal Pool B match, Australia rode out an opening break for the next 22 points to win a tight 13-11 game against Japan. The round was filled with brilliant catches, acrobatic blocks, generous helpings of deep cuts and break chances, and, by the end, quite a few long foul discussions. The tension of so many consecutive clean holds strained the nerves of everyone involved. "I had forgotten how stressful World Games games are," said Australia's head coach Anna Rogacki.
Japan, who had played a successful deep game early in yesterday's match against Colombia, sought to establish their hucking on the first point. Taku Honna had space to throw to and plenty of pace on his forehand, but it was at a low trajectory that the Australians picked off easily with a help defender. It would become a theme in the match for Australia's taller defenders – Sam McGuckin and Rob Andrews in particular – to foil Japan's away shots. Part of the cause was a committed plan from the Crocs. "That is a consistent theme for us. We want double bodies at least. We want to release the [help] defender to go up early," said Rogacki. "We want to attack the deep space really aggressively and have numbers there being able to support that movement."
But it's also true that Japan didn't adjust quickly enough to the size of many of Australia's defenders. "We made mistakes," said Akifume Muraoka. "It's almost all our players' first time playing World Games. We don't have experience… some [of us] didn't know how tall the Australians are."
That isn't to say that Japan played poorly: the other aspects of their game were on point. Honna, Tomoko Inamura, and Kanari Inmanishi were quick and smart in the lanes, particularly as they attacked the soft center of the field on cross-cutting patterns to keep reversing the trajectory of the offense. When they were cooking, they switched angles at dizzying speeds.
One player who did not fall into the deep game trap was Muraoka. On the contrary, he excelled at it, challenging the Crocs taller players with pinpoint throwing, as well as with a series of springy and physical on-disc plays. The finest example of his play came as the Australians had an opportunity to break for half. McGuckin, who had just finished making one of the best blocks of the tournament so far to cancel a Japanese deep shot, started to rise for an Aussie huck going the other way. Muraoka found his footing for a huge leap even as he was still pushing to catch up to the play and reached the ends of his fingers above McGuckin's to keep Japan within a break.
But as well as they played, the Australian offense withstood the pressure. Most of the time Tom Tulett, Cat Phillips, Alex Prentice, and Georgia Egan-Griffiths kept the crocs level-headed on possessions. "Having that real sense of certainty and execution was excellent." When they did make mistakes – which often went arm-and-arm with the best examples of Japanese defensive switching and lane flashes – the defense was stout enough to keep Japan out of the end zone.
Crucially, Australia were able to match Muraoka's heroism. Today that hero happened to be McGuckin. In addition to the block at 6-5, he saved a throw from going out of bounds with a stupendous effort through contact while managing to keep his toes in. But the play of the day came on one of the many long, grinding points of the second half. Kyal Oh saw McGuckin at the back of the stack with space ahead of him on the break side and angled a throw to him. Japan's Yuko Kashino read the play and dropped back to help. She took position, but somehow McGuckin found a clear avenue to layout around her at shoulder height to end the point. "He's an incredible player, and his athleticism is second to none… He's in great shape, and he's well-placed to make an impact at this tournament," said Rogacki.
Alex Gan capped the victory with a high forehand for McGuckin two points later, his second assist of the day. Australia are now 2-0 and have their sights set on a match with Colombia tomorrow with chance to win Pool B outright.
Japan now have very long odds to play any more meaningful games at this tournament. "It's tough. We don't get a medal now. It's sad," said Muraoka.