For all the excitement of the morning session, the afternoon stuck to the script.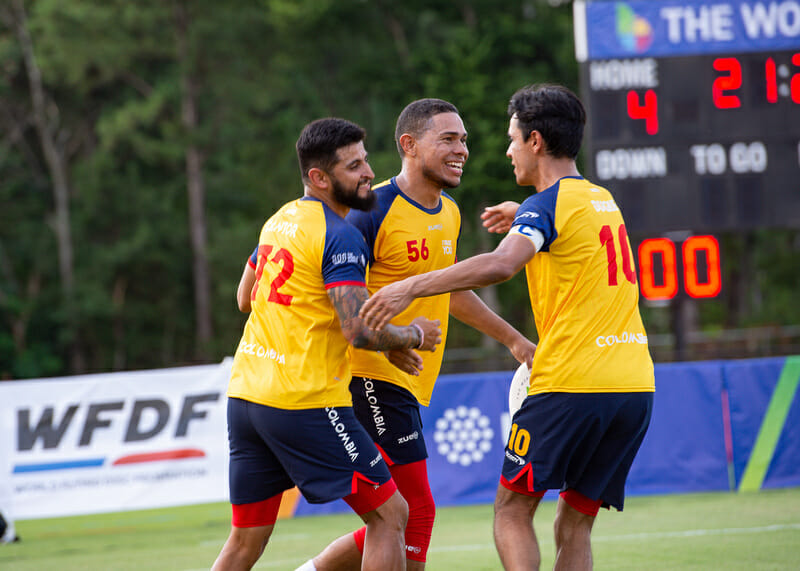 Ultiworld's written coverage of the 2022 World Games is presented by Spin Ultimate; all opinions are those of the author(s). Find out how Spin can get you, and your team, looking your best this season.
After the surprise of the morning session, things hewed largely to expectations in the afternoon games, as both pool favorites sailed to victory on Day 1.
Colombia Cruise to Decisive First Victory
Anointed gold medal contenders before the start of the tournament, Colombia certainly looked the part in a complete 13-7 victory over Japan in their first round matchup on Tuesday afternoon. They were loud and they were happy, filling the sideline tent with their songs and cheers before the game. When the match started, their throws were crisp, their famous commitment to swinging the disc was on full display, and the Medellín Revolution superstars largely played up to their reputations. They were not perfect on offense, but they were highly skilled and hard-nosed, a combination that made for an excellent attack.
Japan had a perfect completion percentage on hucks in the first half: the disc flew with purpose out of the hands Kazuki Asada, Masahiro Matsuno, and Kaede Yoshida. Taiyo Arakawa slipped deep numerous times against the bigger Colombian defenders for unmarked catches. Unfortunately, they couldn't get much else going. Miscommunications riddled their offensive sets, and a few speculative reset throws did not find their targets. The sheer number of early possession and short field turnovers de-fanged a usually stout O-line defense. Japan were playing in trouble.
The game went from bad to worse for Japan in the second half, when Colombia made adjustments to take away their deep throws — principally by ensuring there was always at least one body ready to contest the play. At that point, the Japanese didn't have any real offensive strategies left to lean on. Colombia scored three in a row to start the second half to take a 10-3 lead, effectively putting the game out of reach.
Manu Cárdenas made several eye-popping plays for Colombia. She whipped a thrilling backhand around the front of the end zone early in the first half. Later, she drew gasps from both sidelines when, completely out of position on an under cut against Yoshida, she bid in front of her anyway and ripped the disc from what would have been a block against any other player. In general, she bounced around the backfield like an unruly flea in give-and-go sets.
In what is sure to be a welcome development from the Colombian perspective, most of the other top performers were men. Julio Duque was his usual steady self flashing into lanes and steadying offensive possessions. Jose Jiménez and Andrés Ramírez were both marvelous in the lanes, and the team often pulled the other five players on the field out of the way so that they could throw to each other in isolation.
Japan will have to clean up their game plan to survive the gritty Australian and French sides who played this morning. Colombia, meanwhile, have all the earmarks of a pool winner.
United States Capitalize on Opportunities in Win
The tournament favorites won their Day 1 matchup against Great Britain by a comfortable 13-7 margin. That generous score line, however, is doing some heavy lifting to hide what was a scrappy contest, full of hard-charging cuts, tenacious defense, and a large helping of mistakes from both sides.
"The score didn't show as close as the game felt," said Team USA player Grant Lindsley. "Certainly that feeling of being neck–and-neck remained throughout the whole game… They played close, athletic defense and made us work for every score."
Great Britain coach Sam Vile largely agreed with that assessment. "It was a really tough game. I think the score represented some of the mistakes that we made rather than necessarily the overall structure of the game." Great Britain turned to their male-matching cutters early to establish a deep game, using their best-in-tournament team height – Ollie Gordon and Tom Abrams in particular – to both put goals on the board and stretch the defense. That strategy worked in and of itself, but they encountered some difficulties implementing the second phase: working unders through the newly freed spaces. The short throws were just a little loose; the catches weren't quite lock-down secure. "There was a lot of intensity from people, and they were running the shapes that we needed them to run. We just need to kind of crisp up a little bit," he said. The slide from Great Britain having a 3-2 lead to staring down a 7-3 halftime deficit was the crucial series of points, and it seemed to come almost entirely down to unforced errors. Without the services of Ashley Yeo and Molly Wedge — both offensive weapons out sick on Day 1 — the 12 remaining players on the roster had to grit through a lot of exhausting points in the late afternoon sun, and the effort showed.
Vile reserved unqualified praise for his team's defensive intensity. They showed off on their first possession when Bex Palmer rejected a Carolyn Normile flick right at the release, setting up a 2-1 break to retake the lead. That was only the beginning. Players like Ellie Taylor and Ben Burak came up huge as Britain continued to trip up Team USA throughout the match.
It must be acknowledged, however, that the United States suffered some lapses in concentration. Mixed in with the kinds of understandable turnovers on contested deep throws were some real headscratchers from the likes of Claire Chastain, Chris Kocher, and Dylan Freechild. "Perfection is not necessarily our goal, but staying gritty and responding to every lapse that happens with intensity and focusing on the next few seconds is going to help," said Lindsley. The individuals and the team did indeed respond, and they showed that when they hit their stride, few players in the world can match their brand of high-level play. Khalif El-Salaam made a brilliant last-minute decision to change hands to block an away shot that had the look of a completion. Nate Goff rose well above two British defenders to bring in a goal. Sarah Meckstroth and Opi Payne were essentially untouchable in open space.
But the US player who left the biggest mark on the game was the team's youngest, Claire Trop. Trop mostly kept to the background at the outset, but she exploded for an unforgettable second half. "You can always rely on her making really long, decisive cuts. She's a threat deep, she's a threat under, she's a threat with the disc. She's an all-around complete player," said Lindsley. She hucked for Nate Goff after earning twenty yards on an under. She caught up with a huck after stumbling twice as she started to run1 and still came away with an emphatic block. She pulled five yards clear of her matchup for an easy run onto what would normally be a contested play. She pulled as well as anyone on the team not named Mickle.
There was a player at the opposite end of the age spectrum who arguably had an even better game than Trop: Great Britain's long-time superstar Justin Foord. He was electric and relentless through the lanes – always moving and always ahead of his matchup. It isn't often that you see anybody get the better of a Jack Williams matchup on footspeed, yet that is exactly what the ageless Foord did today. "He's come in and really bought into this team," said Vile in praise of the veteran's commitment. Both Foord's heart and his legs made an impression as he chased after a hopeless low, screaming huck, improbably putting himself into bidding range and, even more unbelievable, actually getting his fingers to the rim of the disc. The effort drew audible gasps from the sidelines and knocked Foord out of the point with an injury substitution. He gave the play so much that he could barely move afterwards.
After less than ideal offensive outings, both teams will be looking to clean up their act for the remaining pool play games. And both will continue to lean on the kind of zealous defense that helped erase some of the mistakes. But today's result confirms that they are on different paths. The United States have established beyond a doubt that the path through Pool A must go through them. And Great Britain will have to search for a new path of their own starting on Day 2.
---
I'm surprised more players didn't bite the dust trying to navigate the long central hill. ↩