Australia took down the tournament's most surprising undefeated, Germany.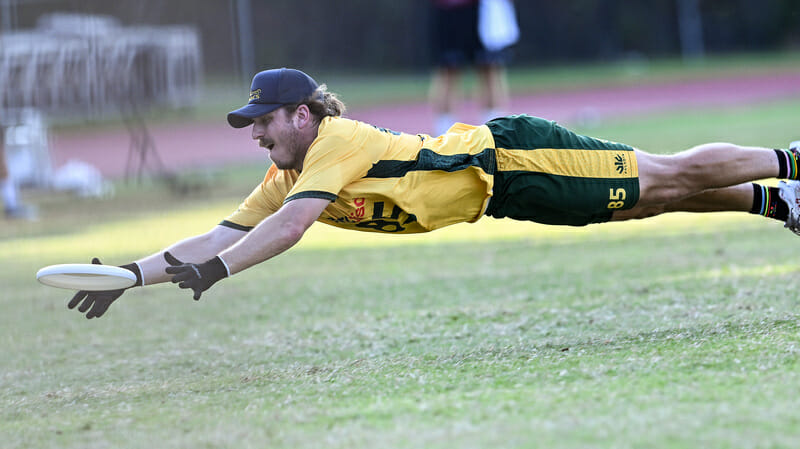 Ultiworld's written coverage of the 2022 World Games is presented by Spin Ultimate; all opinions are those of the author(s). Find out how Spin can get you, and your team, looking your best this season.
BIRMINGHAM, AL — Australia came back from a first half deficit and fended off a late comeback attempt to defeat Germany in a universe point thriller. The semifinal victory catapulted the Crocs into the gold medal game – their first since 2013 in Cali, Colombia – where they will face the United States.
The Aussies' intense defensive mindset was evident from the start. They came down on zone in the first point, and Caro Ma got to the disc ahead of Germany's Kyoko Binnewies on the sideline. Somehow, with Ma virtually on top of her, Binnewies had the presence of mind and the sheer determination to find the disc for a second-effort catch. "[Kyoko Binnewies] is amazing," said Anna Gerner of her veteran teammate. "She gets at least one block a game, and she does that with crazy intelligence. She knows how the opponent is moving and reads the play perfectly. She's been my role model for years because I've watched her playing since I started frisbee." The point ended in a hold for Germany, but the Crocs went on to harry them throughout the game.
Australia held, and then, when Gerner's backhand huck fell beyond Levke Walczak's deep cut, they drew first blood. Alex Gan, who has played both ways for Australia this week and served as a third release valve alongside Tom Tulett and Alex Prentice, dove and rolled to keep the possession alive. As he stood up, he saw Rob Andrews with nothing but green ahead of him. That's an automatic look for a Crocs side who have come to rely on Andrews proficiency as a receiver. "You start clapping [when the throw goes up]," said Cat Phillips. "You just stand there and watch… We knew that he would come here and show everyone that he's one of the top players at his position in the world. I think he demonstrated that today pretty well."1 The score to break was Andrews' first of a game-high five, and he leads the tournament in goals scored.
As they have done throughout the week, Germany turned to Conrad Schlör in adversity. Nico Müller connected with him on a flat, smooth backhand huck out of the pull play – one of six assists for Müller in the game. With two chances to break back on the following point, Germany targeted him again. But first Gan, then Sam McGuckin, blocked the attempts. It was important for Australia to establish early in the contest that they had players with the strength to match Schlör in isolation and in the air. Cat Phillips, who has not set a toe wrong this World Games and probably leads the field in raw unflappability, used her eyes to move Germany's goal line defense away from Georgia Egan-Griffiths for an Aussie hold.
Australia's strongest players had started to show out, a trend they continued through the half. Alex Ladomatos played the strongest reset defense Müller has faced this tournament, wrapping him up in a straitjacket of unsuccessful jukes and forcing Germany to find other options. (It must be said that Samuel Beutenmüller filled the 'other options' role admirably in the semifinal – he was virtually omnipresent in late-stall situations.) Tom Tulett, as he has done time and again, kept the disc alive in the Crocs' backfield with impossible layouts. After one of them, he stood up and fired a forehand 65 yards away for Cat Phillips, who maintained separation from Walczak, a significant accomplishment in and of itself.
In spite of the Australian heroics, Germany stayed focused and determined. A pair of wide Crocs throws and a Binnewies layout block gave Germany three break chances. They hucked to Schlör to put the game back on serve.
Then it was Gerner's turn to show her mettle. Working alongside excellence in the form of Müller and Steffen Döscher, she outshone them both. The pendulum precision of her outlet cuts from the front of the stack, steady and continuous clearing, and unerring throws in the face of hard Aussie defense were remarkable. As if in imatation of Tulett, she made possession-saving bids twice on seemingly hopeless passes. Gerner took it as a matter of course that it would fall to her to keep whipping the offense toward the goal. "Well, we want to get in the end zone to score the point, so someone has to do the job," she said. "Just keep on grinding. If the first cut doesn't work, the second or the third one will. [We have] 100% confidence in our handler movement… full-on trust."
Gerner's relentless work took Germany to the goal line, and her teammates worked it the last few inches to take half 7-5 on a three-point run.
Australia were not daunted by the tall task ahead of them. "We knew that [Germany] would be a great team," said Cat Phillips. "We were also very confident in the way we were playing all tournament. The improvement that we demonstrated game after game after game – we knew that would put us in a really good place to compete with them. I think that's what we felt after we went down a break or two, that we knew we had it in us to keep going and to keep pushing."
It's one thing to say you will keep pushing, though, and quite another to put it into practice against a German side that had controlled seven out of seven halves of ultimate at the tournament up until that moment. "The game felt great the whole time," said Gerner. "We played very confident. We got blocks on the d-line."
Out of half, Australia went right back at Schlör. Cat Phillips threw a long backhand well out to space. It was McGuckin versus Schlör in a straight footrace – and McGuckin won by a step and reached out to attack the disc with his feet behind the goal line. It would not be the last time one of Australia's deeps rewarded a thrower's faith.
Ladomatos started Australia's comeback attempt with a block. The Crocs zone released him from having to stick exclusively with Müller, giving him a chance to lurk outside the the German throwers' vision. He pounced from behind a soft forehand to the center of the field, kicking off a sequence that ended with one of the highlights of the tournament. Australia gathered their composure with a few resets backwards resets. Then Ladomatos uncorked a 50-yard blade. This was no blade to a stand-still receiver. His target, Andrews, was in motion at the time, sweeping toward the forehand side with a defender in his pocket. Even so, Andrews jumped at full-speed over his defender at an angle roughly perpendicular to the path of the disc to make the one-handed catch. Australia's cheering section in the stadium – a group made up of the national squash team and some ultimate players who had traveled to the US in advance of WUCC later this month – roared their appreciation.
Müller and Gerner continued to do the lion's share of work for the German offense. Müller has been as close to perfect as is possible with such a high-volume role. Every disc that comes out of his hands seems to travel with intent and weight. And his blow-by reset cut behind the disc – American fans can use Bridget Mizener as a comparison – might be the best go-to move at the tournament. He turned a blow-by into a sure breakside score to give Germany an 8-7 advantage.
Tension filled the stadium as Australia and Germany exchanged holds. At 9-9, Ladomatos left his feet for another block, diving into the lane across a blazing Müller forehand. On the counter, Andrews cleared Schlör to bring down another blade, giving Australia a late lead.
But Andrews saved his best act for the end. Energized by their own electric play, the Crocs were ready to feast. The pressure was too much for Germany's offense to bear. Walczak dropped a disc, and Gan denied a sloppy reset attempt. Caro Ma picked up the disc near the sideline and waited for two counts – clearly, she wanted to see if Andrews would turn toward the end zone. He obliged, and she lofted a flat backhand. The sky that followed was nothing less than an earthquake. Andrews powered up a jump so enormous that his shoulders cleared the leaping defender's head. The break opened the Aussie lead to 11-9, which soon turned into 12-10.
One point from elimination, Germany kept up the fight. Gerner caught a swing at the goal line and with a crafty fake sent McGuckin flying after a phantom pass. But McGuckin wasn't done. From his knees, he leapt up into the lane. It was more like the dying spasm of a beached fish than anything else. Gerner had her eye on him, though, and she withheld the backhand until he finished flopping. With McGuckin finally out of the play, she sent the disc the remaining few yards to Döscher.
Germany needed to string together two breaks to win the game. "We told ourselves, 'The blocks will come, and we just have to push through," said Gerner.
A block did come, and it was immediate. Tired of seeing Tulett collect every necessary reset for Australia, Döscher sold out on a bid as the Crocs were still setting up their offense. There was plenty of contact, but Tulett evidently did not feel compelled to call the foul. Müller stepped onto the field as an injury substitution and delivered a strike to Beutenmüller.
The games 25th point – universe point – depended once more on the play of Tulett. "Tom is the heartbeat of the team," said Cat Phillips. "When you're on the line with him, you know that he will give everything he can give. He will never let the disc hit the ground. He will never stop trying. I couldn't think of a better person to play with." This time, Germany would not find a way to get to him. From midfield, he darted toward the attacking brick, gathered the disc in a clap-catch, and set his feet for an unmarked continue to Liv Carr. Game, set, and match to Australia.
For much of the week, Germany had played like favorites. They never doubted themselves and only begrudgingly accepted reality of the defeat. "I feel like the game was in our hands the whole time. Until they scored the last point in the end zone – this was the moment where I realized, okay, we've lost. There was 100% confidence in the whole team that we could turn this around," said Gerner. "It could have gone either way."
As great as a win like that will feel, Cat Phillips and the Crocs still have one item left on their checklist. "We came here looking to win gold. So I think we'll be happy right now, and then we'll get to work for tomorrow," she said.
---
Is anyone else's understatement alert sounding? ↩