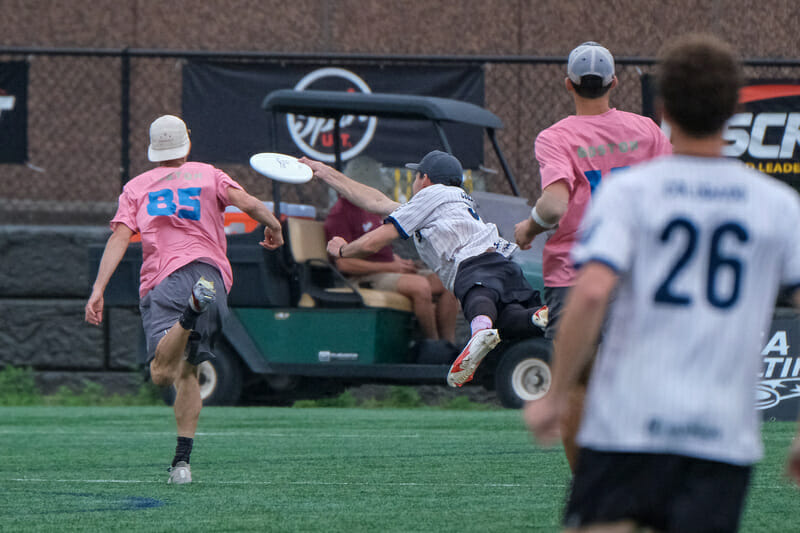 Blaine, Minn. – Competitive quarters and semifinals yielded entertaining clashes filled with layouts, deep shots, and passionate energy in wet conditions at the US Open. Despite lightning delays in the early morning, teams came out firing in the rain. Every squad played to win, but development remained as the core focus for all groups.
Chain Shocks Machine; Truck, Bravo, and Dig Advance Through Quarters
#14 Atlanta Chain Lightning got off to a good start led by defensive intensity and a D-line that created their own opportunities and capitalized on Chicago's mistakes. #4 Chicago Machine had an adjustment period early in the first half after going down two breaks early. Paul Arters was a rock for Chicago's offense, finishing with five assists and one goal, but it was Chicago's energy out of halftime that kept this talented Machine squad in the game. New Chain addition Tom Tulett stayed composed and helped raise the level of the team's offense just as Chicago ramped up their defensive pressure. "[We] let the dogs loose," said captain Brett Hulsmeyer of his team's defense, playing two D-lines evenly and maintained their two break lead for the 15-13 win. Trust in D-line young guns like Aiden Downey and Colin Hill make this fresh Atlanta squad a threat for any team.
As Friday's takeaways said, it was a surprise to see Chicago knocked out in the quarterfinals; however, the first day takes were perhaps too bold as this tournament was the first time the entire team had been together. They even did a name circle before games on Friday. "We came into this weekend as an unknown quantity… this weekend was all about reps and playing frisbee for the first time together," said Machine veteran Pawel Janas. Chicago isn't concerned about outcomes until Nationals. They have a high ceiling moving into the rest of the year.
On the same side of the bracket, #12 Washington DC Truck Stop showcased an O-line that is tough to crack. With only one turnover against a physical and athletic defense from #8 San Francisco Revolver, DC's talented offense is meshing well with new faces like Cole Jurek and Andrew Roy. Missing experienced big bodies in Simon Higgins, Marcelo Sanchez, and Sawyer Thompson certainly didn't help this San Francisco squad, but captain and veteran Elijah Kerns filled up the stat sheet with two goals and six assists. San Francisco's D-line couldn't get a break against the steady DC offense, and Truck Stop won 15-11. Filled with talented young players including college standouts like Stanford's Kevin Tien, Cal Poly SLO's Jake Thorne, and Santa Clara's Keaton Viadro, the development of this San Francisco team will be interesting to follow heading into the latter half of their season.
#7 Denver Johnny Bravo and #9 Boston Dig took care of business on the other side of the bracket beating #13 Utah Pando 15-12 and Seattle Emerald City 15-9 respectively. After an 8-3 first half in favor of Denver, Utah kept things interesting with a second half run to bring the score to 13-12, down by one. Denver stayed composed, though, to hold and then break to win. Along with Joseph Merrill, Jensen Wells is a player to watch on this improving Utah squad.
Stadium Semifinals
The division's first semifinal between Johnny Bravo and Dig was a tight matchup with teams trading breaks in the first half. Friendly banter between players on the sideline and jokes about the ESPN stream and #LiveUltimate campaign made for a fun atmosphere despite the competition. Whenever the disc was in play, though, both teams were locked in and communicating to players on the field. Young Leo Gordon was an impact player for this Boston group on both sides of the disc. His intensity matched that of anybody on the field, and his influence on the field reflected in the stats: six goals and four assists.
However, the depth and consistency of this undefeated (as of Saturday) Denver team never faltered. Coming out of half on-serve, Denver's defensive pressure was tough to keep up with. First-year player Jackson Cochran was wreaking havoc against Boston's offense. Recording three blocks, one goal, one assist, and no turnovers, Cochran created opportunities for Denver to pull away late in the second half. For Bravo, every game is a full-team effort. "What's really cool about this team is there aren't a ton of egos, so everybody's one to do their part to get the job done," said Bravo defender Cody Spicer.
Boston is still early in their season and have a lot to look forward to. "We were in a scrappy game with that team, and we were all super pumped to play at that level," Dig returner Ben Field said. Cole Moore was a standout for this young Boston group in the semifinals.
In an under-the-lights stadium game, Truck Stop took on Chain Lightning. By far the best weather of the weekend, both teams made big plays and put on a show for the fans. Only getting broken once the whole game, Washington DC's O-line continued to show why they are top notch. DC used the entire field to their advantage with quick and flowing breakside swings that many coaches would drool over. Atlanta had a tough time keeping up with Jonny Malks and Tyler Monroe, and newcomer Cole Jurek came down with big hucks and sent one, too.
On-serve out of halftime DC up 8-7, Atlanta's defense could not find a break, squandering their rare opportunities. Brett Hulsmeyer was a beast on the O-line for Atlanta getting big on deep shots and sprinting the length of the field to get the disc back off of turns, but the second half defense from DC forced Atlanta errors earning Truck Stop a pivotal break making the score 12-10. The adjustment to a flatter backhand force from DC was a key factor in forcing Atlanta's turnovers on deep looks indicated Truck returner Codi Wood. Scary to think that this DC team has only had one practice under their belt. Brett Hulsmeyer is making a strong case for the all-tournament first team. He's got 14 goals on the weekend so far (second highest) and clearly a great leader for this young Atlanta team.