The last chance to win!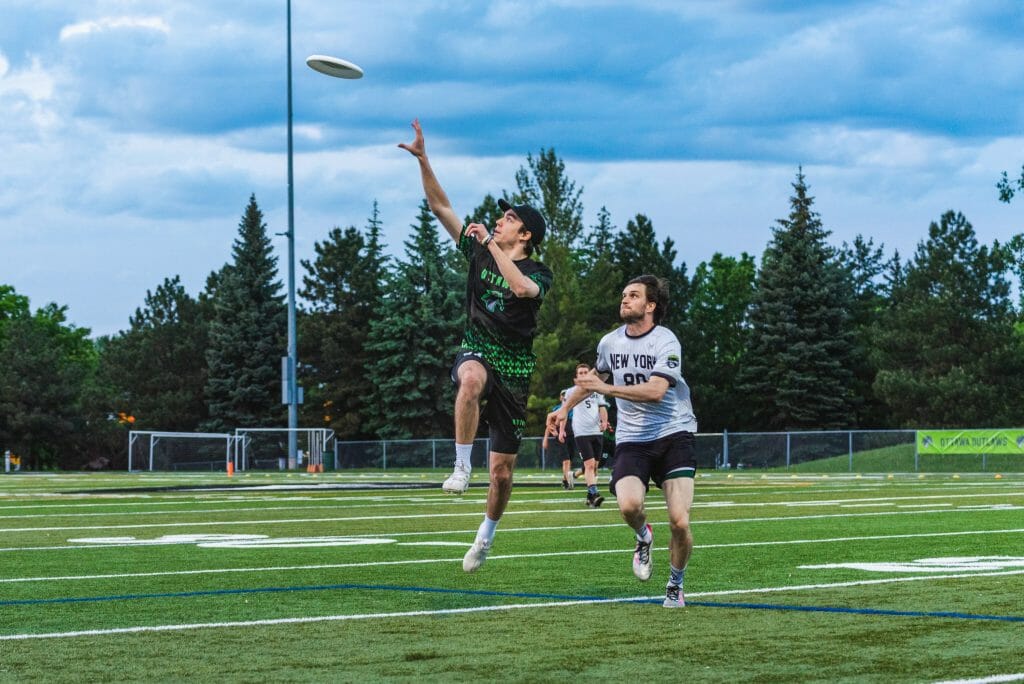 Our 2022 AUDL Fantasy game is presented by VII Apparel Co., who provides premium performance apparel for the active world, featuring their proprietary GreenLine fabric.
The 2022 AUDL season is upon us. The league has, perhaps quietly, become the leading source of data on ultimate. This has enabled not only further statistical analysis, but also given us an opportunity for new types of fun. This season, our AUDL fantasy game is taking a novel direction, copying the popular format of daily fantasy sports. DraftKings is again offering lines in their sportsbook,1 and the daily fantasy model that made them a household name should make for a lot of AUDL entertainment.
We'll assign players salary based primarily on performance, and give you a budget, and you can pick a team for the weekend within that budget. And that's it! It is free to enter, and we'll be awarding prizes every week, as well as a season-long prize for players who can put up good scores over multiple weeks.
Week 14 Recap
The full scoreboard for entries, and other information, is available here.
Keegan Miller: 142.71
Emery Jonas: 137.03
Ezra Van Negri: 135.23
For the second time in three weeks, Keegan Miller was first the finish line with the week's high score. While Keegan had four prior podium appearances, these were the first gold ones. What a close!
Each of the top three selected Leandro Marx, Pawel Janas, Ross Barker, and Justin Norden. Keegan differentiated with Jordan Rhyne, the third highest scorer of the week. Quinn Finer, who Emery rostered, was the second highest scorer, trailing Jack Shanahan. Matt Armour and Jake Reinhardt were high value picks at low prices that probably were overlooked.
Could Miller's late run earn the season long prize? Let's find out.
Season Long Results
After 14 weeks, there have been ample opportunities for players to create a strong scoring portfolio. With each entry's top seven scores counting for the season long prize, that opened up the door for lots of folks who could potentially compete for the top. Time to reveal the winners.
Max Charles: 982.21
Keegan Miller: 967.71
Ezra Van Negri: 944.54
Emery Jonas: 939.38
James King: 930.38
Maryanne Stones: 911.55
Akshat Rajan: 884.91
Chaven: 868.35
Tony Leonardo: 857.14
Ben Cook: 852.15
Max Charles was first place after Week 1 and after Week 14, with a very successful season, despite a quiet Week 14 that left a real chance for someone to take the crown. With two wins and three more top three placements, Max Charles showed off impressive strategy in the selection process. Keegan Miller led in raw total score and top three finishes (six), but came up just short on the total standings.
Shout out to Chaven, who finished top 10 with only one top three finish, and Ben Cook, who had no top three finishes.
Prizes and Winners
Max Charles wins the VII jersey of any AUDL team.
Each weekly winner will also get $15 in credit with VII Apparel.
Each top three finisher was entered in a drawing — one time for each finish — to win an Ultiworld Greatest Bag. Let's reveal the victor in dramatic fashion!
---
That's a wrap on our Weekly Fantasy season! This was a new experiment we were excited to try. Please feel free to email feedback to me at Keith@Ultiworld.com. I'm especially curious how folks felt about our beta testing using the external site, AltFantasy.
---
In specific states. ↩