Some teams are benefitting from adding and developing young players, while others are reaping the rewards of running it back.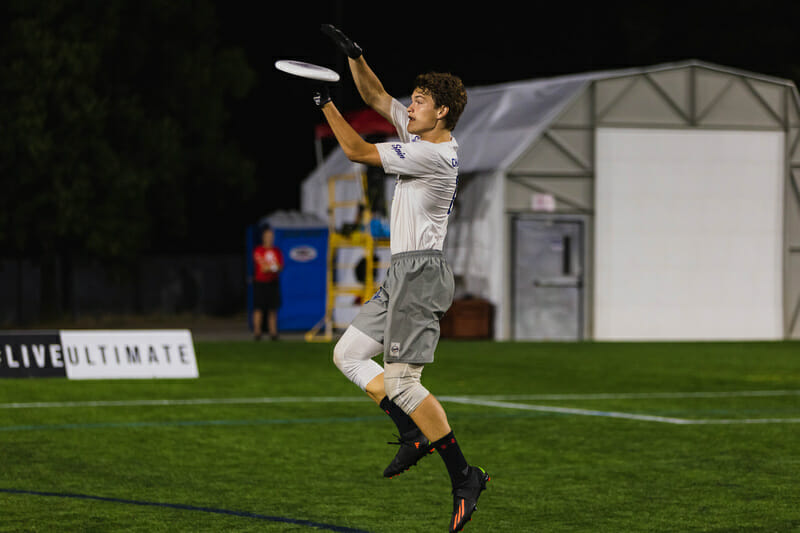 "We've got a lot of new faces."
"A good amount of young guys."
"We're a young team."
These were some of the most common phrases from teams at the 2022 U.S. Open. Every squad plays to win, but in an early season tournament, the win-loss columns take a backseat to building chemistry, implementing and practicing new offensive and defensive systems, and getting reps against good competition. As veteran Chicago Machine handler Pawel Janas astutely pointed out, "Nothing matters until Nationals."
Teams with newer and younger players, though, may experience growing pains and sacrifice time getting players up to speed or building an entirely new system while programs with strong roster continuity can focus on refining or reworking what they already have. But is it the case that teams perform better with low turnover and more experienced players? At the U.S. Open, new and young talent made a case for themselves and didn't hold back their squads but elevated them instead.
Next Generation Shines at the U.S. Open
As the first major tournament for most teams, the U.S. Open gave a glimpse into new, impactful faces, particularly the younger ones. The elite club scene might be seeing an influx of generational talent, perhaps the best since the NexGen days. Without much data to back this lofty claim, though, everything said should be taken with a grain of salt.
Take a team like #11 Atlanta Chain Lightning, who in some people's eyes outperformed expectations by beating #9 Chicago Machine in quarterfinals and finishing fourth overall in the tournament. While this Atlanta group certainly has established club players like Nick Spiva and Tom Tulett, University of Georgia standouts Hayden Austin-Knab and Aidan Downey both played big roles on the team, as well. A newcomer to high level club, Austin-Knab is making a strong case for Breakout Player of the Year, wasting no time making his presence felt in games and integrating well with the Chain Lightning O-line.
"I'm pretty new to the club scene, this is my first tournament on a highly competitive club team… I feel like I was pretty successful in the college season and I feel like I've kind of incorporated nicely on this team," said Austin-Knab at the U.S. Open. Posting ten goals and six assists on the weekend, his performance in the college field is no fluke as he continues to make a big impact against some of the best club players.
While #7 Boston Dig emphasized that they are a young team and were at the U.S. Open to get reps and work on their new systems, that didn't stop them from competing for and securing a third place finish. This Dig squad is full of young talent that do not take a backseat to vets. Players like 2022 D-I Rookie of the Year from UMass, Orion Cable, and Brown's Leo Gordon are core pieces to this group's success. Cable secured ten goals over the tournament, tied for the most on Dig, giving a sample of what this young star can do.
Not all young standouts are relatively new to the team either. One of seven players from Dig's 2018 roster, Ben Field, a top-30 player in the college season, is a core piece of the Dig D-line. Following a close 15-13 semifinal loss to Denver Johnny Bravo, Field said this about the team's mentality: "We were in a scrappy game with that team. We were all super super pumped to get to play at that level, so I think the message was 'We're gonna go out there and we're gonna win' and just gonna give it our all." Although Dig might be one of the youngest teams in the top of the field, they aren't short a winning mentality.
While young stars may blossom programs to new heights in the club ultimate ecosystem, a core of experienced returners can root squads as perennial contenders. Moving into the latter half of the season, the compositions of teams that advance ahead of the pack (or fail to) will be interesting to follow given the amount of revamped and returner-filled rosters. Several teams at the U.S. Open spoke about the new faces and emphasized development, but the contrast with programs bringing back the same core of players and refining what they have makes for interesting speculation as the best of the best re-enter the spotlight.
The Value of Continuity
The reality of roster turnover exists in every team sport. But in the club ultimate scene where there are few extrinsic incentives, establishing continuity in a program is a universal challenge. Whether players have other life priorities that take precedence or teams strongly re-evaluate their roster, every season comes with exciting changes in team composition. However, this year has brought about some stability, yielding insights into the stage at which teams are establishing their core.
Let's take a look at the current top teams:1

After a first place finish at Colorado Cup and a second place finish at the U.S. Open, #6 Denver Johnny Bravo have certainly shown that they are not the Bravo of last season, and the data backs that, too. A roster full of certified ballers, this Denver squad has the least amount of returning players in the top nine. Returners comprise just over half of their roster (13/24) and the next lowest team is Chicago Machine with 69% returners (18/26). The absorption of last year's Nationals qualifier Boulder Lotus certainly is a contributing factor to the even mix of old and new faces. This talented Bravo group doesn't have many egos which makes for an impressive blend of so much skill. With continued success, this Bravo team could be a good case study for meshing lots of new talent in one season.
#1 New York PoNY may be the current standard of roster continuity, consistently returning 18-21 players in each of the last three seasons. Maintaining a strong core of 16 players from their 2018 championship season including the likes of Ben Jagt, Chris Kocher, and Jimmy Mickle, it's no surprise PoNY continue to maintain such a high level of play. With newer talent like Jeff Babbitt, Antoine Davis, and John Randolph, PoNY positions itself strongly for the near future and beyond.
With the highest number and percentage of returning players (24/27) from 2021, the roster of defending national champions #2 Raleigh Ring of Fire embodies the mantra "if it ain't broke, don't fix it." That's not to say no changes have or will be made, but with so much chemistry extending into this season and arguably the deepest team in the field, making a case against this North Carolina powerhouse is almost impossible.
After a National's semifinal appearance in 2021, #4 Portland Rhino Slam! could stand to gain the most from continuity after only having 38% returners on last year's roster. With 77% returners, second year players like Felix Moren, and Ian Sweeney can likely contribute more effectively with greater chemistry and familiarity with team systems. The big-game experience from 2021 could give this Rhino group the confidence that coach Mike Payne said was missing in last year's semifinals. Improving on their Nationals finish in each of their last three seasons, Rhino will look to continue that trend with the most returners ever in recent history.
Generally among the current top teams, there's greater continuity than ever in recent years. Maybe the abbreviated 2021 season left players with unfinished business or perhaps these programs are entering a new stage in establishing their rosters' core. The theoretical benefits of having more returning players is difficult to ignore: continued chemistry, less introductions, more reps with the familiar, and valuable shared experience of high-stakes competition. However, complacency can bring back the struggles of prior seasons as well. With any team sport, a failure to reflect on how to stay or get ahead of the curve may be what separates the annual title contenders from teams that can't break through prequarters. Easier said than done, this impressive level of continuity among the top of the field is something to keep an eye on as the postseason nears.
With so much speculation based on continuity, the question arises: do teams that perform well retain players or do teams that retain players perform well? Perhaps something to ponder in the future.
---
Possible source of error in data: minor name changes between years on same roster, ex. Tim vs. Timothy. ↩