Reacting to the final bid allocations and the results that led to them.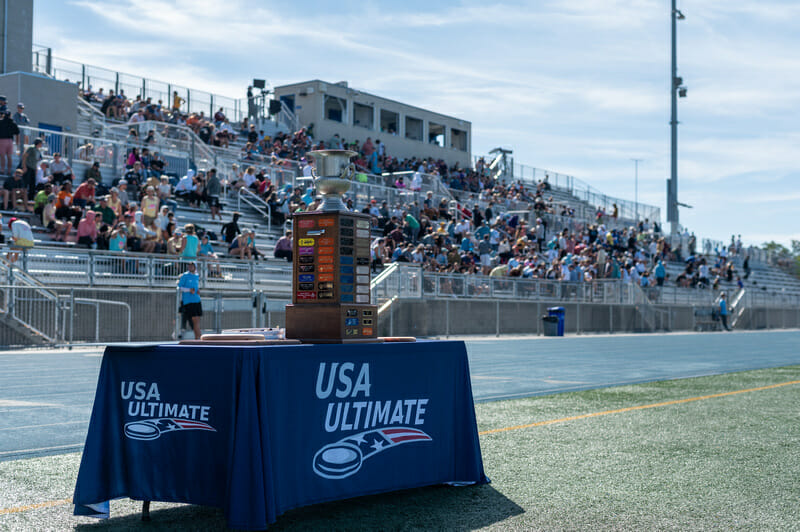 A compressed club season led to a lot of end-of-season rankings drama that was resolved today with the final release of USA Ultimate's Club rankings and assignment of bids. With the World Games and World Ultimate Club Championships altering the calendars of top players and teams, it has been an unusual season. But even during a typical club season, the final weeks can bring rankings swings that drastically impact the picture going into the club Series.
| Region | Men's | Mixed | Women's |
| --- | --- | --- | --- |
| Great Lakes | 2 | 1 | 1 |
| Mid-Atlantic | 3 | 1 | 3 |
| North Central | 1 | 3 | 1 |
| Northeast | 2 | 2 | 2 |
| Northwest | 2 | 3 | 3 |
| South Central | 2 | 2 | 1 |
| Southeast | 2 | 3 | 2 |
| Southwest | 2 | 1 | 3 |
Mixed Division

One bid changed hands when all was said and done in Raleigh: the Northeast lost a bid that was picked up by the South Central. Boston Sprocket had a turbulent weekend, opening with valuable wins over NOISE and Drag'N Thrust, before losing points in three straight games. Most painfully, they lost 15-9 to Dallas Public Enemy, the exact South Central team they needed to fight off for the final strength bid.
MOONDOG finished in the final spot, narrowly holding onto a third bid for the Northwest, despite being idle. Connectivity to Hybrid and shame. still left them in the lurch.
Speaking of Ann Arbor Hybrid, they had the opportunity to remain the top ranked team and likely no.1 seed at Nationals, but despite making the final, they dropped in the rankings due to both their shocking comeback loss in the final to Drag'N Thrust and a one goal victory against Storm. While things could change in the postseason, they now sit behind BFG, Drag'N, and AMP.
The shock of the season was pretty secure going into the final weekend: a three bid Southeast. Typically a one-bid region, the Southeast has struggled to gain national notability; Toro and Space Force are both potential top eight seeds, which the region hasn't had any of since Bucket in 2014. Last year's regional champion, Shine, was the region's other bid-earner.
Men's Division

Like in the mixed division, consolation play in Raleigh had a significant impact on the final bid allocations, with a bid changing hands after the weekend's accounting was complete. The Northwest could not maintain a hold on a bid against the active Southwest, in the form of SoCal Condors. And like Sprocket, Condors began the weekend hot, earning a bounty of points with a 15-10 victory against Doublewide. They nearly squandered it with subsequent losses to Temper and a blowout loss to Doublewide, but likely saved their bid in their final game by defeating Sub Zero.
Three other regions were hoping to keep or gain bids in the fray. Temper and the Mid-Atlantic narrowly kept theirs, despite some late weekend stumbles. Omen remained within the bid circle, while GOAT and the Northeast might have hoped some second order effects and/or a falling team might have opened a spot for them. But Toronto's loss to Omen and early season foibles held them back too far.
The Mid-Atlantic headlines this year, with both the most bid-rich region and the top ranked team, Truck Stop, following their wins at both the US Open and Pro Championships. Vault and Temper also claimed bids and the region can celebrate their collective success today.
Women's Division

The only division in which the count was untouched was the women's division.
One team vying for a bid was in action: New York BENT. Although they performed admirably, they won only a single game; it would have taken a much stronger performance to fire them up into bid range. They were not helped by second order struggles, with Brute Squad tanking their numbers, and Nemesis and Traffic also weakened. BENT, with the help of Nemesis, might have opened a back door for Siege to get in for the Northeast with different results. Outside of that, there was little fanfare.
The Mid-Atlantic claimed three bids, which will ease Parcha and Grit's transition back to a region with Scandal in the fold. They join the Northwest and Southwest as three-bid earners, two regions that are no strangers to sending numerous representatives to Nationals.