A comprehensive victory from DC queued by strong performances on both sides of the disc.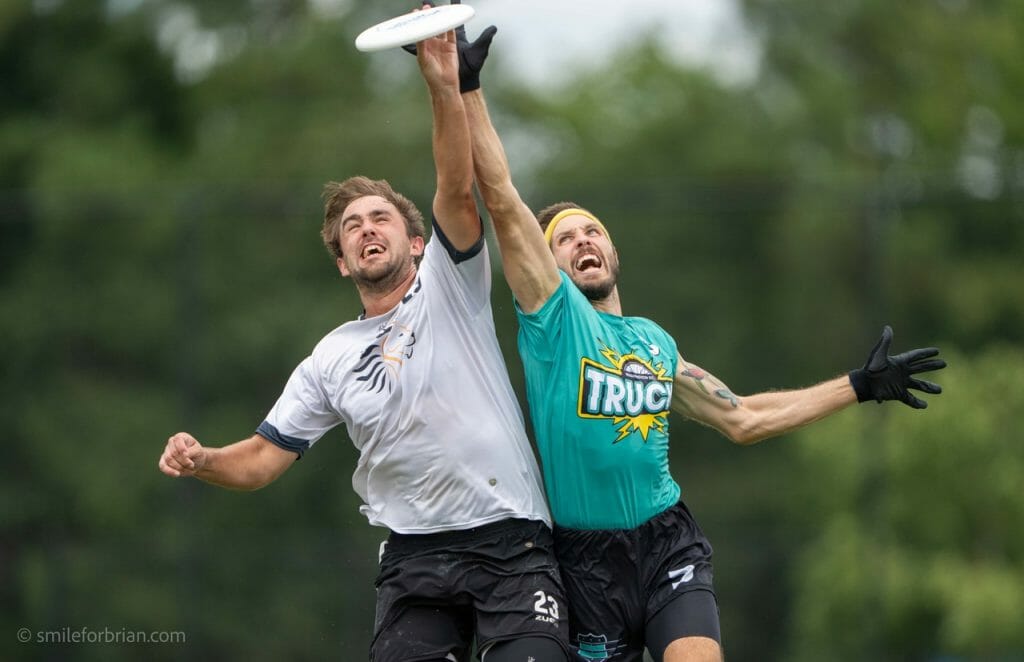 RALEIGH, NC — #5 Washington D.C. Truck Stop are now two-for-two at USAU majors this year after a convincing wire-to-wire 15-11 over #1 New York PoNY to cap an undefeated 2022 Pro Championships.
Their average margin of victory across six games in Raleigh was a whopping 3.75 points against the toughest slate of competition they will face before Nationals. More than any other team this season, including reigning world champions PoNY and defending national champions #2 Raleigh Ring of Fire, Truck have proved that they are in serious contention for a 2022 title.
"It's kind of new territory for us," said Truck Stop's David Cranston, reflecting on the team's strong season so far.
Truck Stop's D-line started the game with a statement break. Jimmy Mickle came into the reset space from downfield for a fill after the first dump was covered. Cranston was inches behind him the whole way and managed to get his arm around Mickle's shoulder for a clean block despite Mickle's best attempt to shield him from the throw. Cranston then snuck ahead of his defender for a crossfield flick to earn a bookends goal and give Truck a 2-0 lead.
It was not the first time this weekend PoNY had fallen behind early. They had gone down in the first half against all of DiG, Johnny Bravo, and Rhino Slam! and retaken the lead on the strength of their many methods of attack on both sides of the disc. That same kind of sequence of events seemed like it would take place again in the final. After giving up the break, Mickle confidently whizzed a huck out to space for Chris Kocher. (Kocher played wonderful ultimate at Pro Champs and looks like he has completely recovered from the injuries that nagged him at World Games in July.) Then, the D-line stuck themselves in Truck's pocket for 70 yards, generating a few good chances at a block.
"We had to really make sure we were staying disciplined," said Shashank Alladi. "It really does take all seven defenders, and all three handler defenders that are in the area, buying into the game plan and taking away that OI-IO window and making them go wide… It's really hard, and [Truck] are really talented, and they made us really work on defense."
Even though they came up short on that particular possession – Alladi made a marvelous bid around Gus Norrbom's back shoulder to slap at a short upline reset, but he couldn't quite manage the play without a foul – it had the feel of pressure that would pay off sooner than later in either takeaways or mistakes from the Truck offense.
But it was PoNY's offense, not Truck's, who would make a bad mistake first – as a matter of fact, it happened on the very next point. John Randolph started the offensive sequence with a standard under cut from a side stack. He had separation ahead of Luke Rehfuss, and Harper Garvey's throw hit him in the chest, and he simply dropped the disc. Truck jumped all over the red zone chance for another break.
The error was one of many on the weekend for a PoNY side who, for all their talent, had looked out of sorts on fundamentals. In the final, in addition to Randolph's drop, there would be a pull that went out of bounds just shy of midfield, a pair of hucks to wide open receivers that sailed long, and a turfed forehand. Dodgy execution was a theme of their tournament. The good news is that those lapses can be explained, at least in part, by the curious combination of too-much-ultimate and not-enough-ultimate in this unique summer.
"The challenge for this year with Worlds coming in is that we have to make it feel like two seasons," said PoNY coach Bryan Jones on Sunday. "When you have that ramp to Worlds, and you try to play your best to win Worlds, which we were successful at, you're going to have a natural come-down. And so we knew coming into this tournament… we knew we weren't going to be at the same level. It just is impossible."
Sean Keegan echoed those ideas after the final. "We took a bit of a break between Worlds and this tournament. I think we had one, or maybe two, practices. And there was Empire stuff, so people weren't *not* playing, but we just hadn't played as much as a team as we did leading up to Worlds… Familiarity is something that's important to us, and chemistry, and just playing together a ton. And so maybe we were a bit rusty," he said. "I think we're so talented, and to see us make so many of these [mistakes]… it's kind of like you're scratching your head a little bit. We're just kind of assuming that those will go away as we get back into playing shape."
Understandable or not, however, they must clean up the slop if they are going to beat very good teams in important games come October.
And Truck Stop are, without a doubt, a very good team. The offense maintained a relentless possession mindset in the face of ever-increasing PoNY pressure. With Gus Norrbom scrambling around the disc with all the unpredictable agility of a frightened squirrel, Rowan McDonnell and Jonny Malks comfortable with every kind of release point, and the well-documented danger of letting Christian Boxley and Tyler Monroe run free downfield freeing them up to fill into the handler spaces when necessary, there was not a reset window Truck could not find a way to hit.
"I hardly ever watch our offense play. It is excruciating. A lot of times I just have my eyes closed or my jersey over my face," joked Cranston. "No, I mean we have a ton of confidence in our offense. Our strength is playing in small spaces… but it is sometimes pretty stressful to watch the O."
"It's just a possession mindset. We know we have four or five of the best players in the world at working in small spaces, and they can get open whenever they need to… When we see the lane open up to hit a downfield continue, that's when it happens, but we know we don't have to force anything. Until then, we can hit a reset, we can hit a front of the stack," said Boxley.
Truck were so sharp around the disc that they did not throw a single huck in the game's first half. Most points, in fact, did not even see so much as a deep cut to free up space: they just ground their way through.
Up three breaks at 7-4 – the third break coming courtesy of the aforementioned turfed forehand by Ben Jagt – Truck made their first real mistake of the half, as Monroe could not quite holster the disc on a forehand fake at the goal line. That set up a high huck to Jagt to recoup one of the breaks. Aside from the one bad forehand, Jagt had an excellent game. His six goals in the final underscored one of PoNY's biggest advantages: making plays on high discs. While Truck's defenders often played close enough to sneak a hand through for a potential block when the disc was thrown chest-high or lower, they did not show the same ability to break up connections in the air. Jagt and Mickle were especially good in that regard; presumably adding Jeff Babbitt, who was not with the team at Pro Champs, will increase that advantage.
The second half saw PoNY even more dialed in on Truck's offensive priorities. Antoine Davis perfectly baited an inside forehand from McDonnell and ran through it on Truck's first O-point of the half. Grant Lindsley went completely horizontal to block a short open-side throw on the next. Gritty defense from the Truck O-line (and a bit more suboptimal execution from PoNY) ensured that neither of them turned into a break. PoNY would not miss a third opportunity, though. Jibran Mieser, who had spent most of the game until that point making Boxley's life difficult, jumped all over a lapse in focus, handblocking Boxley's attempt to reset to his forehand side using a backhand. Lindsley and his recent World Games adversary Conrad Schloer spent every ounce of their considerable speed to free themselves up on consecutive upline passes for a break, cutting Truck's lead to 10-9.
That's when Truck Stop finally decided to look deep. After so many points of drawing PoNY into short unders and tight resets, they drew up a simple zipper play for Cole Jurek. It turned out to be the play call of the year: Jurek had nothing but space out in front of him, and Malks delivered a perfect strike with his forehand. It was one of two first-throw strikes for Malks in the second half. (The second, to Boxley from midfield, was a heads-up read of the defense rather than a set play.) His ability to switch from a tiki-taka sort of handler to a stand-and-deliver deep thrower is a major asset, since defenses will be hard-pressed to guard against his ability to do both.
Mickle tried an anything-you-can-do first throw backhand bomb of his own on the next point, but it stubbornly refused to bend back into play as Kocher ran it down near the back cone. David Bloodgood marshaled a successful 70-yard counter to push Truck to another break. That was as close as PoNY would get. Truck Stop finished out the game in emphatic style a few points later, with one enormous bid from Codi Wood almost breaking up a long dump pass, followed by an even bigger layout by Fred Farah on the next throw to tip the disc out of John Lithio's reach. With five yards to go for the game and all the momentum in the world, Bloodgood closed out the victory on a wide open forehand to Moussa Dia.
The depth of elite-level contributions from Truck Stop's O-line rotation pieces – they cycled through four handlers and five cutters more or less regularly throughout the weekend – was unmatched by any other line at the tournament… with the exception of their own D-line. Cranston, Bloodgood, Wood, Dia, Hess, Farah, Alexandre Fall, and Troy Holland all played magnificently. "We feel like we have the best D-line in the country," said Boxley.
With two victories over 2021 National Champions Ring of Fire (15-7 and 15-14) added to the win in the final over the recent World Champions, Truck head into the postseason as one of the favorites for a title come October.
Setting aside the flurry of execution errors, which they should mostly iron out before Nationals, Pro Champs was an encouraging tournament for PoNY as they look to retake the crown they last wore in 2018. Mickle was as brilliant as ever behind the disc even as he had to weather extremely strong efforts from the likes of Cranston, Machine's Johnny Bansfield, and Bravo's Cody Spicer. The D-line is fast, hungry, and smart – even if they could have used a little bit more efficiency on break chances.
Perhaps most importantly, PoNY now have a realistic bar for calibrating their performance. The challenges they received not only in the final from an incandescent Truck Stop side, but also from a hard-nosed Bravo, loaded Machine, and ascending Boston DiG. They can step away from the weekend feeling as though they have been given a reliable preview of what is shaping up to be a thrilling Nationals.