Staying focused on internal teams goals is the plan for the reigning silver medalists at the Canadian University Ultimate Championships.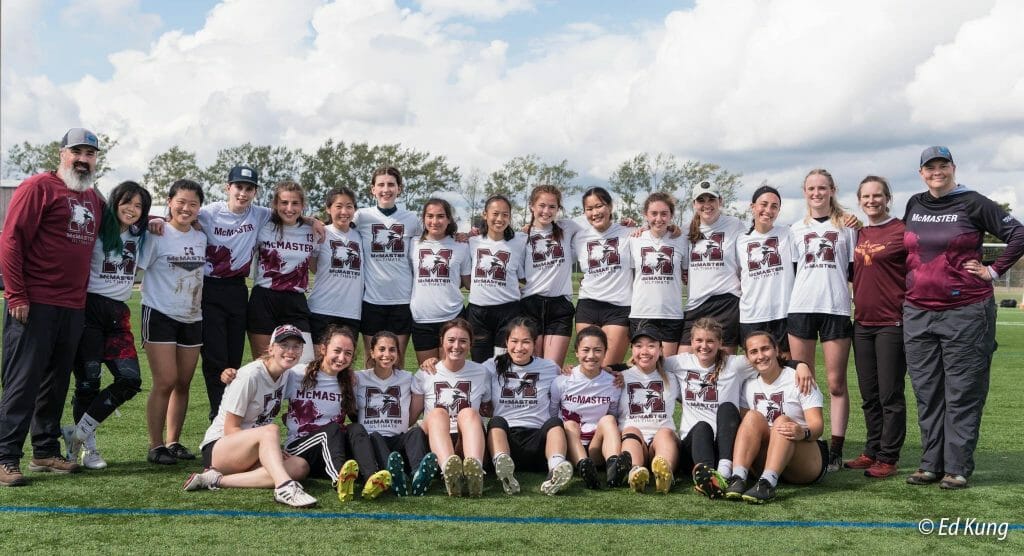 This post was written by guest author Sarah Pledge Dickson.
Last year, the McMaster Women's Ultimate team surprised many with a silver medal performance at CUUCs, having entered the tournament as the bottom seed. This year, they're not sneaking up on anyone. After a first-place finish at the Ontario qualifier tournament — Steeltown, in Burlington, ON — last month, McMaster heads into the 2022 Canadian University Ultimate Championship as the top overall seed.
While the program might have ridden some of the momentum from last year's impressive finish into this year, that hasn't been the main driving force behind their continued success, says the coaching staff.
"That second-place finish spoke volumes about our team and the ability of our players to gel together so quickly over a five-week period," the captains said.
Captains Jessica Gao and Safeena Shajani were both a part of the silver medal team last year. That team was comprised mostly of rookies — 15 to be exact. This year, the numbers have flipped, with nine rookies and 15 returning players, something coach Matt Caldwell says is a goal for the team.
"One of the things we want to see happen is players coming back," he says. And that has proven true this season.
"We have a deep roster filled with high-caliber players who have lots of experience playing the game," the captains say.
But it's not just a strong returning class that has McMaster poised as a threat this weekend. The program is led by coaches Caldwell, Meagan Doyle, and Kim Baxter; amongst the three of them, there's fifty years of ultimate playing and coaching experience. And they bring that to the table three times a week at 6 AM practices. That level of experience is a boon when a team needs to come together quickly ahead of their competitive season.
During the qualifier event in Burlington last month, the team did well in round robin play before losing their crossover game to Queen's University. While the loss was tough, Gao says that it was good for the team to face some adversity.
"Seeing as it was the first competitive tournament for a lot of players, I was happy that we had that game and we faced some adversity," she says.
The following day, the Queen's vs. McMaster rematch was on, albeit delayed. After starting the day at 8 AM, the final didn't take place until 5 PM due to thunder and rain delays.
Shajani says that was "mentally challenging" for the team but demonstrated their resilience as a group. After McMaster took half 8-3, Queen's was able to break back three times. McMaster hung on to win the game, but Caldwell says it was a nailbiter.
While that finish may have come as a surprise to some, it was not a surprise to the McMaster leadership team. To them, this is just a testament of a strong program that focuses on developing all its players and ensuring they all get play time every game.
Shajani reflects on last year's final when the open team showed up to support them and charged the field, even when they lost. Boyle credits that to the interconnectedness of the open and women's sides. She says that at tournaments, they make a point of sitting down together and discussing equity as an entire program. It's another part of why they've been successful, both at retaining players and building on past victories.
Going into this weekend, the captains say there aren't really goals around where they want to finish. For the leadership team, intangible goals like discipline, commitment, and attitude are most important. This Saturday and Sunday, their focus will be on "intensity, grittiness, and a loud sideline."
"Medaling, rankings, the skill of our opponents — these are factors out of our control… As a team, we're successful when we concentrate on the intangibles," the leadership says. "Looking forward, our goal is to perpetuate that."