Boston qualify for their eighth straight semifinal.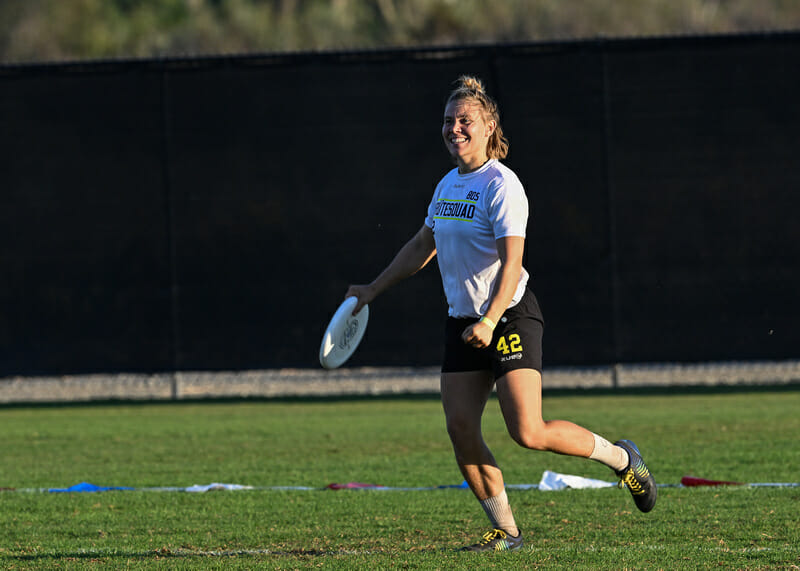 Ultiworld's coverage of the 2022 Club National Championships is presented by Spin Ultimate; all opinions are those of the author(s). Find out how Spin can get you, and your team, looking your best this season.
Defense wins games. We've heard that adage over and over again across a variety of sports. What happens when both teams are trying to win it with their defense, though? Well, that's what leads to a game like Boston Brute Squad's 13-11 quarterfinal win over Raleigh Phoenix. All throughout the hour and a half of action, both team's offenses had only one goal in mind: get our defense back on the field. This kept the game interesting from start to finish, and even though an end-game miscommunication put an unfortunate coda on Brute Squad's victory, the three-time champions earned their win by ramping up their defensive pressure in the second half.
It often takes a few points for the tone of a game to be set, but with a chance at semis on the line, the tone was clear on the very first point. Phoenix came out on offense and wasted no time marching the disc down the field. Anne Worth, Ella Juengst, and the rest of Raleigh's offense met with very little resistance initially as they ran through their set play. Once they got to the red zone, though, Boston clamped down.
Pause. Some quick perspective first for those that aren't overly familiar with North Carolina ultimate. Raleigh delights in playing small ball in front of the end zone. It's practically their brand. Aside from maybe Sockeye, no other team, no other city, has quite the same reputation as Raleigh when it comes to playing plinko on the ultimate field. They'll just bop the disc between players as long as they want until something opens up and it turns into a goal. Easy.
Unpause. Raleigh has the disc on the front of the end zone. Plinko time. Except, that's not what happened. Sure, Raleigh made a few easy passes and moved the disc to the very doorstep of the goal, but when they tried to slip it through to Worth, the disc was suddenly swallowed by Angela Zhu and Brute Squad's ever vigilant defense. Not long after that, a huck went up to Yuge Xiao, who was well ahead of the Phoenix defense, and two passes later, Sophie Knowles found Anouchka Beaudry for the goal. Break.
When it came to setting the standard of the game, that was it.
From that point onward, the first half would feature eight breaks, each one equally as impressive as the last. At 2-1 in favor of Phoenix, Boston's Tulsa Douglas attempted a huck to Liên Hoffmann, only for Amanda Murphy to chase it down and win the positioning battle for a massive block. The moment Murphy got that block, Kami Groom squared up with her defender, made a move on her, and busted deep. Jessie Jones successfully completed a power position huck, and Groom easily took it down for another break.
That sort of aggressive play was working for Phoenix early on, but it also led to a number of mistakes, too. Phoenix would rush a huck that Brute Squad would bring down, or try too hard to put a disc through a tight margin in hopes that it would unlock the offense. When these throws worked, Phoenix was on fire. When they didn't, the offense fell to ashes.
The problem that confronted both teams is that each defensive unit could have been a starting offensive line on almost any other team in the nation. If the disc was turned over, the odds were that it was going to be converted into a break. Defense is a whole lot harder for an offense that has just put their entire effort into scoring. This was an issue that confronted both teams, and led to a lot of lead changes as the defensive lines took over.
"Our strategy team was really clued in for this game," said Boston star Caroline Tornquist. "We knew our matchups beforehand and were ready when we got the turn."
The tide seemed to be turning in Brute Squad's favor when the team went on a three-break run midway through the first half. After being down 3-4, the Bostonians rolled into a 6-4 lead after stifling Phoenix in the deep space and denying their handler resets. On top of that, Brute Squad also left a poach in the throwing lane, leaving Phoenix without any easy options. This caused more than a few turns, which Brute Squad converted. However, their lead wasn't safe.
Not even two points later, Phoenix went on a run of their own. Brute Squad had trouble getting it off the sideline for a spell, allowing Phoenix to get the breaks they needed to get back on serve.
By half, the score was 8-7 Raleigh, and nothing felt determined.
"We gave ourselves a lot of chances on D in the first half," said Phoenix captain Bridget Mizener. "Some we were able to put in, some we didn't, but awesome work by our D-line to create those opportunities."
Out of half, Phoenix broke again immediately, putting the pressure on Brute Squad. If the team from Massachusetts felt that pressure, they didn't show it. Despite being down 9-7, Brute Squad kept their heads high, secured a hold, and then a point later, Levke Walczak went every-other down the field to give Boston a break, tying it at 9s.
It doesn't really reflect on the stat sheet, but this really was a glimpse of what a peak performance can look like from Walczak. The German did not have a lot of time playing with her new club team before the postseason, and her integration into the team has been as seamless as any rookie that's joined. Walczak found a way to leave an imprint on every point she played, and she was the first to be subbed on if there was ever an injury.
On Phoenix, Katie Backus and Lyla Stanland both showed up in a major way. Neither show up on the top of the stat sheet very often, but Backus had a phenomenal game and seemed to be everywhere for her team, while Stanland was the steady hand that Phoenix needed to guide them in the backfield.
Still, it was a Walczak break that helped Brute Squad get back into the game and also Walczak that scored another break to give Brute Squad an 11-9 lead.
That lead proved to be critical. Phoenix held immediately after, and Brute Squad would do the same, but on the point where Phoenix was attempting to secure their second clean hold in a row, soft cap went off. Raleigh did not immediately hear the horn, or perhaps they didn't interpret it correctly; Ella Juengst and Bridget Mizener did their plinko magic to secure the hold to bring the score to 12-11, but the Southeast team was unaware that the game was capped to 13 and they weren't prepared for the next point to be the last.
Brute Squad was, though.
Brute Squad sent out their kill line, Phoenix did not. Brute Squad stayed cautious right up into the end zone, and even a shaky blade from Tulsa Douglas was not enough to prevent them from securing the hold, as Caroline Tornquist made a saving grab to keep it from the dirt. She came up celebrating, and the rest of Brute Squad joined her. Phoenix, for their part, started calling their next line.
The observers walked off the field, confirming the game was done, but Raleigh still was not aware. It was only after Boston realized the confusion, and asked the observers to confirm with the Raleigh team, that it was made apparent to the North Carolina squad that the game was truly over. They were not impressed.
"Our tactical takeaway from this game is to make sure you get the heads up when soft cap goes on," said Mizener, adding, "we can't put ourselves in that hole with the breaks but our strategy would have been different had we known."
Alongside the line management that might have occurred, Raleigh wasn't even able to mourn their loss properly. They were robbed of a chance to give their everything to keep Brute Squad from punching their ticket to semis. It wasn't Brute Squad's fault, but it still put a damper on the win that Boston rightfully earned.
Raleigh felt their season ending was incomplete, but Boston deserved the win. They wanted to prove they were better than their no. 6 seed: mission accomplished. Brute Squad hasn't gone anywhere. They're still among the nation's best and proved it by making semis for the seventh year in a row.
They'll face San Francisco Fury in a rematch of the 2021 final we saw a year ago. Considering how motivated Brute Squad looks now, it will be an unmissable game for fans of women's ultimate.