It's Nationals weekend for Ultimate Twitter as well. Who is stepping up their game?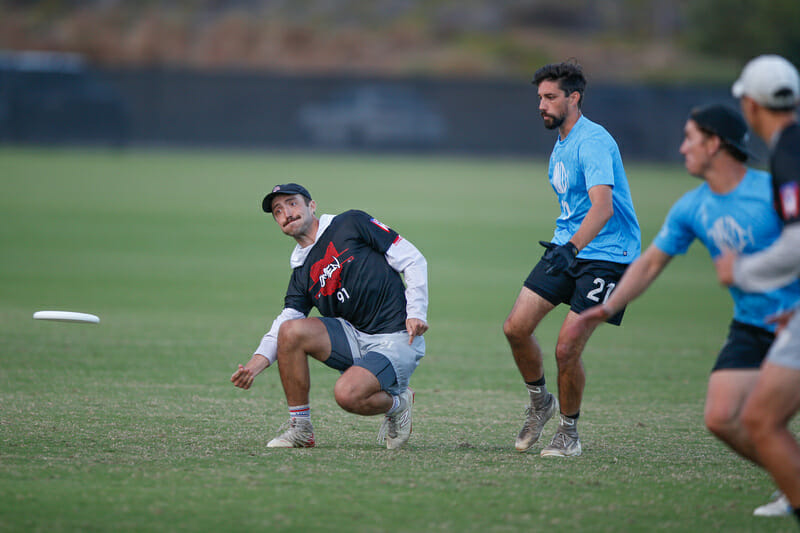 Ultiworld's coverage of the 2022 Club National Championships is presented by Spin Ultimate; all opinions are those of the author(s). Find out how Spin can get you, and your team, looking your best this season.
For those who have not been to Nationals in person, there are few events in our community that can match the camaraderie and celebration seen in San Diego. For everyone following along at home, there is only so much that can be seen on the Ultiworld livestreams, and many viewers supplement their Nationals-following experience with a scroll through Twitter. Tweeters all over the country were staying connected to the action and each other through our favorite social media app. Here are our favorite tweets from Day Two:
In case anyone was doubting Polar Bears, we can confirm that New York XIST does in fact exist.
After an impressive upset over Revolver and a double game point loss to a favored Chain Lightning squad, Virginia Vault found themselves in consolation play.
The Elias Sports Bureau has not yet expanded to ultimate, so we thank Aaron Liu for doing some important research into San Francisco Fury's continued dominance, especially as compared to their fellow luminaries in other divisions.
Kyle Halstater is apparently a Vault Ultimate fan now.
Cincinnati Omen earned their first-ever win at the Club Championships with a Pro Flight play in (read: consolation) victory over Seattle Sockeye.
We wish Vault's Steven Wartinbee a speedy recovery and congratulate him on his creativity in using sideline props as functional medical devices.
Laura Bitterman is a former Brute Squad and Schwa player who continues to prove why she is a must-follow on Twitter.
Cincinnati Omen's Josh Venegas has a history of hyping up his team by breaking watermelons.