A rematch of the surprise 2019 semifinal once again went the Canadian's way.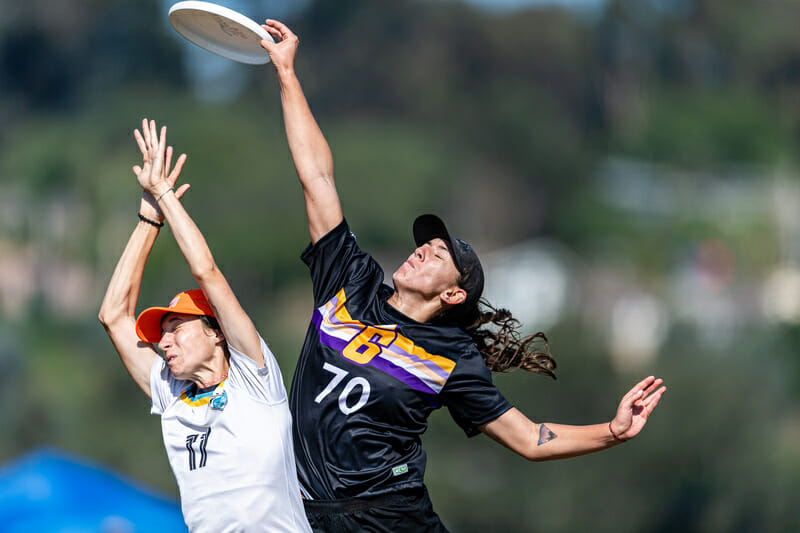 Ultiworld's coverage of the 2022 Club National Championships is presented by Spin Ultimate; all opinions are those of the author(s). Find out how Spin can get you, and your team, looking your best this season.
It's 2019. You're a team making semis for the first time since the year 2000. You just beat Molly Brown in one of the best games of ultimate that's been played all year. You're feeling good, really good, until you see your opponents. They're a Canadian team who have just as strong a narrative as you. They're also in their first semis, for a start. They're as hungry as you are, they're as fresh as you are, and neither of you expected the matchup and could gameplan for it ahead of time. An air of unpredictability fills the air.
Fast forward to 2022. The air of unpredictability is gone, but you're facing the same team in quarters and the stakes are just as high.
This Oregon Schwa – Toronto 6ixers game may seem like a little deja vu from 2019, but thanks to a reshuffling of players and a little time off, there was plenty more to learn from this time around, even if the results may have ended almost the same. Toronto set up their best players to make big plays all game, giving them the win despite the chemistry and discipline that Oregon showed throughout the game.
It's really not an exaggeration to say that Toronto won the game by putting their best players in a position to succeed. The 6ixers have an amazing system, but when their backs are to the wall, as they frequently are against elite opponents, the team looks to the same few players to earn them the point. On the very first point of the game, a Schwa miscue gave the 6ixers the disc. Toronto's handlers patiently waited for Alyssa Mason to get open in the end zone, which of course she did, and they promptly rifled an around backhand to her on the break side. That's how the team was happy to operate, and it paid off in a similar manner time and time again.
A lot of the success that Toronto saw in the first half can be attributed to putting these top players in the right position to be effective through their system offense. System is a word that's bandied around a lot by teams, but it really shone through Toronto's offense in the first half. Schwa wasn't giving them free turns, but when a turn did occur, it allowed the 6ixers to use the plays that they drilled over and over again in practices. Despite the wind and defensive pressure, Toronto had a very set structure that they used, something they didn't deviate from at any point. "We rely on our O-line to work through difficulties," said Toronto star Lauren Kimura. "Otherwise, most of our cutting, most of our plays remain the same throughout."
By contrast, Schwa's offense was more free-flowing. The team was happy to take what was given, although the 6ixers didn't give them much. In the first half especially, Schwa's offense fired off trust hucks to seemingly open receivers, only for a defender to speed into position to make the block. Toronto clogged the downfield space very effectively, and Schwa took a few points too long to adjust to it.
That wasn't Schwa's problem in the first few points, though. In fact, Schwa remained closely competitive until the end of the first half. Without being too facetious, there was one reason Schwa remained within touching distance early on, and her name is Julia Sherwood. Oregon's star was responsible for three of the first four goals that Schwa scored, and finished the game with four assists and one goal. Her hucks were the one thing breaking through Toronto's stifling defense, and her team clearly relied on her to make plays.
Part of the reason why Sherwood shouldered such a large load was that Toronto's defenders were giving Joey Chestnut levels of effort in swallowing up the rest of Oregon's options. Where players like Eva Popp, Kimber Coles, and Dani Runzo were critical pieces in Schwa's prequarters win, all three of them finished their game against Toronto without a recorded offensive stat. Despite being high-impact players, Toronto's matchup defense was too good for many of Oregon's best to get open in the end zone.
The more that is said about Toronto's defense, the better. Even in the first half when Oregon was still very much in shooting distance, they weren't getting clean holds, and it was wearing down their offense. A lot can be said about a number of Toronto's defensive players, but it was Alyssa Mason that went nuclear. The World Games star was tasked with guarding the best players on Schwa every point, and then turning around and being the focal point of the D-line offense after the team earned the disc. Not only did she accomplish this, she made it look easy. Mason looked like she could have played a game to 30 and still had gas in the tank if the team needed it from her. Her 1G/3A/2D stat line does little to highlight her true worth to the team. If Toronto needed someone to make a play, Mason was up to the challenge.
Despite it being very clear that momentum was on Toronto's side, Schwa wasn't out of contention when they entered the second half down 8-6. The team was down three breaks, but there offense got into a comfortable rhythm. All they needed was a break or two against Toronto and they were back in it.
The 6ixers would never give them that chance.
After half, the 6ixers offense played one of the most complete halves of ultimate shown by any teams who made quarters. Even when they were as close to being broken as humanly possible, the team still found the necessary composure to get a stop, make the big play, and right the ship. "In the postseason, we had a few practices where we worked on being fearless," said Molly Lewis. "We've been bringing that to this tournament and it's really worked."
At 10-7, Toronto's offense took the field and faced off against the full might of Schwa's defense. Oregon knew they needed a break, and gave 110% effort to earn it. Twice they got a block and worked it to the red zone, only for Toronto's offensive unit to slow their pace to a halt and set up a block that would save possession. It was a marathon point that was closer to a triathlon in how taxing it was on both teams. Still, it was Toronto that regained composure first, with a visibly gassed Britt Dos Santos using all of her energy to fire off a huck to Lauren Kimura, who herself wasn't able to give much more on the point. The connection worked, and Kimura then was able to dish a short pass to Reve Chan for the goal. This wasn't Kimura's only assist, either. She ended the game with a team-high five, and her dish to Chan was the least impressive of the lot.
The assist might not have been pretty, but it was back-breaking to Schwa. If there was a defining moment to point to in the game, that was it. After everything Schwa did to earn a break, the 6ixers were the ones that still came away with the point.
The game went on for multiple possessions after that, but that was Schwa's best chance to break the Canadians, and it seemed as if Toronto only got cleaner on offense after that point. All their effort in the second half amounted to a 14-9 score line as time wore down, giving Oregon an uphill battle to prevent Toronto from winning outright.
Both teams knew the stakes, but only Toronto had Alyssa Mason. The D-line star crossed over for an offensive point, ready to end the game early. Sure enough, her teammates fed her a pass on the high side, and she wasted no time in launching a pass straight down the field to Inka Wessman, who outpaced her defender right into the end zone. Toronto needed fewer than five passes to score on the final point, all because of Mason's killer instinct.
It was a strong proof of concept for Toronto, and a reminder of their prowess as a team. 2019 was the last season they could compete at USAU Nationals, and they made the final then. This year just showed that their previous success was no accident.
Everything that worked against Schwa will have to work overtime against Molly Brown, who they'll face in semis on Saturday morning. The Denver squad can match them in star talent, and has just as much (or more) of a point to prove as the Canadians.
Schwa, for their part, can hold their heads up high. No team had a harder run to quarters than Oregon, and matching up against Toronto was about as tough a draw as they could get. They'll have plenty of positives to take into 2023, even if it's Toronto who are the ones who'll have their second shot at making the final.