The reigning champs make finals return with double game point victory over longtime rivals in yet another thrilling matchup.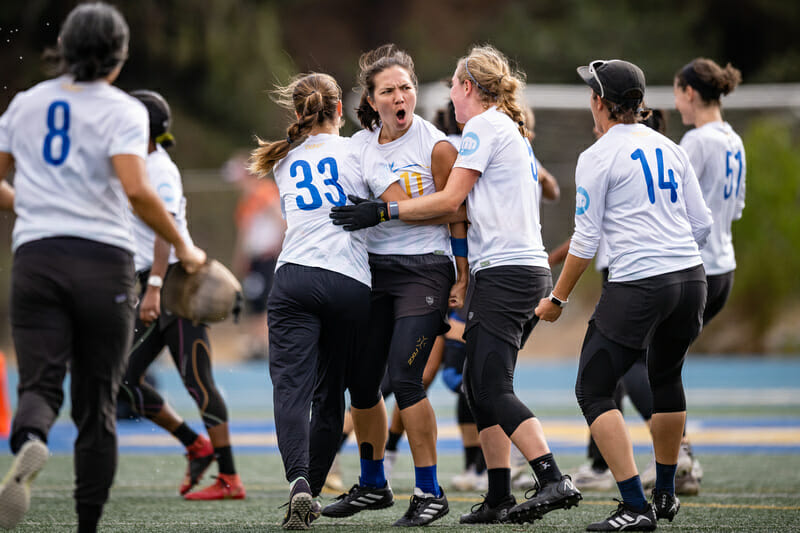 Ultiworld's coverage of the 2022 Club National Championships is presented by Spin Ultimate; all opinions are those of the author(s). Find out how Spin can get you, and your team, looking your best this season.
SAN DIEGO — San Francisco Fury facing off against Boston Brute Squad in the late stages of Nationals: a tale as old as time. The two current giants of the women's division battled back-and-forth in (yet another) game for the ages before Fury secured their place in back-to-back finals with a 14-13 victory. Boston's stable of international stars did their best to deny San Francisco, but Fury's old guard came through in the clutch to take them to yet another semifinal win, setting up a matchup between the defending champs and first-time finalists Denver Molly Brown.
To say Fury did not get off on the right foot, though, would be an understatement. The normally reliable Anna Thompson, who had a fantastic five assist game against Flipside in quarters, threw the game's second pass into the ground and Brute immediately broke, Angela Zhu finding the incredible Levke Walczak the goal. Walczak was immense throughout the game for Brute Squad, scoring three goals, throwing five assists, and getting four blocks. She produced 474 yards of offense — nearly double the next highest total in the game.
"Levke is a huge team player and she is so adaptable that she can take any spot on the field," said Anouchka Beaudry after the game. "As soon as a handler is going upfield, Levke is going in and taking the spot, or when we need big under grinders, she'll go for it. She's so adaptable on the field, will shoot it deep to anyone. She has a lot of skills all around and on D also, so I think that's what makes her such a key player in every game."
Even after giving up the first point break, it didn't take Fury long to respond. They fired back with two straight points, Kirstin Johnson throwing to Carolyn Finney for San Francisco's first goal and Han Chen getting the score as Fury broke after Brute Squad couldn't connect on a final pass into the end zone.
Boston held as Walczak picked up her first assist of the game with an effortless huck to Anouchka Beaudry to tie it up at 2-2, before Fury put together a 3-0 run to burst out to a 5-2 lead, looking poised to run away from Brute Squad. Anna Nazarov, Opi Payne, and Claire Desmond all joined Finney on the stat sheet as Fury's longtime vets continue to contribute after all this time. Throughout the game, San Francisco's most senior players stepped up point after point to bail Fury out as they willed their team to the win, with Payne notably leading the team in goals with three.
"Opi is really great at reading the team and what we need to hear from her," said Fury's Julia Butterfield. "If we aren't performing at the high standard we set for ourselves, she has a great presence in the huddle to calm us down or hype us up, whatever is needed. And of course, we can always count on Opi to step up to make a big play in clutch moments."
Brute being Brute though, did not wilt, and they rolled off three straight points of their own after Fury had taken a 6-3 lead. Boston dialed in their throws after some unforced errors in the early going and Brute's international contingent including Walczak, Beaudry, and Mangie Forero came through for the Northeast champs. Walczak unloaded another pinpoint huck to Amy Zhou, who slid in for the goal to bring the game back within one at 6-5, while Forero bookended the next point with a run-through block and a textbook layout catch. In a strong response, Brute had tied it up 6-6 and the pro-Boston crowd roared in support.
In recent seasons, this Fury roster has had minimal turnover, as the same stalwarts have kept the team moving forward at the same high tempo year after year and small batches of rookies are smoothly integrated without issue. Three seasons ago in 2018, one of those few Fury rookies was Kirstin Johnson, and over the past four years she's grown into more and more of a primary role for San Francisco.
Johnson's growth was epitomized in her play on back-to-back points as Fury took half 8-6. She threw an assist to 2022 Fury rookie Calise Cardenas on a bolt of a forehand for a San Francisco hold before putting it deep to Marika Austin, leading to a Shayla Harris-Payne connection for the break, reestablishing Fury's two goal lead. "It's been really fun to see [Johnson] step into a bigger role driving our offense. She's been our reset handler for a long time, chugging our offense forward, getting those little dishes, but it's been really fun to see her confidence explode," said Butterfield after the game.
The breaks and blocks came quickly in the second half for both teams, Jessie O'Connor opening it up for Fury with a clean handblock on Caitlyn Lee on the sideline to give San Francisco an immediate break chance. They converted it despite the best efforts of Caroline Tornquist, whose huge layout bid somehow didn't prevent the scoring pass from Amel Awadelkarim to Magon Liu and Fury's lead was back to three.
Back were Brute, though, with Beaudry and Walczak combining for two goals and two assists between them on the ensuing three points, the Canadian throwing to the German for a second straight Boston break as they evened the game up at 9-9. Beaudry and Walczak were two of five non-American players on Brute Squad's roster this season, along with Forero, returner Jesse Grignon Tomas, and Frederike Wagener, and Brute were very intentional in ensuring their players from around the world felt included in this Boston team.
"It definitely involved some growing pains thinking about how to both incorporate them on the field, as well as make sure that they were part of our community off the field," said Brute Squad coach Rob Brazile. "Some of them were able to come and spend a lot of time in Boston which was phenomenal, and others had to be commuting players, and so we had to find ways to onboard them into our tactics and strategies, but also make sure that they were part of our committee structure, engaged in our social stuff, things like that, and I think the fact that it did take that much work also made it that much more rewarding."
After their three goal spurt, Brute Squad did get another break chance after a Fury huck went long, but Boston's own huck had too much pace on it as well, and with the second chance, Finney dropped in an away throw to Harris and Fury held. Claire Desmond had a strong game for San Francisco with her two goal and two assist performance, punctuated by bookends in the first half to give Fury a 5-2 lead and a goal and assist across three points as Fury pulled out to a two goal lead once again at 12-10.
Still, Brute Squad certainly didn't make it easy for them, Amy Zhou getting horizontal for a layout pointblock to erase a would-be throw from Sharon Lin and Boston's incredible tenacious defense forcing a stall out with Walczak on the mark. The champions did just enough, though, and took advantage of Brute Squad errors and a Maggie Ruden run-through block to stave off Brute's best attempts to complete the comeback.
Both teams had break chances in the next few points, but only Brute took advantage of theirs. Zhu found Forero after a misthrow from former Boston mainstay Julianna Werffeli, who had to that point been clinical, bounced off Erin Rea and into the hands of Walczak, which allowed the Boston handlers to go to work to convert the gilt-edged opportunity. It was 12-12, and Brute Squad just needed one more break.
However, it never came, as Fury closed Brute Squad out with a pair of holds. Johnson stepped up once more for San Francisco as she threw to a wide open Liu for the 13-12 score, before Boston forced double game point, Walczak somehow getting the disc to Lee through the tiniest possible window to close out a clean offensive point for Brute Squad. It was the ending that this game deserved, Fury on offense taking on the Brute Squad defense, winner moves on to the final, while the loser goes home empty-handed.
The finish was somehow predictable in the end. Finney, as she so often has for Fury, took over, going nearly every other while San Francisco marched down the field, all seven of Fury's players getting a touch along the way. And it was Finney with the final pass to Marika Austin cutting toward the front cone to keep Brute Squad at bay and send Fury back to the final.
After giving up fewer than ten points in each of the previous four games, Fury were finally pushed to the brink, but in a strange way that felt more familiar to them than the blowouts they had been putting together over the course of the weekend.
"It has been a different game having those really tight moments and having them go on a break run on us," said Butterfield. "It kind of feels like practice in a lot of ways. Every single point is a battle and you finish the point and you go out and play the next one, and I think that's how the team was feeling this game. Matty was really trying to get us to focus on one point at a time."
For a Fury program that has only missed the final once in the last five years despite four straight double game point semifinal finishes, the feeling of just scraping through but winning nonetheless is also well-known to this consistently successful team. Their record of seventeen straight semifinals is only surpassed by the historic Lady Godiva, and has been sustained by a through line of players and system continuity. "We're committed to building our systems offensively, so our team isn't built around just a couple of players whose absence would set us into a rebuilding phase," said Butterfield. "It's about having everyone on the team able to execute the small things at a high level even in the biggest moments."
As for Brute Squad, this marks the first time that they've missed the final since 2014, and despite two-thirds of their roster turning over since their last title in 2019, their fight in taking Fury to the brink shows that this Boston team can still compete with the best. "It's really easy to come to the conclusion that, 'oh, this isn't the team that it used to be,' and maybe that's changed what our potential is," said Brazile. "But I think that [this season] is proof positive that the group of people that we gathered together, and the way that they were able to play demonstrated that we were absolutely still in contention and will continue to be so."