In a North Central regionals rematch, with the same rainy conditions that they'd see in the Midwest, Madison NOISE emerged victorious over Minneapolis Drag'n Thrust for the first time in 15 postseason matchups.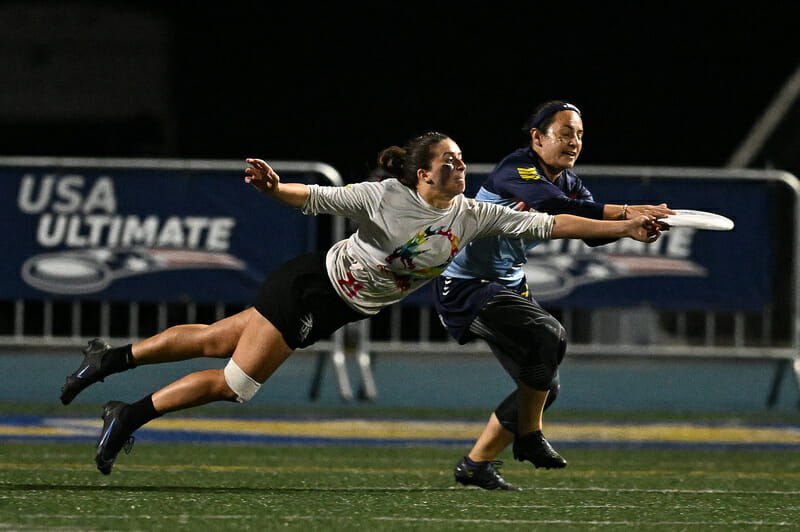 Ultiworld's coverage of the 2022 Club National Championships is presented by Spin Ultimate; all opinions are those of the author(s). Find out how Spin can get you, and your team, looking your best this season.
SAN DIEGO – On Saturday night, in rainy conditions and against all expectations, Madison NOISE made program history. Not only did they beat their regional rivals Minneapolis Drag'n Thrust in the postseason for the first time in 15 tries,1 but they also made it to the national final for the first time, advancing with a final score of 14-13 to close out a long day of semifinal action in San Diego.
Last year, we saw NOISE make it to Nationals for the first time since a three-year stretch from 2015-2017. The Wisconsinites shocked everyone — maybe even themselves — when they made it to the semis in 2021 before losing to fellow surprise semifinalist Ann Arbor Hybrid2 and finished the tournament in fourth place, well enough to earn a bid to WUCC. This season has been a slow build for the team. They took sixth at WUCC, second at US Open, ninth at Pro Champs and second at both Sectionals and Regionals — in both cases coming up short against their eventual Nationals semifinal opponent.
With the ups and downs of their the season, it's perhaps not unreasonable that they've remained overlooked and underrated by just about everyone3 despite their showing last fall. Even in pool play to start this weekend, they suffered some demoralizing losses right off the bat in their first two games. But they learned from their mistakes and grew stronger as the tournament wore on, emphasizing their focus on a team motto for the year: JAGS, which stands for joy, accountability, grace, and selflessness. It's a team-first mentality that helped their performance throughout the season.
"None of us play for the glory or to be the person, we just play for each other," said Robyn Fennig. "Everything that we have is within our team and everything else is just noise."4
After their two losses to open this weekend, they pounced on bottom seed CLX in their last pool play game and smoked them to the tune of 15-4. As the first win of their weekend, this gave NOISE the boost of confidence they needed heading into the bracket. It was enough to steady them for a prequarter against an Atlanta Dirty Bird squad that, after beating Drag'n Thrust to finish second in a tough Pool A, appeared poised to inherit the mantle of surprising bracket run from the no.12 seed, much like Madison last year. Instead, NOISE started finding their rhythm and advanced to a quarterfinal clash with reigning champs, Seattle BFG. Now brimming with confidence and playing with the nothing-to-lose attitude that served them so well in 2021, Madison kept their season alive with a universe point 13-12 win over the Pool B winners.
That saw them to this semifinal, where they faced their longtime Series bugbear — a team that they had lost to eight straight times dating back to July 2017. Still, their Friday wins convinced them that they still deserved to be here and could win any game; they knew that the mixed division's reputation for upsets and loose attachment to seeding was more than myth.
"Because the talent (in the mixed division as a whole) is so equal between teams, one team could beat another at any time," said NOISE captain Katy Stanton after their win in prequarters.
Minneapolis Drag'n Thrust's ride to this point in the season was distinctly less up-and-down. After starting their season finishing fifth at the US Open in their hometown, they won Pro Championships to close out their regular season and executed a dominant, undefeated run through the first two weekends of the Series to earn the tournament's top overall seed. They faced their semis opponents at both Sectionals and Regionals with five-point margins in each game and reports that it those matchups may not have even been as close as the final score indicated.
Coming into this tournament as the no.1 seed, they had a target on their backs. They lost to both no.12 Dirty Bird and no.8 XIST in pool play, but stayed alive by winning their final pool play against no.13 Slow. Minneapolis stepped up their game against Hybrid and shame. in prequarters and quarters, giving them fire for the semi. They knew what to expect from opposition as familiar as NOISE, but also knew this would be their most competitive rematch to date.
"We went into this game saying 'this is not the NOISE that we've played before' — they wanted this," said Drag'n Thrust captain Danielle Byers post-game. "We knew that they were gonna come out fiery, we knew they were gonna throw it deep, and they played a hell of a game."
Almost as soon as the game started, it became evident that this game would be the most evenly matched game that we've seen from between the North Central pair this season. It started off with exchanges of holds, but a block by Minneapolis' Jane Koch set her up to take advantage of a miscommunication in NOISE's bracket to create a wide open deep cut to score the first break. But NOISE did not give up that easily and scored a break of their own on their next defensive point.
At that point, the skies opened up, and rain began to fall. Undeterred by the conditions, the teams engaged in a late-night shootout, continuing to attack each other deep, even as they struggled to complete them at a high rate.
From these deep shots came one of the best highlights of the game with a huck from Drag'n's Sam Berglund that to observers looked A) out of bounds, and B) like it would be down. It didn't shape up this way though, as Jane Koch — who also had an amazing game all around, posting two goals and a block — toed the line and got fully horizontal to save possession and score, leading to another break for Drag'n Thrust, allowing them to reclaim the lead at 6-5
Koch layout score highlight tweet
Of course, there were others who completed deep shots, and of the common offenders for said deep looks were Caleb Denecour to Danielle Byers for Drag'n Thrust and Robyn Fennig to literally anyone for NOISE.
Despite a tremendous track record, it wouldn't be too much of a stretch to say this was one of the best games of Fennig's career, coming on such a huge stage. The Madison leader posted a goal, six assists, and a game-high 394 yards of offense — all crucial to her team's victory — and her throws were on point almost every single time. When Fennig is on, she's one of the most dangerous throwers in the sport and it's clear that happened in this semifinal. There were stretches where she went every-other pass on offense for her team and was clearly the MVP of the game. A First Team All Club performer for NOISE last season and for the two seasons prior in the women's division with Heist and then Scandal, this game basically cemented her candidacy for a fourth straight such honor.
Drag'n Thrust took half up 8-7 then scored a hold out of the intermission, securing the only two-point lead either team would enjoy at any point in the tight, back-and-forth affair. With a hold and a break from NOISE, courtesy of a block by Jimmy Sykora, Madison quickly tied things back up at 9-9. A pair of trades later, it was 11-11 and Madison had already posted a higher goal total against Minneapolis than in any other matchup with their regional rival since a win over Drag'n at the Pro-Elite Challenge back in July 2017, a span of eight often lopsided losses.
After Madison's Ashley Welsh forced a turn on Gerene Taylor — Drag'n's most consistent handler on the night and their 'secret weapon' this season who otherwise threw the right throws every time she had the disc — Dylan DeClerck made one of his many runs to the end zone to switch the lead again. This time, the lead held. After a hold apiece, Cailtin Murphy got a massive run-through block on Drag'n to give her team a chance at another break to extend their lead, but the tournament's top seed weren't ready to give in just yet and responded with a team D before Taylor hit Marty Adams to take the game to universe as the cap came on.
Looking for a clean offensive point, Fennig did what she'd been doing all weekend — including on a game-winning universe assist in their quarter against BFG — dropping a dime to DeClerck on an away cut to come up with the win. After the game, Fennig admitted she didn't even know it was universe.
To give credit where it's due, Drag'n Thrust played a great, respectable game. What makes them a pleasure to watch was the highlight plays that come from up-and-down their roster, and this game was no different. They wanted to win, but NOISE were playing with a chip on their shoulder and simply found another gear. Not only did they have confidence that they could win this match that they've lost so many times in the past, they had the motivation to push past the ceiling they found by making it to semis last year.
One other difference that set NOISE apart this game was the energy on the sidelines. The game started at 8:00 PM, but it was hardly noticeable with the hype that was present. As the rain came down in Mira Mesa, the stands were fairly empty with exception of a few hardcore fans. And yet, Madison Mad Men, a no.16 seed in the Men's division that just seemed happy to be at their first Nationals tournament, was loudly cheering on their fellow Wisconsinites. Determined to confound the expectations of a Tier 5 watchability ranking, they took their cheers and off-field electricity to the next level. Meanwhile, NOISE remained unserious on the sidelines and just had fun, which resulted in success.
"I feel like we're the David S. Pumpkins of Club Nationals, where when people watch us, they're like 'why are you Hybrid and why do you do their cheers all the time? I don't understand.' So that's how we took it," said Fennig.
---