Ten top 25 teams are set to clash in the premier D-III men's tournament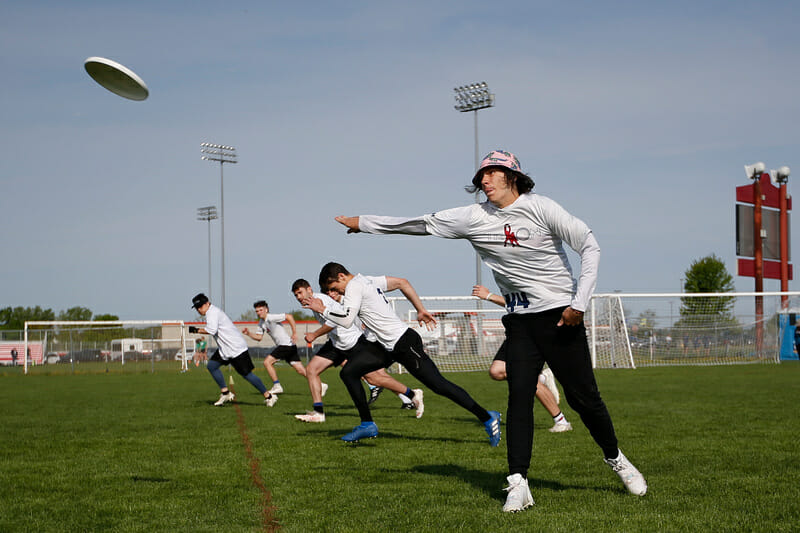 Ultiworld's coverage of the 2023 college ultimate season are presented by Spin Ultimate; all opinions are those of the author(s). Find out how Spin can get you, and your team, looking your best this season.
Disclaimer: the author of this preview is the FCS tournament director.
While D-I men's ultimate has major tournaments to look forward to throughout the season, there are only a couple that cater specifically to D-III. The division's premier event takes place this weekend at FCS D-III Tune Up, as 16 teams from seven different regions descend upon Advance, NC.
In order to maximize opportunities for connectivity between regions, FCS eschews a traditional pool play plus bracket schedule in favor of seven rounds of matchup play. Ultiworld will be streaming one game each round, with 14 of the 16 teams in attendance getting featured on stream. Let's take a look at why you should tune in to each matchup.
Tournament Profile
Date: March 4-5
Location:

Advance, North Carolina

Weather: Highs in the mid 60s, 15 mph wind on Saturday dropping down to 4 mph on Sunday
Men's Top 25 teams: #1 Middlebury, #4 Whitman, #7 Navy, #8 Richmond, #11 Berry, #15 Brandeis, #16 Butler, #17 Oberlin, #18 Elon, #19 Franciscan
Streaming Schedule
All times Eastern. Schedule subject to change. These games feature natural sound only, no commentary. Available for Full & Plus subscribers and those with 2023 College Team Packs.
All games can be found on our FCS event page and will be available both live and immediately following the games on-demand.
Saturday, March 4
Sunday, March 5
Matchups
Round 1 – #15 Brandeis TRON vs #19 Franciscan Fatal
The tournament kicks off with a rematch of the 2015 National Championship game. Brandeis look to build off their trip to Nationals last spring, while Franciscan aim to reclaim their place amongst the elite in the division after a rebuild last season.
TRON return a large portion of the team that qualified for Milwaukee last May. Led by Matt Sehgal and Noam Gumerman, and having already played some outdoor games this spring, Brandeis are equipped to have a strong showing this weekend. TRON always play excellent defense, but their offense tends to go through lulls where they give up multiple breaks in a row. Keep an eye on how the Brandeis offense responds to early breaks.
It's difficult to decipher Franciscan's results from their first tournament, Commonwealth Cup Weekend 1. On one hand, they lost their first two games and missed the bracket. On the other, one of those two losses was on double game point against eventual champions Wisconsin-Milwaukee, and Fatal then went undefeated the rest of the weekend to finish 9th. Franciscan are a young team overall, and they'll lean on veteran JP Duerr quite a bit as their youth develops this season. We'll have a better idea of how good Fatal are after this weekend.
Round 2 – #7 Navy Poseidon vs #11 Berry Bucks
Line: Navy -2.5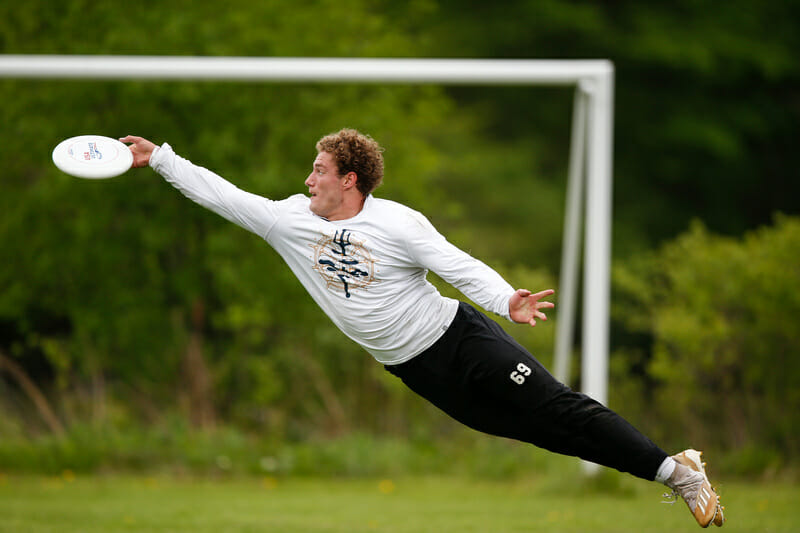 Things heat up in the second round with a matchup between two defending regional champions both looking to show they'll be defending their crowns this season.
Navy won the Atlantic Coast for the first time last season, and they announced themselves as contenders in the division with a win over Richmond at last year's FCS. Poseidon only graduated six players and that continuity should allow Navy to hit the ground running this spring. Max Benedetti, Silas Rhodes, and Co. are the favorites to win the Atlantic Coast once again, and a big win on stream against Berry will affirm their place in the division.
While Navy are buoyed by their continuity, the Berry Bucks are in a completely opposite position. Berry only return eight players from last year's Nationals semifinal run and will be approaching this weekend with a growth mindset as they try to find out who will replenish the departed production. Colin Hill will be one of, if not the, best players on the field every game, but it takes more than one great player. Caleb Grant was a great role player last season and, with Aidan Meek now playing at Georgia Tech, will be the primary candidate to step into a bigger role for the Bucks.
Round 3 – #8 Richmond Spidermonkeys vs Lewis & Clark Bacchus
Line: Richmond -3.5
From two region champs in round two, we move to two young teams seeking revenge this year in round three.
After having a stranglehold on the Atlantic Coast for years, the Richmond Spidermonkeys lost the region last year for the first time since 2015. While Richmond used the "Revenge Tour" moniker for their 2020 season, the title certainly applies this year as well. With a roster of 41 players, the Spidermonkeys are sure to get contributions from many players this weekend, but look for Brett Schoppert and Calvin Ciorba to lead the charge.
It's always a treat when a west coast team makes the trip across the country for a regular season tournament, and Lewis & Clark Bacchus are looking to use this trip as an opportunity to expose their young team to high-level play after a weird COVID-impacted season last spring. Consistently one of the best teams in the Northwest, Bacchus will be looking to prove that they stack up against the rest of the nation as well. Expect to see big plays from Ben Travers, Max Zwerin, Leo Farley, and others.
Round 4 – #1 Middlebury Pranksters vs #4 Whitman Sweets
Line: Middlebury -3.5
The Saturday night showcase game is a matchup between two top 5 teams looking to establish themselves as contenders to win it all in Columbus in May.
Middlebury have established themselves as the most consistently competitive program in the division, making the semifinals of Nationals each of the last four seasons. This year is looking to be no different. We've talked in other articles about their terrific freshman class, and everyone is aware of key returners like Max Hanscom, Max Rogers, and Jorre Dahl. However, the most exciting player to watch on the Pranksters this weekend is junior Malachi Raymond. After losing his freshman year to the pandemic and sophomore year to a knee injury, Raymond hasn't had the chance to make his presence felt on the college scene yet. After spending his summer with Minneapolis Sub Zero, Raymond is primed to announce himself to the division this weekend.
We got a taste of having the Whitman Sweets in D-III last fall, and fans of the division will be thrilled to see them return this spring. The Sweets dominated Northwest Conferences last spring and enter this season not just as favorites to take the NW's bid to Nationals, but to make a run at semis once there. Leo Dungan-Seaver, Kai Kirsch, Tyler Shanahan, and the rest of Whitman play an exciting style of ultimate, and testing their mettle against one of the best teams in D-III will let the Sweets, and the rest of the division, know exactly where they stack up.
Round 5 – #18 Elon Big Fat Bomb vs Kenyon SERF
Line: Elon -3.5
Sunday play will kick off with a matchup between two programs coming off of disappointing 2022 seasons that look set for much more success this spring.
After back-to-back Nationals appearances in 2014 and 2015, Elon Big Fat Bomb have taken a step back in recent years, with their low point coming last spring in a last place finish at Atlantic Coast Regionals. However, a 5-1 record and second place finish at Commonwealth Cup earlier this season hints towards Elon being back on the rise. Vincent Chen, Reed Burkert, and Kalen Morrison all bring high level experience to the team, having played previously with Triangle Triforce, and will be heavily involved on both sides of the disc for BFB.
After qualifying for Nationals in Fall 2021 and bringing back a large contingent of that roster in the spring, Kenyon SERF looked poised to start a streak of Nationals qualifications. However, SERF fell flat last spring, losing in the first round of the backdoor bracket at Ohio Valley Regionals. Kenyon went winless at FCS last year; Owen Hevly, Lucien Kisch, and Co. will be hoping to recapture the magic of that 2021 season and put forth a much better showing this year.
Round 6 – Air Force Afterburn vs Xavier B.L.O.B.
Line: Air Force -1.5
Round six features a matchup between a former powerhouse program looking to make it back to Nationals contention and a program trying to break through from a competitive region.
Prior to the lost 2020 season, Air Force Afterburn were at the top of the division, making the semifinals of Nationals three out of the prior four seasons. However, the program has been in a bit of a rebuild since the pandemic, failing to qualify for Regionals last season. This year's team will look to bounce back from a disappointing 2022, and playing on the stream later in the weekend should benefit them, as they'll be playing in their first tournament of the season and are sure to improve as the weekend progresses. Look for Xavier Gaefke and Ethan Nelson to be heavily involved for Afterburn.
While Air Force are just getting their season underway this weekend, Xavier B.L.O.B. have the benefit of already playing in a tournament, going 3-3 at Tupelo Tuneup back in January. B.L.O.B. have a history of doing well at FCS: when they last attended in 2020, they were one of the surprises of the tournament, going 5-2. The Ohio Valley is one of the toughest regions in the division, and tournaments like FCS help prepare Xavier for two days of tough games. If B.L.O.B. put forward another strong showing this weekend, they'll be on the radar as a team that could emerge from the OV.
Round 7 – #17 Oberlin Flying Horsecows vs #16 Butler Big Dog
Line: Oberlin -1.5
The weekend concludes with a matchup between two ranked teams considered among the favorites in their respective regions.
Perhaps no team enters this weekend with more uncertainty surrounding where they stand in the division than the Oberlin Flying Horsecows. On one hand, the Flying Horsecows lose Oliver Vickers-Batzdorf, the focal point of their offense and leader of their team, as well as nine other seniors, leaving massive metaphorical cleats to be filled. On the other, Oberlin return a really strong young core of players, highlighted by captains Ben Fuguet, Jack Povilaitis, and Griffin O'Neal-Freeman, so the tools are there for them to be competitive once again. This weekend will provide clarity on what our expectations should be for the Flying Horsecows this year.
Butler Big Dog are the first Great Lakes team to compete at FCS D-III Tune Up. The favorites in the Great Lakes this year, Butler fell just short of Nationals in 2022, losing in the game-to-go against Grace. With hopes and expectations of finishing the job at Regionals this year, Butler are making the trip to North Carolina to get a taste of Nationals-level competition. Big Dog are led on the field by graduate student Jonathan Courts. According to team leadership, Courts was a +61 in eight postseason games last year, with just five turnovers. Courts and the rest of Big Dog have a chance this weekend to announce themselves to the rest of the division, and a big win on stream against a Nationals team would be the perfect punctuation to their weekend.
---
I've set projected lines for each game with the help of the Ultiworld Discord. You can join the conversation there, and watch the streams, by subscribing. Come hang out! ↩