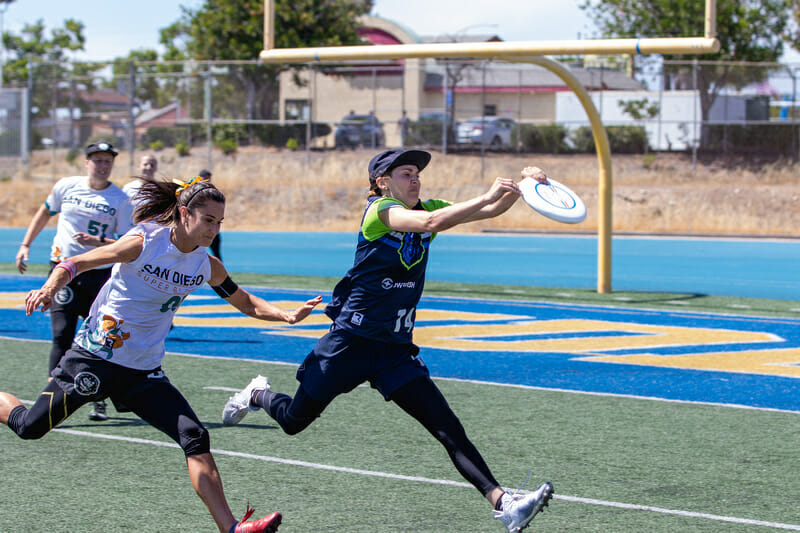 This weekend marks the start of the 2023 Western Ultimate League season, the league's second full season after a delayed start due to the pandemic. Colorado Alpenglow are the newest recruits for the WUL, and now with eight teams the league has opted for a two-conference format, splitting into the Northwest Conference (Seattle, Oregon, Utah, and Colorado) and the Southwest Conference (San Diego, Arizona, San Francisco, and LA).
The 2023 WUL season will run for 10 weeks between March 11 and May 14, with Championship Weekend set to be held in Seattle June 3-4. Each team will play eight games total, six in conference and two out of conference, with the top two teams from each conference making it to Championship Weekend. For more on this season's WUL schedule, see Jenna Weiner's WUL schedule announcement article.
With nearly two-thirds of their 2022 roster returning, undefeated reigning champs Seattle Tempest will be favorites to repeat, but some major offseason moves from league runner-ups San Diego Super Bloom won't make it easy. Tempest and Super Bloom face off in the season opener Saturday afternoon in Arizona at the Sidewinders Showdown, kicking off what is sure to be an exciting WUL season.
Stories to Watch
Tempest Two-Peat
The undefeated champion from 2022 returns with an even stronger roster and the difficult task of repeating as champion. Last season, Tempest rolled through a 6-0 regular season with a point differential more than three times higher than any opponent. The rest of the league caught up to Seattle midway through the season and Tempest scraped out one- and two-point wins over Utah and Oregon respectively late in the regular season before taking the title with a three point win over San Diego in the final. Though they are once again the consensus favorites, Tempest have proven that they are not indestructible.
To start, Tempest have replaced every major contributor they lost with equally high talent. For example, Seattle signed Sadie Jezierski to remedy to loss of Qxhna Titcomb, who will be suiting up for the Raleigh Radiance of the PUL this season. Like Titcomb, Jezierski is one of the most talented throwers in the world and should have no trouble finding open targets and dazzling spectators with her creative looks. Downfield, Kat Songer is another departure from the 2022 roster. With Kaitlynne Roling joining Tempest this season, Seattle is picking up a like-for-like hard-nosed defender who is a plus thrower on the counterattack. Josie Gillett and Abby Hecko are other key additions to a team that keeps All-Star level players in Cheryl Hsu, Steph Lim, and Jamie Eriksson. Assuming everyone stays healthy and is available for all of their games, Tempest will likely have the most talented roster in every game they play.
While the league did come close to catching Seattle last season, the other seven teams will have their work cut out for them if they want to push past their 2022 win total against Seattle and crown a new champion.
-Alex Rubin
San Diego In Full Bloom
San Diego has made an investment in superstars that they hope will pay off with the only improvement possible on their runner-up finish in 2022: a league championship. After a season that established them as the league's most star-studded roster, the Super Bloom spent the offseason acquiring the splashiest commitments in the WUL. While Seattle may have the crown, the hype is in San Diego's corner.
Enter the duo of Dena Elimelech and Penny Wu, accomplished pro and club players each with flare and production to be the centerpiece of their own floral bouquets. Wu, coming over the PUL's Columbus Pride, was the driving force for her Ohio side, a two-way backfield dynamo capable of expanding the field on offense and compressing it on defense. Elimelech's acclaim is well earned, having turned in an award-worthy 2022 season that would have surely landed her on an all-league team had we done one. She was seventh in the league in EDGE (12.19) and was one of three players to record double-digit blocks and over a thousand total yards on the season, putting up a shining 7G/11A/12B line.
The other two players on that list are back for the Super Bloom: 2022 Player of the Year Kaela Helton and Defensive Player of the Year Kristen Pojunis. They are flanked by Breakout Player of the Year, Julia Salvacion, and one of the postseason's stars, Alex Diaz. With every other key producer back, save savvy handler Lindsay Lang, and some young blood like Elsa Winslow joining up, the Super Bloom can show just how much their growth could overtake the league table with their debut against Seattle.
-Keith Raynor
 The Ascent of Alpenglow
There's always a sense of excitement when a new team forms. Given the hype around Colorado ultimate1, there is a heightened anticipation for the product Colorado Alpenglow can put on the field this WUL Season.
First, the players: Jade McLaughlin finished fifth in the league in goals last season while playing for the Arizona Sidewinders. Aubree Dietrich similarly impressed in Arizona as a field-stretching deep threat. With Kristen Reed fresh off of consecutive seasons as a top goal scoring threat in the club and college divisions, the Alpenglow offense will likely be aiming for the end zone early and often. Seattle and San Diego have loads of talent, but the best cutting core in the league might secretly be in Colorado. Of course, somebody has to throw the goals. Sarah Pesch and Akane Kleinkopf may have starred for different mixed club teams, but on the same pro team will make for a steady and stellar backfield.
While every other team in the league has had a season to adjust to the different pace and modified ruleset of the WUL, Colorado will need to learn on the fly. Given all of the talent on this roster, it is absolutely possible to see Alpenglow make a run to Championship Weekend. That being said, their division is stacked with 2022 champion Seattle, 2022 Championship Weekend participant Oregon, and 2021 Winter Cup Champion Utah. With a short schedule, no win will come easy. Colorado will need to adjust quickly to earn their spot in the playoffs. Their AUDL counterpart the Colorado Summit were able to make championship weekend in their first season, and Alpenglow certainly has the pieces to do the same.
-Alex Rubin
Second Chances for Postseason Glory
Both San Francisco and Los Angeles finished a few points away from a spot in last season's playoffs.2 It was just over a year ago that we saw Utah Wild win the 2021 WUL Winter Cup. All three teams are on the cusp of success and will be looking to improve in 2023.
The story for San Francisco is trying to find consistency. Just two Falcons played all six games in 2022. While the overall talent on the team is high, San Francisco will need its best players to play as much as possible to be competitive in a winnable division. Shayla Harris, Patricia Anderson, and Sally Mimms were among those who impressed in 2022 and will be returning in 2023. Newcomers Jackie Wataoka, Gina Schumaker, and Malina Wiebe have the talent to be difference makers as the team looks to build off of its promising first season.
Los Angeles brings back dynamic offensive force Maggie O'Connor and adds former Callahan Award winner Jasmine Childress and former Callahan Award finalist Ava Hanna. Despite the loss of Dena Elimelech, LA's offense is still in good hands with Camille Wilson, Kaitlyn Weaver, and Audrey Brown sticking around. Avalon Igawa leads a defense full of rising, but unproven stars. Sophie Havranek and Chip Yen are two recent college graduates looking to make a name for themselves on the professional scene. Astra will need their rookies to step up quickly in order to improve on last season's finish.
There is a lot to like about the Utah Wild roster. Name a skill and the Wild have someone who excels at it. Dominant downfield throws: Paige Kercher. Stellar mark-breaking throws: Vespera Aragon. Impeccable cutter timing: Cori Bigham. Deep-threat speed: Kyra Khoroujnikova. Championship mentality: Jen Cogburn and Kat Songer. Wild gave Tempest their toughest game in 2022 and came close to knocking off Oregon and Los Angeles as well. If the team can bring its best game more consistently, there's no reason to thing Utah couldn't earn their first ever playoff berth.
-Alex Rubin
Oregon and Arizona Aligned Once Again
Oregon Onyx and the Arizona Sidewinders will begin the 2023 season as they ended the 2022 season: by playing each other. These two teams share more than just the closing and opening games of their first two seasons, though, with some remarkable parallels in both stats and storylines from both last year and heading into this upcoming season.
To start, Oregon and Arizona both finished last season as the what would now be second-place teams in their respective conferences, Northwest and Southwest, before giving up an identical number of goals (24) in their semifinal losses. In similarly astonishing alignment was the number of goals both teams gave up overall during the regular season, with Onyx giving up 99 goals and the Sidewinders giving up 98 goals.
Both teams also come into the year contending with the losses of some of their biggest contributors from 2022. Aly Steinfeld for Oregon and Jade McLaughlin for Arizona were two of only three players league-wide to put up double-digit goals and assists in the regular season last year,3 and neither will be returning for their team.
In a more positive light, both Onyx and the Sidewinders do bring back many of their key players from last season and add some notable newcomers as well. Oregon's leading goal scorer (Player of the Year runner-up Morgan Zajonc) and leading assist thrower (Claudia Tajima) both return, while for Arizona two of their top-three block-getters in Melissa Dunn and Cynthia Thomas are back to stymie opposing defenses.
This year's Sidewinders rookie class includes the likes of Chip Chang, a 2014 Callahan finalist with UCLA BLU, former U24 standout Nora Landri, and Caroline O'Connell and Carley Garrett from the PUL's Austin Torch, all of whom will complement the cohesive core at the center of this Sidewinders team. Onyx, meanwhile, pull from the long-standing women's club ultimate scene in the state, with Oregon Schwa's Murl Hammond and Eva Popp two of the most significant additions for the Northwest contenders.
-Jenna Weiner
Players to Watch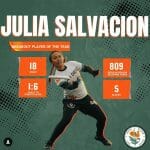 Julia Salvacion (San Diego Super Bloom)
The 2022 WUL Breakout Player of the Year is back for San Diego and there's little reason to think that Super Bloom's joint leading scorer from last season4 won't be able to replicate that success in 2023. With her highlight potential as clear as can be, Salvacion will surely be a primary target for San Diego's outstanding handler core yet again. One of Super Bloom's "core four," Salvacion's ability to get open in space is among the best in the business, which, when paired with new teammate Dena Elimelech, will make for a frightening prospect for any opposing defense this season.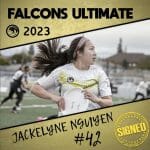 Jackelyne Nguyen (San Francisco Falcons)
One of three former Callahan winners playing in the WUL this season5, Jackelyne Nguyen (aka "Kobe" in most Bay Area ultimate circles) will be pivotal to the Falcons' success in 2023 as one of just eleven returners for San Francisco. The star cutter out of UC Berkeley is a frequent and key outlet for the Falcons' handlers, and will look to continue to connect with the contingent of her club teammates from San Francisco Nightlock. Nguyen is usually good for at least one big play a game, and the Falcons will hope she can continue to do so even with a swath of new teammates as they try to bounce back from a disappointing first season.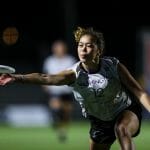 Stephanie Phillips (Seattle Tempest)
A Callahan finalist just last year, Stephanie Phillips will make her debut with Tempest this season after a sterling college career with Washington Element. Phillips' college nickname of "QB1" is appropriate for Washington's leading assist thrower last season, and she's likely to slot immediately into Seattle's handler rotation with her dazzling array of throws. Between her time with Element and with Seattle Riot the past few years, don't expect there to be any real adjustment period for Phillips to get to know her new/old teammates. Instead, watch for her to be a central part of the Tempest offense, capably picking apart opposing defenses as she aims to help Seattle win back-to-back titles.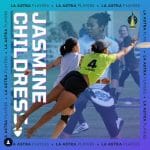 Jasmine Childress (LA Astra)
There's a Dena Elimelech-sized hole in the Los Angeles roster, a nigh-irreplaceable gap. One of the few players that can be asked to produce at a similar level is Jasmine Childress. The former UC Santa Barbara standout brings a package of size, speed, hand-eye coordination, and disc-in-hand playmaking in the vein of the game's most difficult to deny stars. While Childress' reputation is as a defender who makes plays with a cerebral and explosive style of play, she can also add thrusters to an offense. Playing with some of her college and club teammates, Childress will have some instant chemistry. But for a team losing its two 2022 block leaders (Elimelech and Lexi Roy), it might be Childress's block-getting that they turn to the most.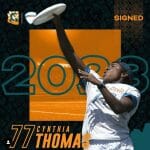 Cynthia Thomas (Arizona Sidewinders)
In one of the most remarkable plays of last season, Cynthia Thomas pulled off a greatest in Arizona's semifinal matchup against Seattle, somehow snagging the disc and throwing it back in-bounds to a teammate after it had initially tipped off of her hands. It was a clear demonstration of Thomas' incredible spatial awareness, which her seven blocks on the season, good for third-best for the Sidewinders, also attest to. Offensively, while her counting stats may not pop off the page, when Thomas is on the field Arizona tends to find success, whether long with bursting deep cuts or short with grinding work underneath. If the Sidewinders are to making Championship Weekend once again, Thomas will surely be among those leading the way.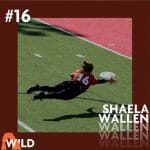 Shae Wallen (Utah Wild)
Wild Wallen was one of the WUL's best dispossessors, tallying 11 blocks in the 2022 season, acting as the tip of the spear for the Utah D-line. Not only does she have wheels, but they seemingly don't wear down, as she was out running point after point, applying pressure and playing with intensity. After piling up over 600 receiving yards and nine goals while almost exclusively on D-line, with just four turnovers, Utah might be looking to expand her offensive opportunities in 2023. With the Wild offense putting up the league's lowest scoring total and lowest huck percentage, Wallen's running range could help open up the field for Paige Kercher and some of their other new young throwers.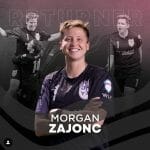 Morgan Zajonc (Oregon Onyx)
One of the league's surprise stars in 2022, Zajonc fell just shy of a Player of the Year nod. The astounding numbers seem fake: a league-leading 18 goals and nearly 1000 receiving yards, to go with nine assists and nine blocks. Her EDGE score trailed only McLaughlin's during the season, and while her game was more specialized that many of the league's other stars, that didn't render her less effective. The Avengers are glad to have Hulk, after all, and the Onyx benefit from their own super-powered giant. Zajonc's towering teammate, 2022 OPOTY Aly Steinfeld, won't be there this year, so defenses will be keying on Zajonc in the deep space and near the end zone, or paying the price while watching the video game numbers pile up again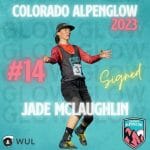 Jade McLaughlin (Colorado Alpenglow)
McLaughlin was undersung last season, though we took the opportunity to recognize her with a Player of the Year second runner-up award after the regular season. The numbers were absolutely sparkling, as McLaughlin's productivity was never hampered by turnovers. If she ends up on lines with up and coming downfield weapon Kristen Reed, defenses will really have their hands full. Oh yeah, she also had nine blocks, making her one of the league's top turnover-generators, too. McLaughlin plays with a no-nonsense physical presence that attacks every disc with shrewd gusto. Given her performance last year and move to an expansion roster, she'll undoubtedly be looked to to help the Alpenglow hit the ground running.
Preseason Power Rankings
Western Ultimate League Pick 'Em
We are hosting Pick 'Em each week, so be sure to get your entry in!
---