Northeastern cap their undefeated season with their third tournament victory at Women's Centex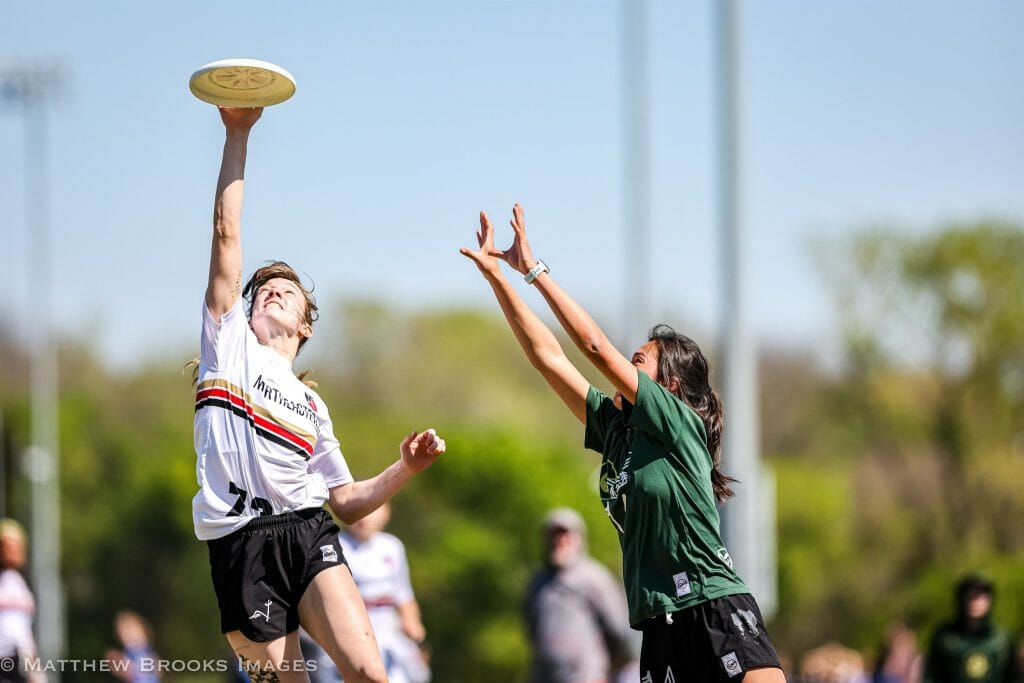 Ultiworld's coverage of the 2023 college ultimate season are presented by Spin Ultimate; all opinions are those of the author(s). Find out how Spin can get you, and your team, looking your best this season.
There was a lot of ultimate frisbee happening in Austin, Texas last weekend. My only regret, other than missing my initial flight, was that I couldn't watch all of it.1 To set the stage for the weekend, Saturday was cloudy, the temperature was in the mid forties, and a constant wind out of the north-northeast running parallel with the length of the field, making scoring in one direction much easier than the other. On Sunday, weather was less of a factor. The clouds made an exit around 10:30, the wind had died down considerably, and as a result the temperature rose to a much more enjoyable high fifties. It was truly idyllic ultimate weather. Teams from all over the nation flew down for the weekend, or even drove in, and every region was represented in some form or fashion.
Results
Pool Play



Bracket




Your Champions
Undefeated entering the weekend, and undefeated at their exit, Northeastern Valkyries picked up where they left off at Commonwealth Cup. And all this despite not having a full practice between the two tournaments due to weather and spring break. There's a lot of good I have to say about this team, and I'll get to that, but I'm a strong believer in eating my vegetables first. The team played well, but not perfectly. They're not afraid to make deep looks, but maybe a bit more fear, or at least caution, would serve Northeastern well. There were many moments where someone would pull the trigger, but the receiver would be in double coverage, already near the end of her cut, or even digging in to cut under. This sort of aggression worked out for the Valkyries this weekend, but against top ten teams Northeastern are going to need to value the disc.
That said, the reason Northeastern won despite so many turns was their defensive prowess. Every player on the field was locked in and hip to hip with her defender. Northeastern definitely have the ability to generate turns, whether through getting deflections, playing lockdown long enough to frustrate opposing offenses into taking unnecessary risks, or often just winning the war of attrition and waiting for even the most patient offenses to make an errant throw.
One thing is for certain about the Northeastern Valkyries: every point is a must-win. "I've never played on a team with so much heart," says Britney DeRoehn. "We just have seven people on the field and all of the players on the sideline trying their hardest every moment." From what I saw throughout the weekend, this held true. The Northeastern sideline was just as locked in as the seven players on the field. The entire team is bought into the program, willing to do whatever is asked to propel the team to success. A constant presence on that sideline is Head Coach Jason Adams, who is happy not only with the team's physical performance on the field this season, but their ability to adjust: "Wherever we start, we can still get to a different spot even in the same game, and certainly within the same tournament." He said that the weekend in Austin was a "testament to this team showing up and being willing to put in the work and make the adjustments to try to be a better team."
As for the rest of the year and heading into Nationals, Clara Stewart said, "We have a tough region, we're not taking anything for granted whatsoever…we're not satisfied in any way shape or form." When asked how they plan on getting out of such a tough New England region, she only had one thing to say: "we're going to get out of the region by winning."
I could go on ad nauseam about this squad, but it's worth mentioning that the team has a lot of depth. Elise Freedman moved through defensive sets like water through a sieve. Johanna Guarin was able to place the disc nearly anywhere on the field at will. Nelvia Clark brought down the disc in traffic on more than one occasion. Nisha Nayak was a Swiss Army knife of talents and played with a determination that was intimidating.
The Northeastern Valkyries can hang with anyone in the nation, and will be an exciting team to watch in April and May.
Your Runners-Up
Colorado State Hell's Belles came into the weekend as the eighth seed with good vibes and left as the tournament runners-up and over the moon with their results. If someone had told them on Friday they'd be in the final game on Sunday, Grace Brown, captain for CSU, would have responded, "You're s***ting me! I just would have been surprised because I would not have believed it." It's hard to understand their disbelief based on their play in Austin: CSU looked in sync with each other, played with poise and never gave up on any point, often muscling through 5-6 turnovers in a single point and finding a way to score regardless. Grace Brown and her roommate Willow Purvis were a one-two punch, Grace sending it deep to Willow who, even in double coverage, would find a way to haul in the disc. Cice Kim and Alex Hasenkamp each facilitated the offense as well with quick give-go movement and deep looks of their own.
---
Centex 2023: Tournament Recap (Women's) is only available to Ultiworld Subscribers
Already have a subscription? Log in
Whether you visit Ultiworld for our reporting, our podcasts, or our video coverage, you can help us continue to provide high quality content with a subscription. By becoming a subscriber, not only do you receive benefits like exclusive articles and full article RSS feeds, you also help fund all of Ultiworld's coverage in general. We appreciate your support!