An unusual format and a lot of parity should lose to some thrilling outcomes.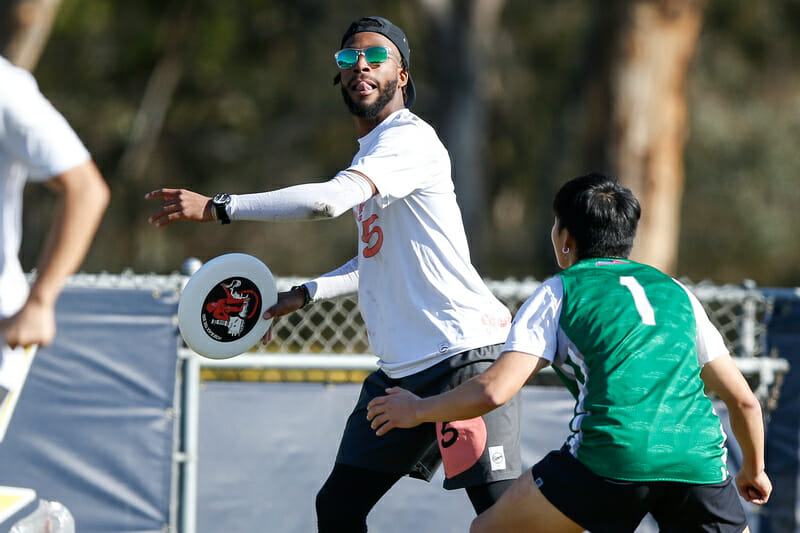 Ultiworld's coverage of the 2023 college ultimate season are presented by Spin Ultimate; all opinions are those of the author(s). Find out how Spin can get you, and your team, looking your best this season.
For the last few years, Huck Finn has been a 20 team tournament, but this year the field has expanded to 28. To accommodate the bigger event, the TD's have employed an innovative three-tiered pool system with two pools in each tier. Notably, the fifth place finisher of the Tier 1 pools is kicked straight into the 15th place bracket which puts a significant amount of pressure on Saturday games that is not usually seen in power pool structures. Those severe consequences for finishing last in the pool for teams in Tier 1 coupled with a bye straight into the quarters for the Tier 1 pool winners will surely make for some fireworks before we even get to the bracket. For Tier 2, the top two finishers of the five-team pools will move into the pre quarters and then Tier 3 will play in two pools of four with the top two finishers in each pool playing a crossover for a spot in the pre quarters.
Tournament Profile
Date: March 30 – April 1
Location: O'Fallon, IL
Weather: Low 50s and 25-35 mph winds on Saturday; mid-60s and 10-20 mph winds on Sunday
Top 25 Teams: None
Competition Schedule and Results
Hometown Favorites
Seeded first, the host team Washington University Contra is the favorite before the first pull goes up. Oklahoma Christian were supposed to be coming to town and would have been odds-on to win after their ceiling-raising performance at Centex, but they unfortunately had to drop out at the last minute due to injury concerns.1.
WashU will be riding high off their recent tournament win in the St. Louis Bracket at Midwest Throwdown2. They took care of the field relatively comfortably before finishing the tournament with a tight 10-9 win over Colorado College. Contra's offense is anchored by sophomore center handler Joel Brown who opens up the entire field with his ability to break the mark. Junior Nick Jeschke provides stability and a conservative presence in the backfield which is an effective counterbalance to Brown's dynamism.
Looking at the rest of their season, they had some rough results in the early season at Queen City, namely a 13-9 loss to UNC-Charlotte, but showed high potential in a tight game against #24 NC State. They will be looking to build momentum going into South Central Regionals where they will likely have to beat either Texas or Colorado to get back to Nationals after their Cinderella appearance in 2022.
Rest of Pool A: Can Anyone Knock Off WashU?
The second seed in Pool A will be Emory Juice. While plagued by inconsistency, Juice has shown a high ceiling by playing close with some of the top teams in the country and even beating #10 UC Santa Cruz at Pres Day. Justin Burnett is a highlight machine for Emory and it will be an experience to see him be on the same field squaring off against WashU's own living highlight reel, Noah Stovitz. In addition to beating Santa Cruz, Emory's 12-10 win over WashU's most immediate regional rivals Colorado State will add just a bit to any nerves the Contrabears3 have about holding seed in the pool.
Cincinnati, Notre Dame, and Vanderbilt round out Pool A. We have a small sample size for Cincinnati but outside of an awful Saturday at Easterns Qualifiers they've gone undefeated against outclassed opponents. It will be interesting to see how much they've grown when they match up against the quality of competition they fell flat against in late February. Notre Dame is the opposite of Cincinnati as we have a breadth of results from their appearances in two high-level tournaments at Queen City Tune Up and EQ. They have not proven they will consistently beat good teams but what will give hope for fans of Papal Rage is their ability to throw a few punches which they showed in a 13-12 win over UNC Wilmington at EQ. One of the silkiest players in the division to watch in person, Chris Walsh is a one-man offense for Notre Dame. When their other contributors are able to step up, Notre Dame becomes very difficult to stop on offense. Vanderbilt is the clear underdog in this pool. If they can spoil the party to avoid the 15th-place bracket then they'll probably be ecstatic. It's tough to be a 9-seed in this format.
Pool B: Unknowns Make for Exciting Prospect
Pool B is an absolute powder keg of a pool thanks to the unknown quantities that bookend the pool in no.2 seed Iowa State and no.10 Indiana. Neither ISUC or the HoosierMamas have played a truly good team this season. Their seeding difference is mostly because ISUC has racked up two tournament wins in the Columbia Bracket at Midwest Throwdown and Centex Tier 2. While ISUC is more of a team en masse, Indiana do have some bigger names on their team. Cam Thatcher will quarterback and be looking for the downfield motor that is sophomore Will Quigley, and fifth year Conner Henderson brings veteran experience.
On the whole, Indiana's controversial choice to forfeit Sunday at Midwest4 might have been worth it from a neutral perspective because it makes this pool truly mouthwatering. If Indiana had stayed to play Iowa State at Midwest Throwdown then we'd have a better idea of these two teams and they probably wouldn't be seeded as they are now.
Sandwiched by Iowa State and Indiana are Mizzou, Purdue, and Alabama. Mizzou has their best team in recent memory this year, and has looked pretty solid outside of choking against Grinnell in the semis at Midwest Throwdown. John Marsh and Hunter Latson would play big minutes for most teams in the country and Mizzou is particularly good at cashing in on the get-out-of-jail-free card that is Latson in the deep space. Moving onto Purdue, they have known talent on their team headlined by Jaxon Moore and Eric Hoy, but looked really rough in their one showing so far at Queen City. Their poor performance in Rock Hill is uninspiring but it's difficult to write them off after an early-season tournament that literally has "Tune Up" in the name. Alabama has played the most complete season so far but maybe conversely to what one would expect it feels like their ceiling is the lowest of any team in the pool. They consistently beat teams that are worse than them and also consistently lose to teams that are better.
Truly any team could win or lose this pool. With 15th-place lurking for each one it's going to be a wild ride.
Elsewhere in the Field: Possible Usurpers
Admittedly, it would be a massive upset for anyone outside of Tier 1 to win the whole tournament. But what is likely is that one of the Tier 2 teams (Pools C and D) make a run through the bracket. Grinnell is the best candidate to play spoiler, particularly because they've done it before with a comeback to upset Mizzou in the semifinals of the Columbia bracket at Midwest Throwdown. And you can't talk about Grinnell without talking about US U-24 National Team player Jacob Cowan. Cowan is the anchor of the Grinnell squad and probably the most complete player in the entire tournament. If Grinnell gets out of their pool, whoever they match up against will definitely have to look over their shoulder.
Sitting all the way down in Pool E, St. Louis University Archangel are the team to watch out of Tier 3. Riding high from a tournament win last weekend at Old Capitol Open, they came together to win the tournament after a rough 0-2 start. That momentum could easily transfer to an upset in the pre quarters against a team that isn't prepared for a real fight. Stephen Rashford and Sam Liu are local St. Louis products that form the backbone of a reinvigorated Archangel program.
---