College and semi-pro collide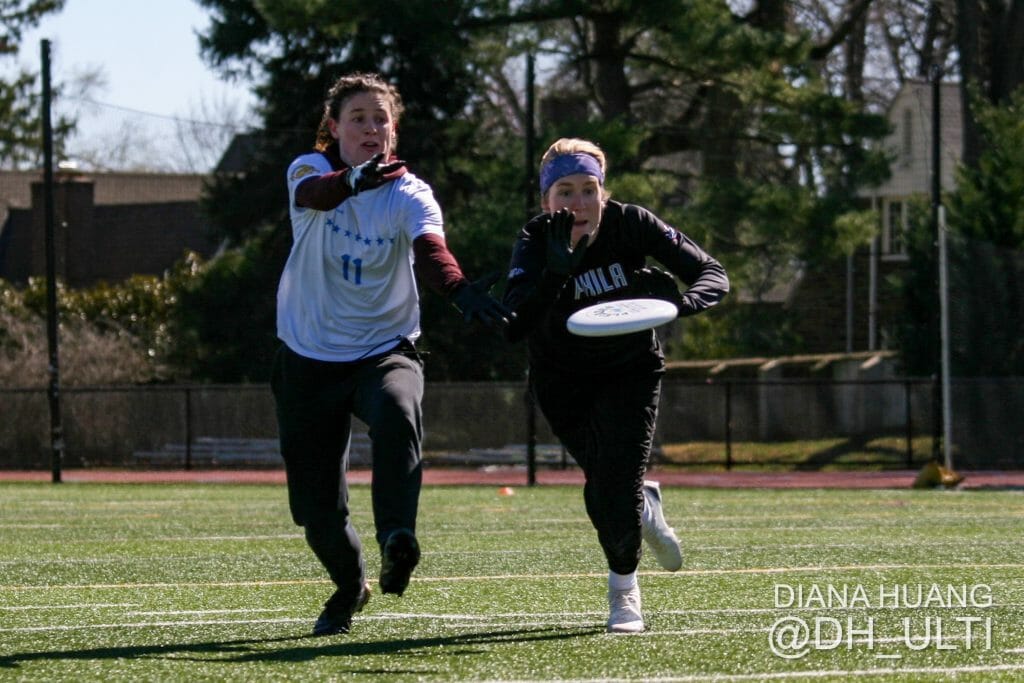 ARDMORE, PA — We knew they were good…but this good?
I won't bury the lede: this weekend, a college team took down a PUL team, the UNC Pleiades breaking Philadelphia Surge on universe to win their showcase game in Philly, 10-9. (UNC also played a college round robin the day prior — more on that below.)
A Win For Pleiades: Nuts1
It's a hypothetical question that's an old standby in mailbags and Reddit threads alike: would the best college teams stand a chance against their club and pro analogues? Graciously, #1 UNC Pleiades and the PUL's Philadelphia Surge tried to give us a clear answer on Sunday in a showcase game organized by the Pleiades captains.
Any account of this game has to start with the fact that it was windy. Not game-breakingly windy — 7 of the 19 total points were scored upwind — but it did provide a challenge as stiff as the breeze. Both offensive lines answered the call admirably and held upwind to start, Danielle Walsh in particular making a series of clutch grabs to save possession for Philly. But the upwind holds wouldn't last. It wasn't long before Surge got the first downwind break of the game to make it 3-1 on an arcing flick blade from Raha Mozaffari.
A few points later, the Pleiades offense blinked again, and this time Surge notched an upwind break. Linda Morse, in typical fashion, mercilessly skied two UNC defenders off a wicked inside backhand huck to the flick side from Nikki "Tucker" Ross to make it 6-3.
This was an inflection point, as Philly's superior size and ability to huck upwind threatened to overwhelm UNC. If Surge "completed the break" by breaking downwind again, it would all but put the game out of reach for the collegiate champions. But the Pleiades' offensive line grit their teeth, muscling out an upwind hold ending with an Erica Birdsong goal. On downwind defense the next point, UNC were able to get a crucial break back before halftime and followed it up with a clinically patient upwind break. Somehow, some way, the game went into the half on serve.
However, it didn't stay that way for long. Philly promptly resumed play with another downwind break, and two holds later soft cap came on at 9-7, meaning UNC needed three consecutive goals to win.
Spoiler alert: they got 'em. After the Pleiades held downwind, the hard part was the marathon upwind break point, during which roughly three figures worth of passes were thrown between the two teams before Sydney Rehder broke her mark to throw the crucial assist. Then, the Pleiades just had to break downwind. A massive Grace Conerly pull pinned Surge deep, Jess Wu notched a goal line handblock, and UNC punched it in one throw later.
Result aside, let's be very clear: there's no reason to believe Surge aren't still in contention for a PUL championship. Philly do have an absurdly stacked roster of name-brand talent, and odds are the weather will be more cooperative in their upcoming games. Not to mention they'll only gel more as a unit as they get more playing time under their belt in the team's debut season. Instead, let this game speak to how complete a team UNC is and how unflappable the Pleiades are. After last year's windy national final, and the one-two punch of a sloppy Queen City and a breezy Stanford Invite this spring, the college division's best have seen it all as far as conditions go.
"There's nothing externally that can happen at Nationals that we won't be prepared for," said UNC head coach Jessi Jones. Those aren't words that the Pleiades' collegiate competition will want to hear with nearly two months of preparation still to go before the College Championships in May.
Already, I know folks will doubt whether this win holds water, and reasonably so. If I saw this scoreline without watching the game myself, I'd also have some questions. Let's look a little closer and see if our hypothetical question has actually been satisfactorily resolved.
SUBS ONLY — Read on for an analysis of how legit this win is, and a recap of the college round robin played the day before.
---
PUL-aides: UNC Beat Surge (And Also Play a College Round Robin) is only available to Ultiworld Subscribers
Already have a subscription? Log in
Whether you visit Ultiworld for our reporting, our podcasts, or our video coverage, you can help us continue to provide high quality content with a subscription. By becoming a subscriber, not only do you receive benefits like exclusive articles and full article RSS feeds, you also help fund all of Ultiworld's coverage in general. We appreciate your support!