The last bids to D-III Men's Nationals will be decided this weekend!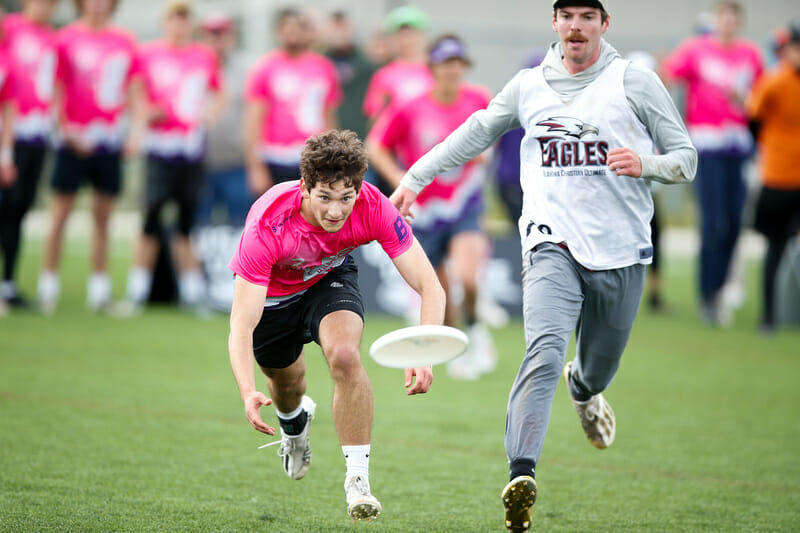 Ultiworld's coverage of the 2023 college ultimate season are presented by Spin Ultimate; all opinions are those of the author(s). Find out how Spin can get you, and your team, looking your best this season.
There are few more exciting portions of the ultimate calendar than spring College Regionals. For some, these events will be the culmination of a season — or even college career — while for others it's just another step on their path toward the D-III College Championships in two weeks. Count on plenty of dramatic action and unexpected results along the way as every team fights to ensure they fall into the latter group.
Two regions will take to the fields this weekend across the country to decide the final representatives heading to Ohio. We've got you covered on the storylines to watch.
Great Lakes
Score Reporter
Location: Holland, MI
Nationals Bids: 1
Excitement Level: 🔥🔥
Let's call it how it is: the Great Lakes is the weakest region in D-III Men's this year. There are no teams from our power rankings in the region, and the highest ranked team in the algorithm is Butler at 33. However, the GL was in a similar position last year, and the region delivered one of the best feel-good stories of Nationals. Will we see another Cinderella run this year?
The favorites and most-tested team in the tournament this weekend are the aforementioned one seed, Butler Big Dog. The only team in the region to travel and face Nationals-level competition this season, Big Dog tested themselves early, making the trip to North Carolina for FCS D-III Tune Up. Butler were missing a handful of key players that weekend and went 1-6 as a result, but three of those losses were to teams who have already earned a bid to Columbus. The Butler coaching staff seemed confident after the weekend, believing those reps would be valuable learning experiences that would pay off down the line. Butler made it the final of Regionals in 2022 and came up short; can they finish the job this year?
The team that beat Butler in that final last year is the six seed this weekend. Grace Lancer are learning the harsh lesson of why you should take every game of Conferences seriously; despite having H2H wins over the two and three seeds, Lancer are the 6th seed because of a loss to Hillsdale at Conferences. Joel Close, Theodore Faur and the rest of Grace have shown an ability to make a run at Regionals, and they'll get a look at Butler in pool play that could matter (for both teams) in a potential bracket play rematch.
It would be a true surprise to see any of the other teams in attendance at Nationals. Wheaton and North Park, the two and three seed, respectively, are the most likely to be able to make a run, but both have major causes for concern on their resume. Wheaton has already lost to Grace and played three close games at Conferences, while North Park has a blowout loss to Butler and losses to both Grace and Wheaton. There's a reason they play the games, but it'll be surprising to see anybody other than Butler or Grace take the bid this weekend.
New England
Score Reporter
Location: Smithfield, RI
Nationals Bids: 2
Excitement Level: 🔥🔥🔥🔥
Two months ago, this tournament would have been an easy 5/5 on the excitement schedule. A loaded region with two bids and only one powerhouse means there is plenty of room for chaos. The second half of the season has seen a second heavyweight emerge in New England; however, any region with four teams in our top 25 and a fifth who took a bid last year is going to have plenty of excitement.
The unexpected favorite mentioned above is Bowdoin Clown, the top seed on the weekend. After starting the season at the bottom end of our top 25, Bowdoin earned the region a bid with an undefeated regular season that featured five wins by six or more goals. Any questions about their strength of schedule were put to rest when they beat Middlebury by two at Conferences, clinching the one seed for Clown this weekend. Bowdoin are a big, athletic team that apply heavy pressure with matchup defense to stack breaks. Their ability to blow out teams should help keep their top players fresh for bracket play.
It's been a different year than usual for the Middlebury Pranksters. Typically used to rolling through D-III opposition until Nationals, the Pranksters have faced adversity this year, losing to Richmond and Colorado College in the regular season and Bowdoin at Conferences. The Middlebury captains told me at FCS that they intentionally challenged themselves with their schedule this year, wanting to be battle-tested for the postseason. The Pranksters are deep and have shown the ability to play at a high level this season; can they put it all together this weekend?
While Bowdoin and Middlebury are the two favorites to claim the region's bids to Columbus, there are plenty of teams in the field capable of knocking them off. Williams WUFO and Brandeis TRON both qualified for Nationals last spring and return large portions of those rosters. Led by Danny Klein and Charlie Tantum, WUFO play a loose, fun style that can be overpowering when they're clicking, as evidenced by a 15-4 win over Ohio Valley champion Kenyon at Layout Pigout. TRON have been to each of the last two Nationals, and while their regular season results were uninspiring, they look to be hitting their stride in the postseason with a dominant performance at Conferences. Teams like Bryant and Bates have a long history of performing well at Regionals. There won't be many easy wins this weekend, and much like the South Central last weekend, the top seeds will need to be dialed in at all times or risk facing an early end to their season.
P.S.
I also want to give a special shout out to the Middlebury Branksters, who will be representing D-III ultimate at New England D-I Regionals this weekend. The Branksters earned a bid at development conferences by finishing 2nd and will be the 13 seed in Maine this weekend. The entirety of D-III ultimate should be supporting the Branksters this weekend; it's always sweet when D-III teams beat D-I teams, but the idea of Middlebury's B-team causing havoc at D-I Regionals is next level. This weekend, we're all Branksters.