Your team has qualified for Nationals. What should you focus on during and leading up to the big dance?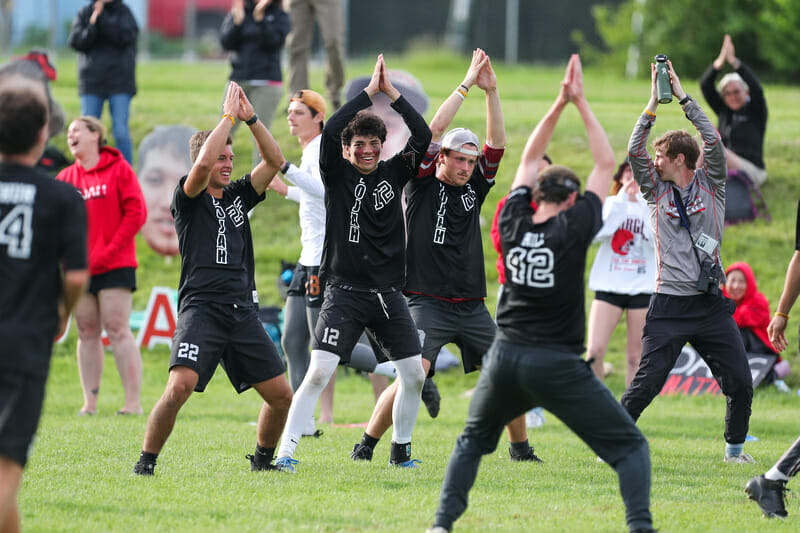 This article is presented by the National Ultimate Training Camp! Registration for 2023 is open! Scholarships available. More info at www.NUTC.net
The college postseason is glorious. Classes are winding down and your team is still together and still playing with purpose. Sure, there are the getting-kicked-out-of-the-dorms issues and "how are we going to afford Nationals?" challenges, but at least final goodbyes are not looming. How can you maximize these next few days/weeks as a player, coach, and team? The answers will vary depending on your program but certain truths remain. Recognize, be wary of, and neutralize the competitive potholes waiting for you in Ohio.
Prepping
D-I definitely has the luxury of time compared to D-III, although my advice is basically the same.
Revisit what you did well during the season and do it better at Nats. If your team has a point-and-shoot offense, you don't have time to do more than refine it.
Maybe you can make a few adjustments that reduce hucks out the back or panic in the end zone.
Definitely drill your resets.
Maybe add one new defensive set particularly if there is a lot of film on you. If you do, it needs to be executed as well as an old favorite. This is important for the confidence it may give your players: we have something shiny and new for Nats!
But you cannot remake your team in a few practices, nor should you want to. Instead practice hard, clarify your systems and heal your injuries. Coaches should meet one-on-one with each player if possible. What you talk about is up to you. The act of sitting with each other before the approaching pressure is significant on its own.
Logistics
I could probably write a 10-part series on the intricacies of transporting, housing, and feeding players at a major tournament. The privileged teams have others making most arrangements for them. You can recognize them by the multi-tent, mini-city set up by parents on their sidelines. These teams are granted the gift to "just play."
For the rest of you, choices need to be made. Hotels with good breakfasts, free meeting rooms, a pool, and laundry are optimum. Being close to the fields is ideal. Sleeping eight people in a room is not. Nationals is not spring break. Nationals is long and exhausting. Taking care of your bodies and each other is what focused teams do. The more you can control your environment off the field, the better you will play.
Traps
Mental traps abound in Ohio, ready to spring and snag the unsuspecting and underprepared players and teams. Here are some of the most popular:
1. We Are Happy to Be Here
I don't know if this trap can be avoided, but for teams going to Nationals for the first time, or the first time in a long time, this is their biggest challenge. If after a disappointing game, you respond with "at least we made Nationals," thereby leaving the present moment and retreating to the past, you are probably setting yourself up for more disappointments. Instead, refocus on each part of each game every day of competition.
2. We Have Beaten This Team Before
There is virtually no information from the regular season that will help you win a game in Ohio. Of course there is information about your opponent that can help you strategize to beat them again. But an outcome from February or March tournaments means nothing. Your early season ranking means nothing. Approach each game at Nats as a new experience. Assume that every team will be better. The smart teams will commit to bringing their best against every opponent for the entire game, no matter their history.
3. Focusing on the Wrong Things
College Nationals is a circus in the best sense of the word: entertainment, drama, and athletic thrills. You can't possibly absorb or enjoy everything. Prioritize being ready to play. Manage your byes intentionally. And when you have down time with the team, enjoy it to the fullest. I have found that carving out specific time for all of these activities takes more micro-managing than a coach may want to do or a team may want to hear. And I also think it pays off over the long haul.
4. Look at Us
Social media will enhance your Nationals experience and provide a virtual scrapbook for your memories. And it can also be its own trap when posting online matters as much as competitive performance. I ran into a friend from my playing days at a PUL showcase game. He was critical of the rushing of the field after every point and wondered if every team did that now. I can't imagine what he will think if he watches the livestreams from Ohio.
His old school opinion is easy to scoff at — and scoff I did — and yet it points to how team pageantry can work against a team. Aside from being distracting, taking videos and selfies wastes time during a game. Every game will have observers and every team will be on the clock between points. Not every team has had any experience with observers. Lines have to be called and vital information shared. So if you need to have a celebration after each point, make it quick and efficient and get the heck off the field.
And outsource your social media to a parent.
WE INTERRUPT THIS ARTICLE WITH AN IMPORTANT MESSAGE ABOUT BEHAVIOR
Real talk, for all teams, players, and coaches at College Nationals: treat everyone at restaurants, hotels, rest stops, gas stations and the tournament respectfully. Do not wreck your hotel room. Do not break stuff. Do not throw food or have eating contests or make pyramids out of condiment packages. Do not steal from merch tents or from anyone. Do not prank someone that makes a mess for a service worker to clean up. Do not respond to being eliminated by thinking that emotional pain gives you the right to be loathsome.
Keep your hotel room respectable. Clean up your team trash when you switch fields. Clean up your language. Carry team supplies. Become exhausted from saying, "We really appreciate you volunteering" and "Thanks for cheering for us." And tip well dammit. Including the hotel staff.
LET'S RETURN NOW TO OUR REGULAR PROGRAMMING
5. Peaking
What does peak performance look and feel like? And how does a team peak at the right time? A team is experiencing peak performance when everything feels loose, light, and focused. Time slows down and playing is effortless. It's unstoppable magic.
Hopefully every team had this happen at times during the regular season. To manifest this on a national stage is challenging.
Here are a few guidelines that may help:
Do not give into fatigue. I always wince a bit when I hear coaches or commentators talk about players being physically "gassed." To say it in the huddle to your team gives them permission to believe they are. The mind gets tired before the body does. You can almost always do more. And Nationals is the time to do more.
Energy is everything. Fake energy is a close second. Communicate to your defenders. Move up and down the field without being reminded. Hiding in the tent, when you are not injured or refueling, is for the oblivious.
Make adjustments before you need them. Coaches should know their teams very well by this point of the season. If your team is scoring but the offense is a mess, call a timeout and ask them to recommit to your systems. Peak performance does not have to be perfect, but lucky chaos is not the way to get there.
Fun & Trust
No one knows a team as well as its players and coaches. Not friends, not alums, not club teammates, and definitely not that dad who won summer league in the early 90s.1 Insulate your team from the naysayers and cheerleaders. Trust your coaching and your training. People will offer you advice and take it or not. That includes this article.
Stay safe, appreciate everyone including yourself, work harder than you want, and have the time of your life!
---
Editor's note: Ultiworld staff, however, are incredibly well-studied about ultimate and our predictions and analysis are almost ironclad. ↩