The #1 team draws a pool with three regional champions from one-bid regions, each with something to prove.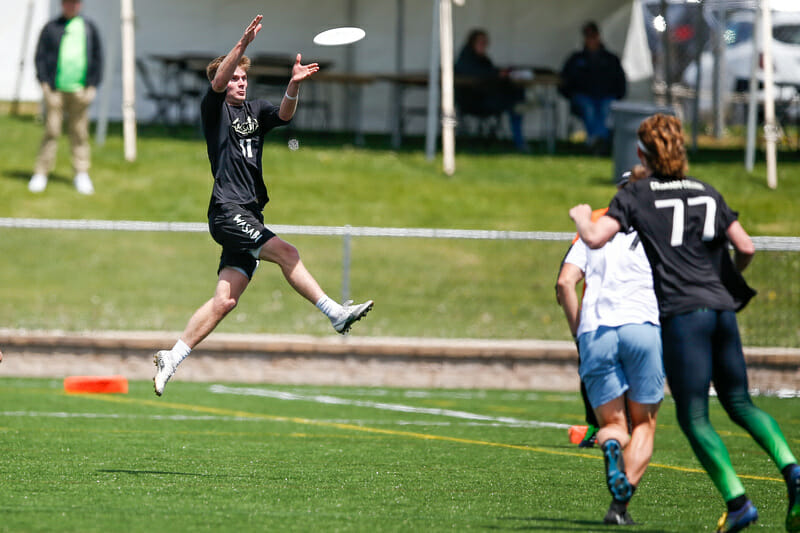 Ultiworld's coverage of the 2023 college ultimate season are presented by Spin Ultimate; all opinions are those of the author(s). Find out how Spin can get you, and your team, looking your best this season.
We are less than one week out from the D-III College Championships, and that means it's pool preview time. With the first full regular season and rankings post-COVID, 16 worthy teams arrive at the campaign's final weekend ready to crown a national champion. This season we have a men's field that looks wide open after the two-time reigning national champion, Oklahoma Christian, was shockingly eliminated at Regionals. Expect a frenzy as team's vie for their vacated spot on the throne.
We've got you covered for all the exciting action this weekend, but before the first pull goes up, let's get to know the teams who will be competing in Ohio. Then follow along at ultiworld.com/live for updates and livestreams throughout the weekend!
Pool A | Pool B | Pool C | Pool D
Colorado College Wasabi
Seeding: A1; overall no. 1
Power Ranking: #1
Path to Nationals: SC 1; beat Missouri S&T in SC final, beat Oklahoma Christian in SC semifinal
Past Nationals Appearances: 2011,1 2016, 2017, 2021, 2022
Location: Colorado Springs, CO
Colorado College Wasabi are the first overall seed entering this weekend. They have a 22-5 regular season record, with only one loss to a D-III team; it was on universe point to the 2022 national champion Oklahoma Christian Eagles. They avenged this loss on Regionals Sunday, however, and after dispatching Oklahoma Christian 13-11 in the semifinals, qualified for Nationals with a dominant 14-9 win over Missouri S&T Miner Threat in the South Central championship. Their dominant performance during the regular season, as well as head to head wins against both the second and third seeded St. Olaf Berzerkers and Middlebury Pranksters, make them the obvious choice for the one seed.
Wasabi should have no trouble advancing out of the pool and heading straight to the quarterfinals. Their offense is going to run through Lincoln Grench, who is a dynamic hybrid that can take control of the line after a turnover. Other players to watch this weekend include Leo McGaraghan, Oliver van Linder, and Eliot Kirkham, who were some of the standout players at College Centex this past March. On offense, Wasabi is very good at hitting all points of the field. They take all types of looks which can frustrate defenses: they're just as comfortable taking the easy reset as they are a deep shot. They have creative enough throws to carve up zones, and a tall enough roster to come down with a contested huck. On defense, Wasabi is smart and physical. They are good at both taking away open spaces through smart poaches off the stack and playing the matchup tight and aggressive in the handler sets and downfield. They're the no.1 seed for a reason, and strike the perfect balance between fundamental, boring ultimate and rewatchable highlight plays.
The real test for the weekend for Wasabi will be if they can go the distance. The response to this point could, and should, be, "well duh." But in the case of Colorado College it'll be especially interesting to see if they can break through quarterfinals. In the past two national tournaments, Wasabi lost in prequarters and quarterfinals, respectively. (And it was Berry who ended Wasabi's season last year.) You could say this is underperforming for the talent they had. While winning in the bracket is no small feat, Wasabi are legitimate national title contenders this season. Anything less than semifinals for them is likely a too-early exit. That said, pool play will be a good opportunity for Wasabi to make sure all their systems are perfect after their break from regionals. Even if the games are not too close, it will be exciting to see how the top team in the country looks after the regionals break.
Kenyon SERF
Seeding: A2; overall no. 8
Power Ranking: #15
Path to Nationals: OV 1; defeated Scranton in OV final
Past Nationals Appearances: 2012, 2014, 2021
Location: Gambier, OH
Kenyon SERF make the short trip to Columbus as the eighth overall seed and the second seed in Pool A. They have a 17-3 record so far this season, and took the single bid from the Ohio Valley with a 14-12 win over Scranton Electric City Ultimate. SERF's path to Nationals was by no means a walk in the park. They had close games all Regionals Sunday, as their largest margin of victory was two points in both quarterfinals and the final. While SERF likely wanted to avoid nail-biter games on their path to nationals, being battle-tested is never a bad thing. They also have had very good results in D-III competition, going 6-1 at FCS D-III Tune Up, only dropping a single game to Navy Poseidon on universe point. In pool play, they'll face three teams they have not seen this season, which can be both an exciting, and daunting, task for teams.
SERF has a handful of players that are going to make big contributions in Columbus this weekend. Their best player is Owen Hevly, the leader of the D-line who will frequently cross over to offense. They're supported on defense by freshman Toby Hughes, a lockdown defender who his teammates describe as a "cracked freshman," and Ryan Yarcuzko, another strong reset defender. Other players to watch include Brian Coburn, Teddy Kamin, and Liam Savona ("a certified problem"). If their responses to the pre-Nationals survey are indicative of anything, it's that they have the confidence necessary to compete at a national tournament; they are self-described as "bunch of dawgs on and off the field."
Kenyon should be able to hold seed and advance to prequarters. While unlikely, they may be able to pull off an upset, or at least play a tight game, against top seed Colorado College, since they will face Wasabi in the last round of pool play. But what'll be essential for Kenyon, as is with any other team in this tournament, is to win the games they need to win. While SERF has played tighter games against better teams, they'll need to come out firing against the Berry Bucks on Saturday morning to stay on the right track towards bracket.
Occidental Detox
Seeding: A3; overall no. 12
Power Ranking: #16
Path to Nationals: SW 1; Went undefeated at Confregional round robin
Past Nationals Appearances: 2017, 2018
Location: Los Angeles, CA
Occidental Detox qualified for Nationals with the sole bid out of the Southwest. They beat the Claremont Braineaters 15-9 in the de-facto final of Conferegionals (shoutout 7500 Club), and enter Columbus as the third seed in Pool A at no.12 overall. Detox has a 13-3 record this season, with some solid wins over various D-III and D-I B-teams at Stanford Open.
Occidental is one of the smaller teams competing in Columbus this weekend. The college has just over 2000 students total, but Detox has not let those small numbers deter them from having a successful ultimate program. Detox notes that their biggest game this season was against Claremont at sectionals. Given that this was the game to go, that makes practical sense. But this iteration of Detox has never made it to Nationals, always coming up short against Claremont in the game to go. It was something special to take the Southwest's single bid, as it was the culmination of successful rebuilding years post-COVID.
Some players to watch for Occidental include Cole Lewis, who is the glue to the Detox offense and leads the team on and off the field. Other cogs on the Detox O-line include Teddy McGowan, Jack Loudermilk, Emerson Weiss, and Aiden Trinity, all of which are reliable downfield threats. On defense, look for Liam Schedler to run the offense on the turn. He's a consistent handler, with both a large arsenal of throws and a motor that will frustrate a tired offense.
Detox looks to have the heart of a team that can make it into bracket play, but it won't be without some challenges. They will need to win one game against no.13 Berry Bucks to secure advancement to prequarters. While this is their last game of the day, Detox will have just played Kenyon the round before. While the win against Kenyon could be attainable, it's not the necessary game to get Occidental into the bracket. For Detox, then, it comes down to whether they will have the legs to win the one game they need to win on Saturday to keep their season alive.
Berry Bucks
Seeding: A4; overall no. 13
Power Ranking: Unranked
Path to Nationals: SE 1; defeated Ave Maria in SE final
Past Nationals Appearances: 2019, 2021, 2022
Location: Berry, GA
The Berry Bucks are the bottom seed in Pool A. They are the no.13 seed, and qualified for Nationals with the single bid out of the Southeast. The Bucks have a 9-9 record this season, and have struggled to get wins against D-III teams; they went 2-6 at D-III FCS Tune Up. The Bucks will need to win at least one game on Saturday if they hope to make it into prequarters. And even though they are the bottom seed, they still have some talent with Nationals experience that could make the last round of pool play interesting.
The Bucks had a massive roster turnover from 2022. The team that made it to the semifinals is no more as standout players Walter Ellard, Caleb Enright, and Chris Gmeiner are no longer on the roster. This season it was unclear whether Berry would actually be the top team out of the Southeast. They were the bid-earning team because they were the only team in the region who met the 10-game minimum. Even then, they barely escaped Ave Maria, winning 15-14 in the final after sneaking past Union by the same one-goal margin in semifinals. But now that they're back there's no reason to doubt some players will step up and empty the tank. The main cog for the Berry is Colin Hill, who has been a standout for the Bucks for a few seasons and gained lots of high-level club and pro experiences in and around Atlanta. With the 2022 departures it's clear that there are some spots to fill for the Bucks. It will be interesting to see who steps up into these big roles and helps Hill carry the team this weekend.
The Bucks need to beat Occidental Detox if they hope to make it out of pool play. It's the 12-13 game, so to say that one team is "favored" over another would be a little unfair. Also, it's the last game of the day, so Berry will both be tired from previous games and look at this one as the game to empty the tank.
---
D-I College Championships ↩